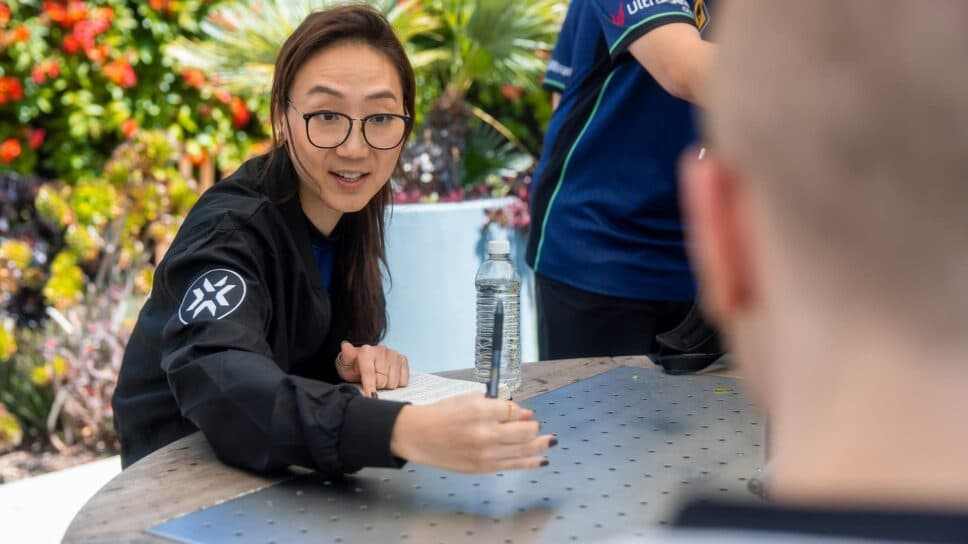 "I learned a lot about adapting," EG Coach Potter reflects on her first VCT Americas season
In our second VCT Americas interview with Evil Geniuses coach Potter, she discusses the team's seasonal progress from start to finish.
Many thought Evil Geniuses' year in VCT Americas was over before it even started. Well, coach Christine "Potter" Chi and her players proved everyone wrong. From the lowest of expectations to finishing in the top three, EG silenced the doubters. They barely made the playoffs, but quickly defeated both NRG and Cloud9 to qualify for Masters Tokyo and Champions 2023.
Unfortunately, their playoff run ends with a Lower Final loss, in a rematch against NRG. This comes after a loss to LOUD in the Upper Final. Following the NRG series, we once again got in touch with Potter to look back on our previous conversation and discuss the progress that saw EG achieve the once thought unachievable.
Potter defines EG's year in VCT Americas and gives her thoughts on how NRG remains successful
(Photo by Tina Jo/Riot Games)
"We spoke all the way back in Week 2. Demon1 just debuted and things looked nowhere near as promising as they do now. During that conversation, you told me how proud you were of the team you've built, how competitive they are, and the work everyone has done. Now, with Masters Tokyo and Champions on the horizon, we all know exactly what this team is made of. In your words, define the Evil Geniuses run through VCT Americas for me."
Potter: "The storyline for this squad is one that anyone can really get behind. From the beginning, you can really just see the progress that we've made, and the trajectory has been up and up and up each way. Boostio and I, since we started this journey together, we've hit every goal that we've set out to hit and then some.
"We had a shaky start according to the community, but for us, through and through, we did feel the progress and we did start racking up the confidence together. That's why we are in this position that we are.
"Demon1 has been incredible for the squad. It's just obvious. I don't even have to talk much about how good he is, but he's elevated this whole squad. Ethan's also absolutely elevated this whole squad, but I've got to talk about Boostio the most.
"Boostio, when he first joined the team, he wasn't a purebred IGL with aspirations to become the biggest brain in VALORANT, but he's slowly becoming that. Seeing his progression, seeing his game sense get better and better with each season, it's been incredible. He is a different human. He's a different teammate, and I think he's one of those players that every single team needs.
"So, it's really exciting to see his growth. Corbin (C0M) has had a lot of doubt behind him, but I've believed in him since day one. It was really important for me to keep this core together in Corbin, Jawgemo, and Boostio.
"They're young players that needed to have some familiarity and that synergy with their own teammates when starting such a huge uphill battle, in this year. It was important for me to keep those three together. And they have proven time and time again exactly what it means to get reps together, build confidence together, and not just expect immediate results."
(Photo by Tina Jo/Riot Games)
"Okay then. At first the narrative was EG wouldn't stand a chance. Then it became EG is getting lucky. Followed by being the ultimate underdogs. Now you're top three in all of VCT Americas. If the narrative changes yet again, this time to something like, 'EG didn't make the Grand Final. How will they do in international competition?' Do you think your players will be happy with this outcome and whatever outcomes are ahead simply because of the progress made?"
Potter: "For us, even though we're pleasantly surprised and we had a bit of luck on our side, we didn't have that luck today in those swing rounds and some of these eco rounds. We did have a little bit of luck, but again, that confidence was rising for us.
"So, we're not in this position thinking, 'What are we doing here?' We do feel like we deserve to be here. Again, we've been putting in a lot of work this year, so our expectations going into Japan are quite high. Our confidence is high.
"In Brazil, even when we were a completely different team than we are now, we had fantastic rounds. And our prep leading up to that day one match on stage in Brazil, it was great. So, we've already seen it before. We've gone to an international stage, thankfully at LOCK//IN. I think for Tokyo, we have a better idea of what to expect going in."
"So, this was the rubber match against NRG. The third series between you two this season, and all happening in less than ten days. How in the world do you keep a team, that you've battled so frequently, guessing?"
Potter: "That's a tough question. It's a lot of mind games going into this series for sure. NRG, they have so much experience in these little mind games. They've been at it for years, especially with FNS and Chet together, the IGL and the coach. They've got great synergy. They've got a great game plan and they've got a great resume and pedigree. So, definitely, they outplayed us. They had some really good counters that we weren't ready for, but we'll be ready for them in Tokyo."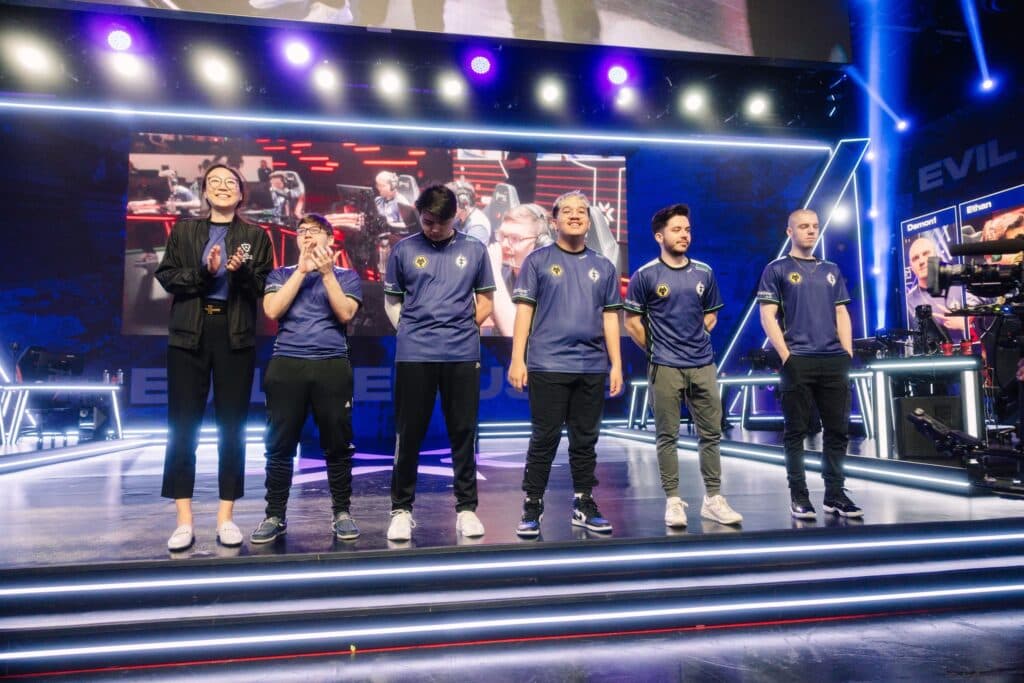 (Photo by Tina Jo/Riot Games)
"And from a coach's perspective, what do you notice from NRG that has kept the core so successful for so long?"
Potter: "It's just the individual reactions, right? Even when they're down numbers. I think today we lost, my god, like three or four 5v3s and 5v2s. We had the opening pick multiple times, but each individual on that squad, with that pedigree, they're able to make the correct call. They're able to react optimally and regain the map control that they've lost.
"Even when we do find those advantages, it's pretty tough closing out these rounds versus a team like NRG, versus a team like, let's just say Cloud9 from just the other day. That experience comes through, there's not a lot of gaps when your individuals, like crashies, are able to just constantly regain that info for a squad. You'll notice it when they're on, like nothing is breaking them. So for us, that was definitely tough in this series today. It's definitely something we're going to talk about."
"When a team like NRG has proven themselves over and over, do you find yourself borrowing anything from them and applying it to how your team plays? Such as strats or Agent compositions?"
Potter: "Oh, absolutely. I mean, we steal things all the time from these guys. You know, just the other day we ran an incredible strat that worked really well. So, you would think that most of the stuff that we steal is coming from franchise teams, but no. This strat that we stole was from a Tier 3 scrim that we had fill in the last minute, because somebody canceled.
"We randomly scrim this team and they ran the most random strat that we'd seen. And it worked beautifully. So yeah, every day it's about stealing. Everyone's doing it and it's been that way since I can remember, even back in CS. So, definitely being inspired and making it your own, adding your own flavor to it, for sure. But yeah everyone's stealing everyone's strats."
"Okay, and in regards to the series itself, five potential maps. When I spoke with Ethan, I asked him about the team's stamina when days go long and maps go into lengthy overtime periods. This is the first best-of-five of this caliber for a lot of players on the team. Did that perhaps play a factor in the result?"
Potter: "For sure it did, but I don't think that we'll be considering it to be a big contributing factor to us falling flat here. It definitely is in the back of our minds and it's something we've been preparing for since this team formed.
"I had the guys drilling on performance days with two hours of doing nothing, and then five maps straight with no breaks. So, as far as endurance goes, it's something that we have been preparing for since way back in December.
"Sure there's definitely a factor. That stage experience that we gained together as a squad, it's invaluable. Definitely today was a huge learning experience, one that money can't buy for my players. We're going to walk away better, but I don't think it played a huge factor in why we got destroyed today."
"You mentioned the preparation and when we talked in Week 2, you mentioned Demon1 coming in was kind of in the works for a while. Then we saw that Reformed has kind of been in the works for a while as well, when it comes to playing at Tokyo. So, how much of the preparation focuses on the what-ifs rather than what's actually to come?"
Potter: "Well, we don't really focus too much on the what-ifs. As far as Demon1 preparing to come into the lineup, it's not as black and white as that. It was more like. we knew the caliber of player we had on the bench, but we still had a lot of faith in the five that we had playing. It didn't work out. And so that's why we went through the motions of what we did.
"So, it's kind of unfair to say that since day one, since we picked up Max (Demon1), it's not as if it was our plan all along to bench Brendan (BcJ) and bring in Demon1. Just to clarify that. And secondly, as far as our prep goes, yeah, it's definitely something that I put a lot of focus on. To make sure that we know what to expect a couple weeks, maybe three weeks even, before we get to that point.
"So, it's something I'm very proactive on, but it's also not something that I'll say out loud to the players. Like, 'Hey, we're preparing for the NRG match in two weeks today. This is what we're working on.' It's just, we go through the motions of being able to be ready for most of the variables."
(Photo by Tina Jo/Riot Games)
"Well, after watching this team all season long, it's clear how effective you've been as a coach. What would you say has been your personal biggest improvement from day one to now?"
Potter: "That's a good question. I think, being able to adapt to the different group of players that I have. For the last year and a half, I've had pretty much the same group of players that I was coaching. And you can get used to the group and how you interact, and expectations and things like that. And I think coming into this year with two new players and then a whole new reserve roster, it's being able to adapt to each player's strengths.
"I learned a lot about adapting. I think being able to use each player's strengths is something that I was weak at in the beginning of the year. And towards the end of this split, it's something that I've gotten better at. So, that's something that I put a lot of focus on, and it's something I identified as weakness."