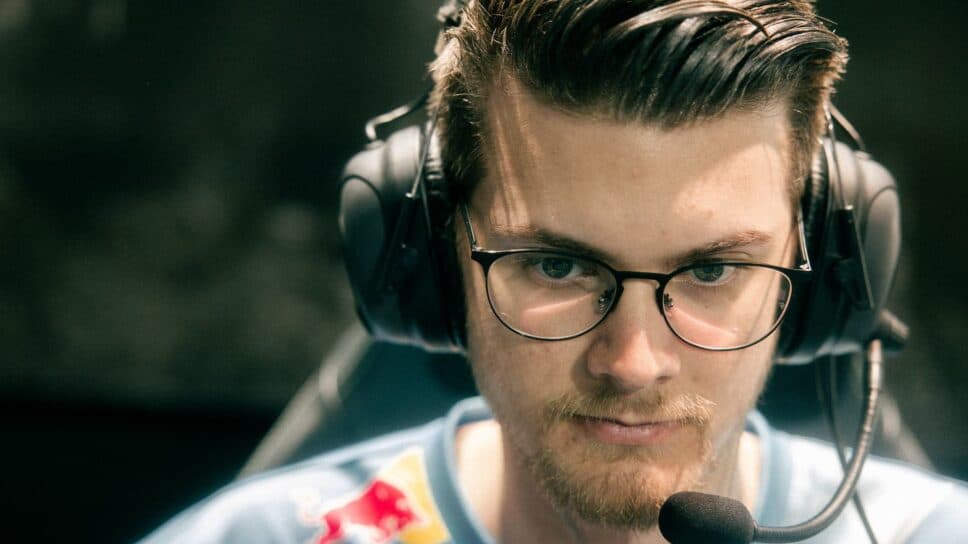 Cloud9's runi talks not playing his style on the team, the experience of VCT Americas, and more
Cloud9 once again saw a tournament end just before the finish line, and after the LCQ Lower Final loss, we spoke with runi about the series.
Cloud9 was one of the hottest teams in VCT Americas, but their inconsistencies when it mattered most proved to be their undoing. With new faces to start the league, including IGL Dylan "runi" Cade, expectations were virtually nonexistent. Despite falling short in LCQ, the team still flashed signs of brilliance all season long.
We sat down for a quick conversation with the Cloud9 in-game leader after Leviatán secured a reverse sweep in the Lower Final and a spot in the Grand Final. Clearly things did not end as he and C9 would have wanted, but he was very open and honest about the team's run, the experience he'll take from the league, and how he performed as an IGL.
Cloud9 IGL runi says playing in VCT Americas was a "once in a lifetime opportunity"
(Photo by Tina Jo/Riot Games)
"In the aftermath of the KRU Esports loss, I spoke with mCe and he was furious, to put it plainly. I have to know, what was the initial post-match conversation like?"
runi: "We didn't go too much into it, because we knew we still had another match to play. We can't dwell on it too hard. We focused on what's next in front of us. It definitely wasn't a good time, that's for sure. But we all knew as players that we have something next and we can't dwell on whatever's in the past. So, we just got ready for the next game."
"And whether win or loss, what's your role in that type of conversation? Are you there for accountability, to just listen and learn, or maybe to provide immediate reactions? Where do you fit in?"
runi: "I'm always wanting to take the hit. I know I can, so I'll try to take blame in whatever way I can. I'll take others' blame as well if I can. If it makes sense that way. They can focus on doing what they need to do, and it doesn't affect me too harshly. I just eat it for them. That way, they can continue doing what they do and just make sure that we're still preparing, still getting ready for the next match."
"Okay, well let's move onto the match against Leviatan. Lotus felt like a pretty standard victory for Cloud9. Your map pick, not much worry about reaching the finish line there. Tell me what went right to ensure map one went in your favor."
runi: "So, map one, we came out confident, we came out strong. We did what we always do, what we plan on doing. We were taking confident peeks, confident fights, comming well. It went the way that we wanted to go and gave us even more confidence going into the next map."
"And I'm curious for your thoughts on the difference between a best-of-three and a best-of-five. Do you feel it is equally crucial to get that first map victory, knowing you've got two more wins to go rather than just one?"
runi: "At the end of the day, it doesn't end until it's over. So, you know, we're going to play as hard as we can regardless. I do think that it can get a bit draining the further you get into the series. But winning map one definitely helps the environment and the vibe for the whole team."
(Photo by Tina Jo/Riot Games)
"With it being a best-of-five series, do you feel it favors teams with a wider map pool more or teams that can simply hang on stamina-wise?"
runi: "I feel like it goes both ways. Both have their own benefits in different ways. We have a really deep map pool, so we're confident in that way. Map picks went exactly how we thought they were going to go. The stamina part we've been struggling with in the past. Whether it's caffeine and we're dropping off midway through the series, just energy in general.
"Or the fact that we're not able to eat a proper meal during this whole time. So, we're trying to force each other to eat bananas, snacks, whatever we can in between games. Making sure that we're playing. But coming off of a loss, it's kind of hard to force that food or re-up on caffeine, whatever it is, between games."
"Last time on Pearl, you were against KRU in a one-sided loss. Of course, game plans are different for each team, but after the loss, were there any major fundamental changes made on how you approach the map in general?"
runi: "No, we are still very confident in our Pearl and that's just the game of VALORANT. Sometimes it just doesn't go your way. Sometimes they're hitting shots, sometimes they're getting lucky. I mean, obviously they played really well. I'm not saying they got lucky in any way, but they caught good timings.
"They were aiming well in that map. Even though it looks so one-sided, we were still super confident in that map. Knowing it's one of our best, we didn't even touch it during the couple days off. We knew they were going to pick it and we knew we didn't need to touch it, because it's still super strong."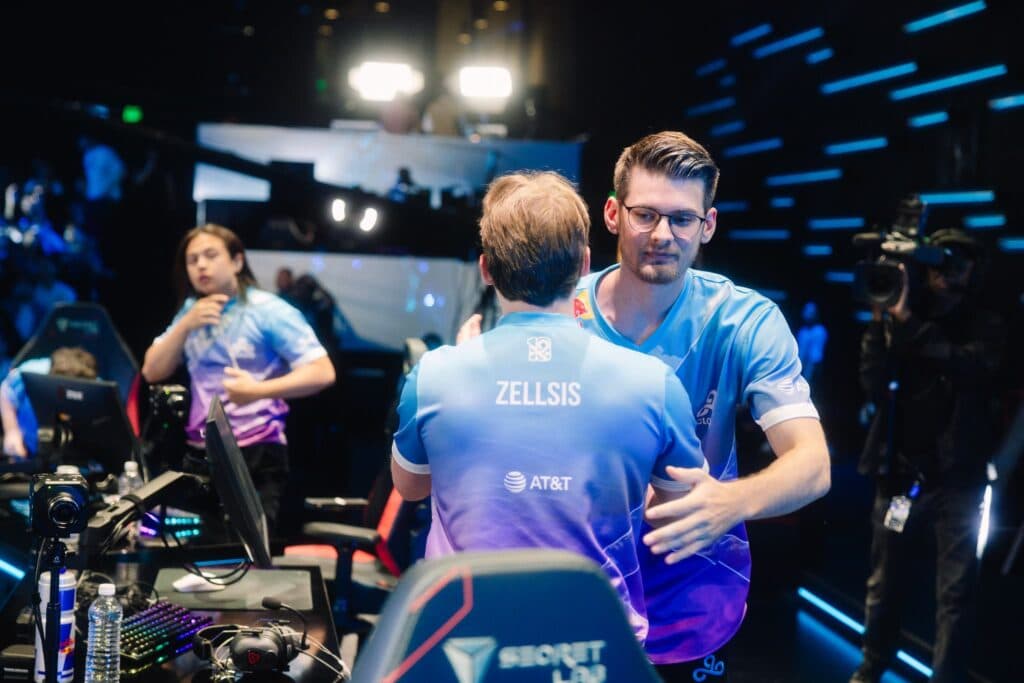 (Photo by Tina Jo/Riot Games)
"Then it went to Split. It ended a lot closer than LEV probably would've liked it to. Even on a loss, things probably didn't feel too dire knowing you were still ahead. Then came another close defeat on Haven. I assume that's where it started to feel tense. Can you tell me what you or anyone on the team may have said after those maps to try keep everyone locked in?"
runi: "Our whole team is pretty experienced. A lot of veterans on the team, so we all understand that, you know, next map, next step, whatever we need to do. There's not really much said except for that it's not over. We should have won both of those maps, Split and Haven.
"On Bind, we kind of just got beat on. We'll take accountability for that. We had a hard time struggling out the other two that we should have won both. It was a bit unlucky and that can be a little more tilting than normal, knowing that you should have won it. We all just knew, next map, it's not over yet. We've still got to keep playing."
"Lastly for maps, we have Bind. What would you say were the struggles the team faced in that final map of the series?"
runi: "Well, we lost the previous two. They won the previous two. They're playing to win and we're playing not to lose it felt like. They're confidently swinging things. They're taking fights on Agents that normally won't be taking fights early. They're taking space, they're shift-walking up everywhere, taking map control. They had the confidence to do that, and we didn't have the confidence to do that. So, they kind of just squeezed us out and took it from us."
(Photo by Tina Jo/Riot Games)
"You mentioned that you like to take the brunt for everyone after a loss from mCe or what have you. Personally, from your performance during this series, what kind of critiques would you have in an immediate reaction for yourself?"
runi: "Man, it's tough, because coming up as a player, I was that guy that wanted to take fights all the time and wanted to be the one to win for my team. And then coming onto this team, I have three extremely experienced veterans, that it no longer makes it my job. I'm playing that safe role, I'm making sure I'm not getting first blooded, I'm playing to win.
"That's not really my style. So, it's pretty tough for me to play like that, when I know that I have superstar aim. I have really good timings and really good reads that I should be able to take advantage of. And I wish that I wasn't too worried about the backlash of taking my duels that I feel like I should be taking."
"To wrap things up, this finishes your first year in the VCT. Cloud9 looked like the best team in the world at times, but unfortunately, it didn't end as you'd like. How are you going to look back on the experience?"
runi: "It was definitely a great experience. A once in a lifetime opportunity that I was given. We made the most of it for the time that we did. I'll never forget all these moments that we made and hopefully there's a lot more moments to make. I think that the system and the format is super cool. So, I mean, I'm excited to keep doing it next season. Playing on stage is different and it makes the game a lot more enjoyable. You don't really think about that until you're doing it."