You have seen his unique walk-ins at International Valorant events. Check out Benkai's crosshair settings and video settings now.
Paper Rex have emerged as one of the most aggressive and entertaining teams at VCT Masters Copenhagen. Leading the team from the forefront and enabling his teammates is veteran esports player, Benkai. The former CS player uses his experience playing CS: GO in Valorant and so far it has been wildly successful. Here are Benkai's Valorant crosshair and video settings.
Yay's Mouse settings
DPI: 800
Sensitivity: 0.35
Zoom Sensitivity: 0.7
Windows Sensitivity: 6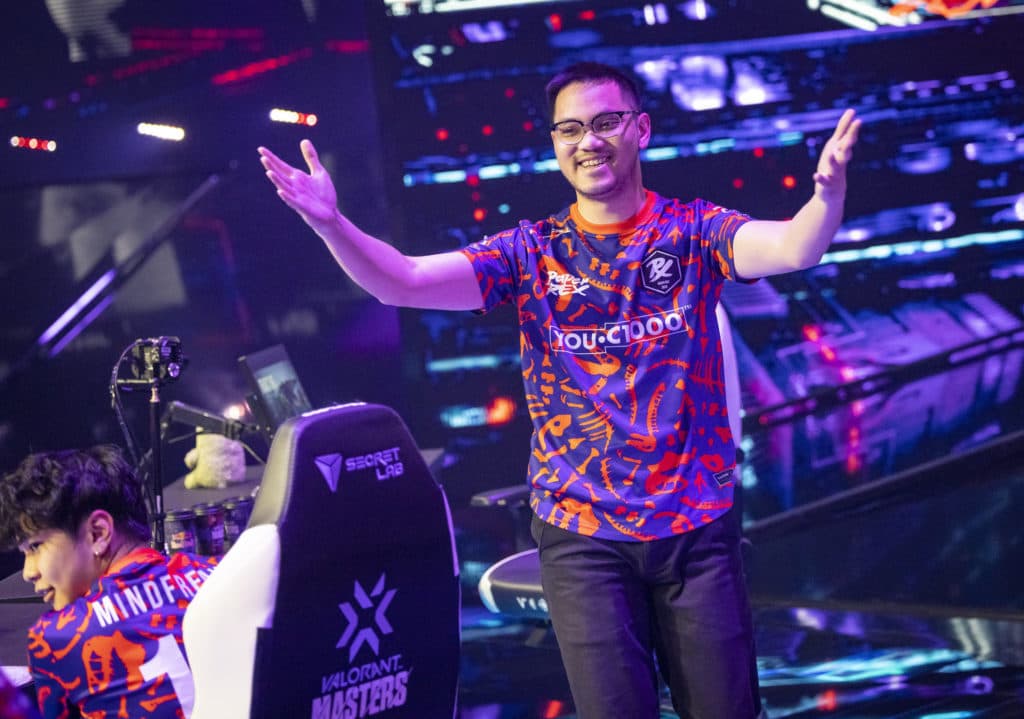 (Photo by Colin Young-Wolff/Riot Games)
Yay's Valorant Crosshair settings
Color: Green
Outlines: Off
Outline Opacity: 0
Outline Thickness: 1
Center Dot: Off
Center Dot Opacity: 0
Dot Thickness: 1
Inner Line Opacity: 1
Inner Line Length: 4
And Inner Line Thickness: 2
Inner Line Offset: 2
Movement Error: Off
Firing Error: Off
Show Outer Lines: Off
Outer Line Opacity: 0
Outer Line Length: 0
And Outer Line Thickness: 0
Outer Line Offset: 0
Movement Error: Off
Firing Error: Off
Valorant Keybinds for Yay
Walk: L-Shift
Crouch: L-ctrl
Jump: Spacebar
Use Object: F
Equip Primary Weapon: 1
Equip Secondary Weapon: 2
And Equip Melee Weapon: 3
Equip Spike: 4
Use/Equip Ability 1: E
Use/Equip Ability 2: Q
Use or Equip Ability 3: C
Use/Equip Ability Ultimate: X
Yay's Valorant Video Settings
General Resolution: 1280x960
Aspect Ratio: 4:3
Aspect Ratio Method: Letterboxl
Display Mode: Fullscreen
Valorant Graphics Settings
Multithreaded Rendering: Off
Material Quality: Low
Texture Quality: Low
Detail Quality: Low
UI Quality: Low
Vignette: On
VSync: Off
Anti-Aliasing: None
Anisotropic Filtering: 1x
Improve Clarity: Off
Bloom: Off
Distortion: Off
Cast Shadows: Off
Paper Rex have proven themselves repeatedly on the international stage. The team reached the top four at VCT Masters Reykjavik and they also reached the Grand finals at Copenhagen. The aggressive playstyle of the team is facilitated by Benkai and his leadership. Hopefully, Benkai's Valorant crosshair and video settings will help you improve your performance and rank up in Valorant.