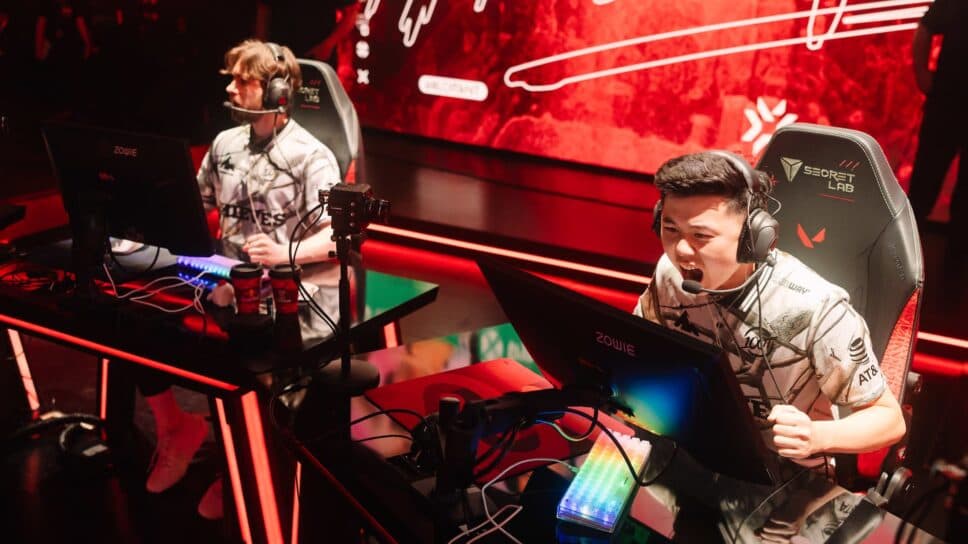 100 Thieves VALORANT says goodbye to Derrek and stellar
Derrek and stellar are on their way out of 100 Thieves VALORANT as the organization looks to change things up for 2024.
Teams partnered in the various VALORANT Champions Tour leagues are prepping their rosters for 2024. 100 Thieves is the latest from the Americas to officially make moves. Rumors and leaks are everywhere, but they finalized goodbyes to Derrek "Derrek" Ha and Brenden "stellar" McGrath.
Derrek and stellar officially released from 100 Thieves VALORANT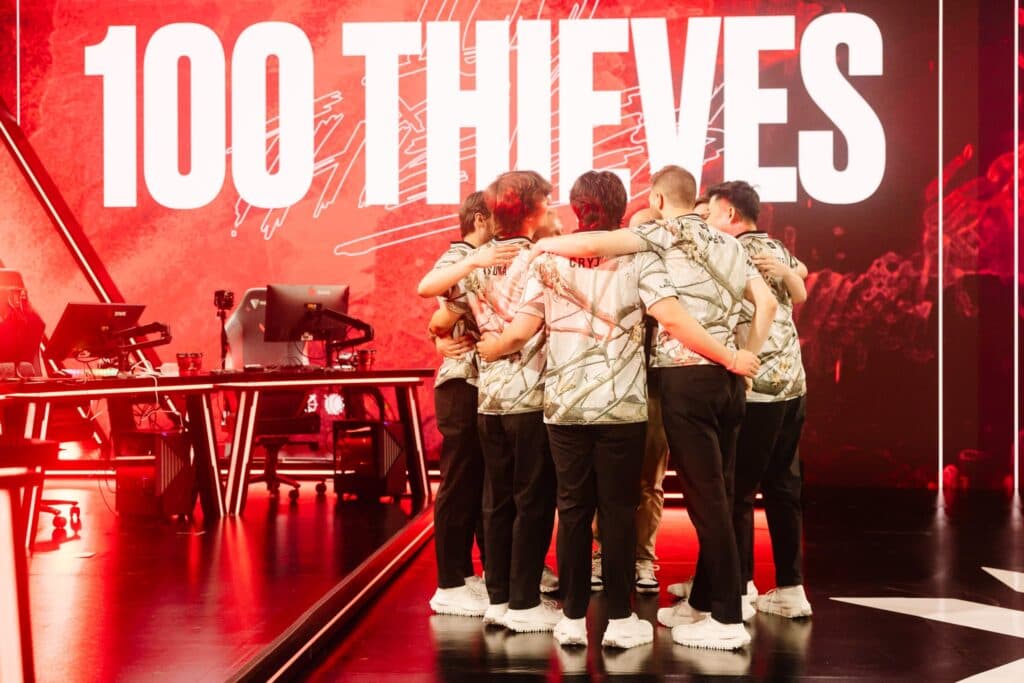 100 Thieves did not know this would be their last pre-game huddle as a group of five. (Photo by Colin Young-Wolff/Riot Games)
100 Thieves VALORANT roster is moving on from two important pieces of their 2023 season. Their IGL stellar and one of the most clutch players in America in Derrek have been let go by the organization. Like many others, they'll hope for a chance in VCT 2024 with another organization.
Unfortunately, their season did not go as planned. Many believed that 100 Thieves were a favorite to make Masters Tokyo and Champions when the Americas league began. Apparent communication issues caused that dream to faltered.
We spoke with the 100 Thieves VALORANT roster across different weeks during the regular season. The same story was reiterated by them all. Communication in-game was not up to standard and the team simply wasn't playing off of each other well.
Whether or not that or other contract dealings were factors in their release are unknown. But its clear 100 Thieves wants to test the free agent market and see what kind of firepower they can bring to the team when 2024 begins.
For Derrek and stellar, their final matches on 100T won't be the legacy they hoped to leave behind. The knife heard around the world from MIBR propelling Evil Geniuses to the playoffs and a quick LCQ exit following a loss to Sentinels is how their 100T journey ends.