Teamfight Tactics (TFT) Set 10, Remix Rumble, is set to launch on Nov. 21 at 5 a.m. local time. Here's some extra release information about it!
Depending on the region you are located in, TFT Set 10 will be available on live servers earlier than your global counterparts. But for everyone, you can play ranked ladder of Set 10 Remix Rumble on Nov. 21, at 5 a.m. local time. For regions that span across multiple time zones like North America (NA), that time could range a few hours. Rest assured, you will be on the convergence soon.
TFT Set 10 Countdown for North America
By the time this countdown finishes, all other major regions aside from NA will be live with the new set. Servers will go down for maintenance for the new set in a similar timing cycle to regular patches. For NA, this means servers become unavailable at 1:30 a.m. PT. Starting at 3 a.m. PT, maintenance for patch 13.23 and Set 10 release in NA takes place. Then at 5 a.m. PT, NA can embark on their TFT Set 10 ranked journey.
Official patch notes
Here are the official patch notes for the release of Set 10. Per TFT lead designer Stephen "Mortdog" Mortimer, the final batch of patch 13.23 includes changes to 18 champions, four traits, three items, and three augments.
Jhin in Set 10 (Image via Riot Games)
Rank reset
Everyone will have a full rank reset for Set 10, regardless of where you ended in Set 9.5. You will climb starting anywhere from Iron II to Bronze IV up to your desired rank, with five placement games at the start. Hidden MMR attached to your accounts will adjust as you start playing your games and should match you accordingly.
TFT Set 10 Battle Pass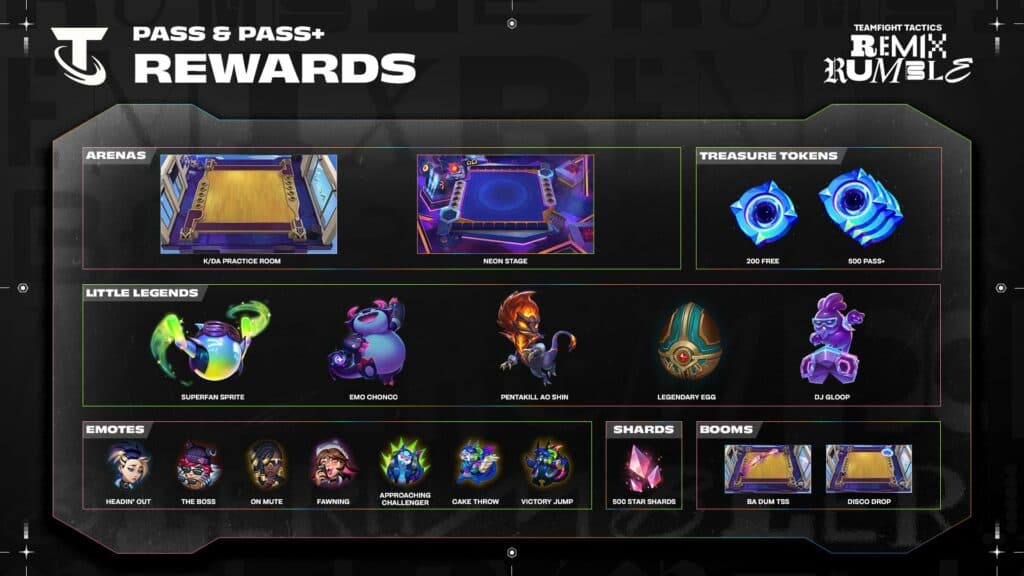 TFT Set 10, Act I Battle Pass rewards (Image via Riot Games)
There will be two Battle Passes spanning across the entirety of Set 10. These are the rewards you can expect for Act I on release of the Set 10. Act II begins on Jan. 24 at 11 a.m. PT, with more arenas, little legends, and more!
Hope you enjoy Teamfight Tactics: Remix Rumble!
---