The Teamfight Tactics Set 9 Runeterra Reforged Championship crowned its world champion! Title, representative from Japan, took home the win.
After three days of world-class Teamfight Tactics (TFT) gameplay, Title put up the most convincing scoreline in the finals to secure victory. He scored 29 points in four games, while most importantly checkmating his opponents immediately after reaching the point threshold. Let's take a deeper look into how Title became your Set 9 Runeterra Reforged world champion.
Title earns his spot in the finals again
Runeterra Reforged Championship scores for the top 16 players after Day 2 (Image via Riot Games)
To make it to the final lobby and get one step closer to being world champion was no easy feat. In a field of 32 of the world's best, Title needed to be among the top eight in overall points after twelve games. Scoring a second-best overall 68 points left no doubts that he belonged in the final lobby to compete for the title. In fact, if he had placed eighth in his final game of Day 2, he still would have been in the final lobby. Having been in the final lobby in the Set 7 Dragonlands Championship, Title was heading into familiar territory.
Runeterra Reforged Championship finals
Runeterra Reforged Championship scores after Game 3 (Image via Riot Games)
Three games is all it took for Title to put himself as the sole competitor in check. Players reached check by securing a minimum of 20 points, after which a victory in any subsequent game would crown them as champion. With a 4th, 1st, and 1st in Title's first three games, he was leaving his fellow competitors behind in the dust. There were two goals for the rest of the field:
Don't let Title win the next game
Score enough points to join Title in check
The final fight of Runeterra Reforged Championship
Title knew he had to play for a first place in every game after Game 3. There was no need to play safe or no need to secure just a top-four placement. He piloted a 6 Slayer line with a creative twist, by teching in Ixtal to his board. Placing his carry Mordekaiser on the Ice Ixtal hex, his carry was very hard to eliminate for his opponents. By the Stage 6 item carousel, only HongLian of China stood in Title's way.
With the fate of the rest of the world's TFT hopes on the line, HongLian became a crowd favorite to extending the tournament to a fifth game. However, Title used his tempo and board strength to go to level 10, unlocked by his 3-2 prismatic augment of Level Up. With that, he was able to add in an Ahri 2, equipped with Blue Buff and Slayer emblem, closing out the Runeterra Reforged Championship in exciting fashion.
Title was the runner-up at the Set 7 Dragonlands championship. But this time, he refused to be denied his world champion status. Title is your Set 9 Runeterra Reforged world champion, potentially cementing himself as one of the greatest in TFT.
Runeterra Reforged Championship finals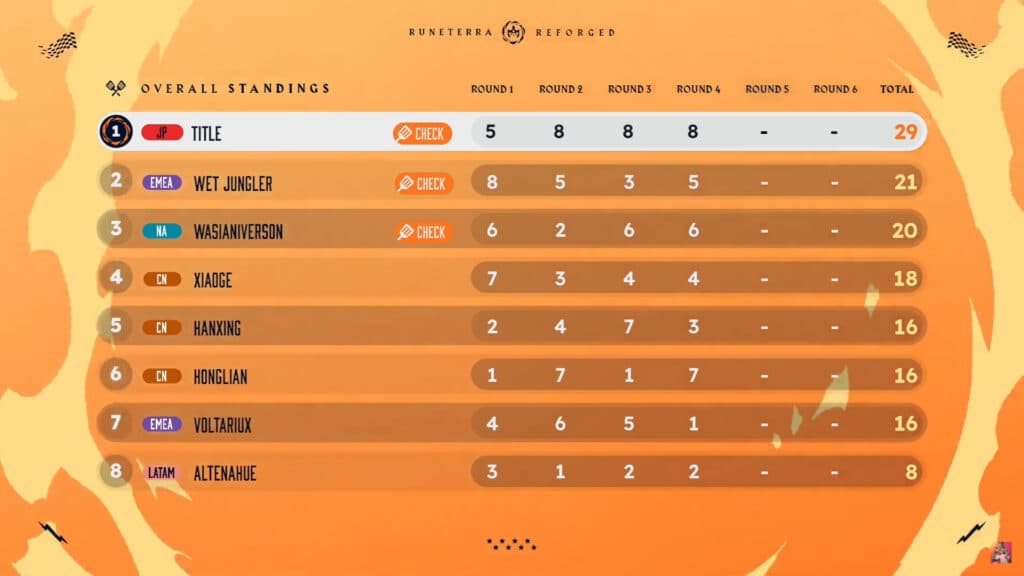 Runeterra Reforged Championship final scores (Image via Riot Games)
Points were awarded from 8/7/6/5/4/3/2/1 for first through eighth place respectively. Games were played on patch 13.21.
The Runeterra Reforged Championship finals featured a different format from the first two days.
Points reset from first two days
Checkmate format

Runeterra Reforged Champion Title was the first player to reach 20 points and then win a game
For a more detailed breakdown of the scores and standings, click here.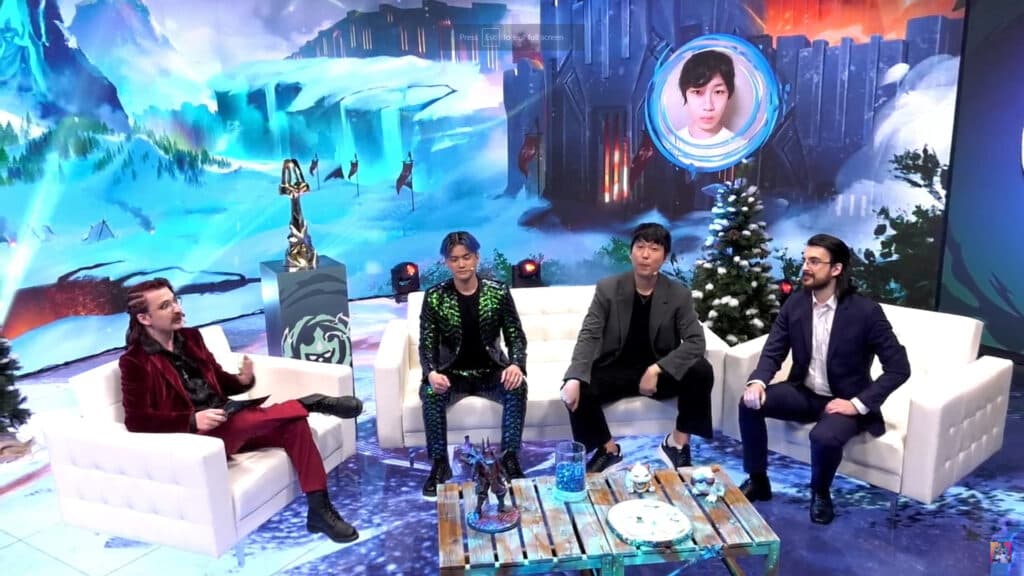 Title's Runeterra Reforged champion interview with Casanova, Frodan, Bebe, and PieHat (from left to right) (Image via Riot Games)
Runeterra Reforged Championship TFT worlds prize pool
| | | |
| --- | --- | --- |
| 1st | $150,000 | Title (JP) |
| 2nd | $75,000 | Wet Jungler (EMEA) |
| 3rd | $25,000 | Wasianiverson (NA) |
| 4th | $20,000 | XiaoGe (CN) |
| 5th | $14,000 | HanXing (CN) |
| 6th | $13,000 | HongLian (CN) |
| 7th | $12,000 | Voltariux (EMEA) |
| 8th | $11,000 | Altenahue (LATAM) |
What's next in Teamfight Tactics?
Preview of TFT Set 10: Remix Rumble (Image via Riot Games)
After the conclusion of the Runeterra Reforged Championship, the Teamfight Tactics development team announced Set 10: Remix Rumble. The new set will be on the Public Beta Environment (PBE) starting on November 7th. It will be deployed on live servers for ranked play on November 21st. Don't miss out on the tenth set in Teamfight Tactics, combining old mechanics and new for a remix of fun! For more information on the set, click here.
And that's the end of Set 9 competitive TFT! We hope to see you again in Remix Rumble. Stay tuned to esports.gg for the latest Teamfight Tactics news and updates.