Kurumx wins the Runeterra Reforged Mid-Set Finale!
Team Liquid Kurumx took home the Set 9 Mid-Set Finale win with a whopping 38 points!
Against 31 of the best Teamfight Tactics (TFT) players in North America (NA), Kurumx proved himself to be the best across three days of competition. With this win, Kurumx became the first professional TFT player in NA to win three major Riot-sponsored tournaments. He also became the first player to win two tournaments in the same TFT set. Most importantly for Kurumx, he secured a spot at the Runeterra Reforged Championship to compete for the world title.
Mid-Set Finale winner Kurumx
Kurumx wins the Runeterra Reforged Mid-Set Finale (Image via Riot Games)
Kurumx qualified to the Mid-Set Finale when he won the Freljord Cup, the first major tournament of Set 9. The Mid-Set Finale featured steeper competition, as all 32 competitors qualified through top tournament performances across Set 9. While his previous tournament performance at Shurima Cup was not quite up to standard, there was a world championship spot on the line this time. So Kurumx showed up to play.
The final day
With 33 points, Kurumx cemented a top-five finish on Day 1. He then topped that with a top-two finish on Day 2 with 34 points, earning himself two bonus points for the final day of competition. After five games of play on the final day of the Mid-Set Finale, Kurumx demonstrated no signs of slowing down. With placements of fifth, third, fifth, second, and first, Kurumx, with 31 points, had a six-point lead over his competition prior to the final game.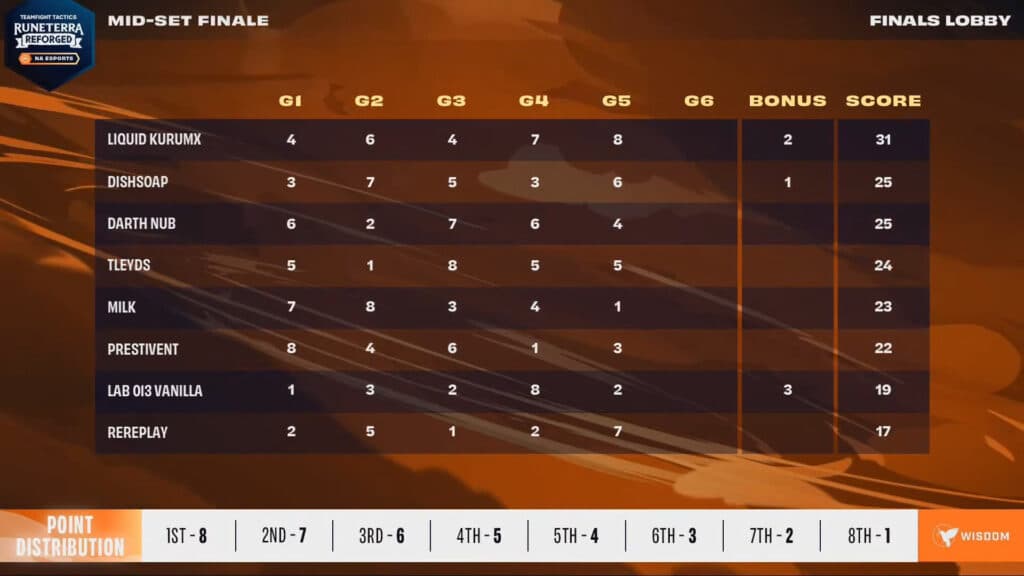 Scores prior to the final game (Image via Riot Games)
The final game of the Mid-Set Finale
Heading into the final game of the Runeterra Reforged Mid-Set Finale, Kurumx needed to place sixth place or higher. If he avoided seventh and eighth place, he would be the guaranteed victor of the tournament. It seemed impossible for anyone to surmount the lead he created.
Taking home the Mid-Set Finale title
As game six of the Runeterra Reforged Mid-Set Finale commenced, Kurumx put on a statement finish. His game plan was clear — look for an uncontested AP flex line to take home the tournament victory. The bottom finishers of the final game contested each other's Aphelios carry line, making way for Kurumx to play a 6 Sorcerer Lux carry with relative ease. He only needed a sixth place, but to widen the gap of victory, Kurumx placed second in the final game of competition. This brought his total points on the day to 38, winning the tournament over Dishsoap by eight points.
Kurumx only placed below fifth place twice throughout the entire tournament. A single sixth place on Day 1 and a single sixth place on Day 2 were his lowest finishes. He ended the tournament with a 3.33 average placement, with the next closest being Dishsoap at 3.83. It was pure domination from start to finish by NA's first representative at the Runeterra Reforged Championship.
Prize pool distribution
Runeterra Reforged Mid-Set Finale final scores (Image via Riot Games)
This is how the competitors split the $25,000 USD prize pool:
| | | |
| --- | --- | --- |
| 1st | $7,500 | Kurumx |
| 2nd | $5,000 | Dishsoap |
| 3rd | $3,500 | Darth Nub |
| 4th | $2,500 | Prestivent |
| 5th | $1,500 | Tleyds |
| 6th | $1,100 | Rereplay |
| 7th | $850 | Milk |
| 8th | $600 | Lab 013 Vanilla |
| 9th-12th | $350 | |
| 13th-16th | $250 | |
You can check out the full scores and standings of the event here.
Other qualifications
While Dishsoap already qualified to the Runeterra Reforged NA Regional Finals via ladder snapshot, Kurumx, Darth Nub, Prestivent, and Tleyds also qualified to the Set 9 NA Regional Finals through their incredible Mid-Set Finale performances.
Interview with the winner of the Mid-Set Finale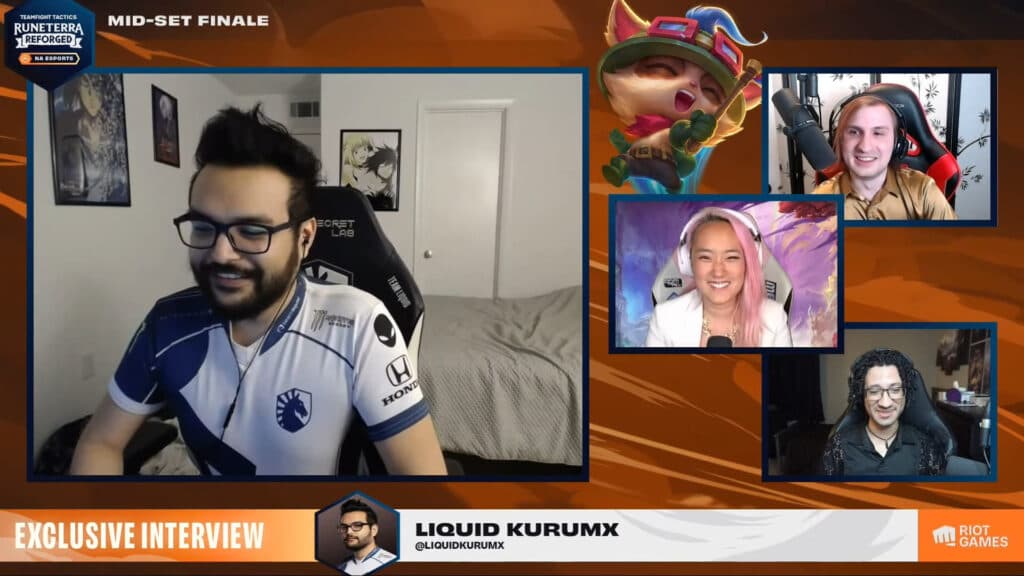 Runeterra Reforged Mid-Set Finale interview (Image via Riot Games)
Return to the world championship
Kurumx last represented NA at the world championship in Set 4 Fates. Ever since then, he has not stopped trying to return to the world stage to win the coveted title. Now, he hopes to make it a back-to-back win for his region.
It means so much. I've been working my butt off for five sets. I've been trying to get back. I go to every regional. I go to every Mid-Set Finale. I've been trying so hard to get back. Now, I've finally got back. I have another chance to win worlds. I'm so happy about it. [...] I don't care about anything except winning worlds. I just want to bring home the title.
Kurumx
Thoughts on the Mid-Set Finale competition
A B-patch for TFT was deployed a few days leading up to the competition. This affected the preparation, strategies, and skill level of players before the tournament. For Kurumx, it turned out to be his biggest advantage.
This tournament [was] so free because everyone is terrible. The B-patch changed the meta so much. We only had three days on the new B-patch. Everyone sucks. I'm pretty sure I'm just the best AP player right now. I rarely see people play this line, and when they do, they make a lot of mistakes. Generally, I can play consistently towards top four, and try to convert [a first] when I'm highrolling. I told my study group, "I suck, but everyone sucks. I'm pretty sure this tournament is winnable." I just knew as long as I kept playing my game and preparing, I think good things will happen.
Kurumx
The next world champion of TFT
Kurumx confidently declared a promise to thousands of viewers.
Am I winning worlds? Of course I'm winning worlds. Why would I put in all this effort to not win? Of course I'm winning worlds. I'm bringing the title.
Kurumx
What's next in North America?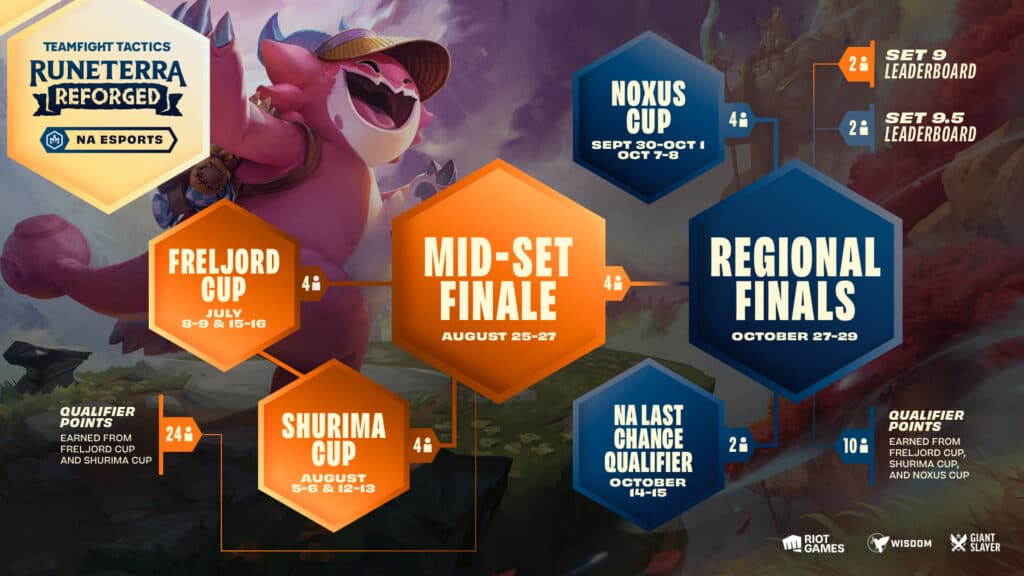 TFT Set 9 tournament information (Image via Riot Games)