After winning the North American Last Chance Qualifier, DavidAs will join the best NA players to play at the TFT world championship.
Through a dominant North American Last Chance Qualifier (NA LCQ) win, DavidAs earned a berth into the NA Regional Finals. He will compete for one of four remaining spots to represent NA at the Teamfight Tactics (TFT) Runeterra Reforged Championship. DavidAs proved he had the best meta read by executing an Urf legend strategy in a finals lobby where most people felt Twisted Fate was the way to go. Playing a wide variety of lines determined by the direction given through his Tomes of Traits, DavidAs demonstrated his mastery over numerous compositions to tournament victory.
DavidAs wins the NA Last Chance Qualifier
Although DavidAs has been competing in TFT for multiple sets now, he seems to have found a formula for success in this tournament breakthrough.
DavidAs: "I did a lot of tournament runs before and always failed Day 3 or on tiebreakers. Finally, I'm able to do well in a tournament — it's crazy."
In this tournament, the popularity of the Twisted Fate legend gave him an edge. DavidAs was often able to secure a win streak early game and save HP as other players were waiting for "Best-in-Slot" items to make use of their item components. This early tempo made it a lot easier for DavidAs to, at the minimum, secure top fours with the direction provided by his 2-1 legend augment.
David As's NA LCQ interview ft. Azael, Nekkra, and Boopasaurus (from top to bottom) (Image via Riot Games)
Strategy to Success
"I feel like there was a lot of TF (Twisted Fate) players. I just tried to save HP and winstreak. This lobby, I managed to do it well [in] a lot of games. These TF players don't really slam their items, so I can streak early and top four from there."
DavidAs during an on-stream interview post-NA LCQ win
His selection of Urf granted him emblems as early as Stage 2. This solidified his game plan early in each game, leading to clearer paths to success. His ability to navigate the lines these emblems took him to cannot be understated as he found himself on a different composition throughout his final day games. Here are the compositions DavidAs executed during his journey to the top:
| | |
| --- | --- |
| Game 1 | 9 Demacia 4 Slayer |
| Game 2 | 6 Gunner 5 Bilgewater |
| Game 3 | 5 Noxus Morde/Azir |
| Game 4 | 6 Sorcerer into 6 Shurima |
| Game 5 | Rogue Reroll |
| Game 6 | 6 Slayer Quinn Reroll |
Despite receiving high praise for his performance at the tournament, DavidAs remained humble.
"I don't know if I'm one of the best, but I'll try my best. "
DavidAs in his post-win interview on stream
He clearly proved that he can compete among the best at the NA LCQ and hopes to carry that success at the NA Regional Finals.
DavidAs finally triumphs in the tournament
In DavidAs's first six games of NA LCQ, he only placed outside of the top four players a single time.
| | |
| --- | --- |
| Game 1 | 3rd place |
| Game 2 | 2nd place |
| Game 3 | 1st place |
| Game 4 | 8th place |
| Game 5 | 4th place |
| Game 6 | 4th place |
DavidAs's first six games at NA LCQ
Chasing right behind Degree and Eunwilf on Day 1, DavidAs had himself a 32-point day. This earned him 1 bonus point heading into the second and final day of competition. He passed his opponents ahead of him in the finals and took a commanding lead after the first five games. Including the bonus point, DavidAs went into the final game of the NA LCQ finals with a six-point gap over the closest competition.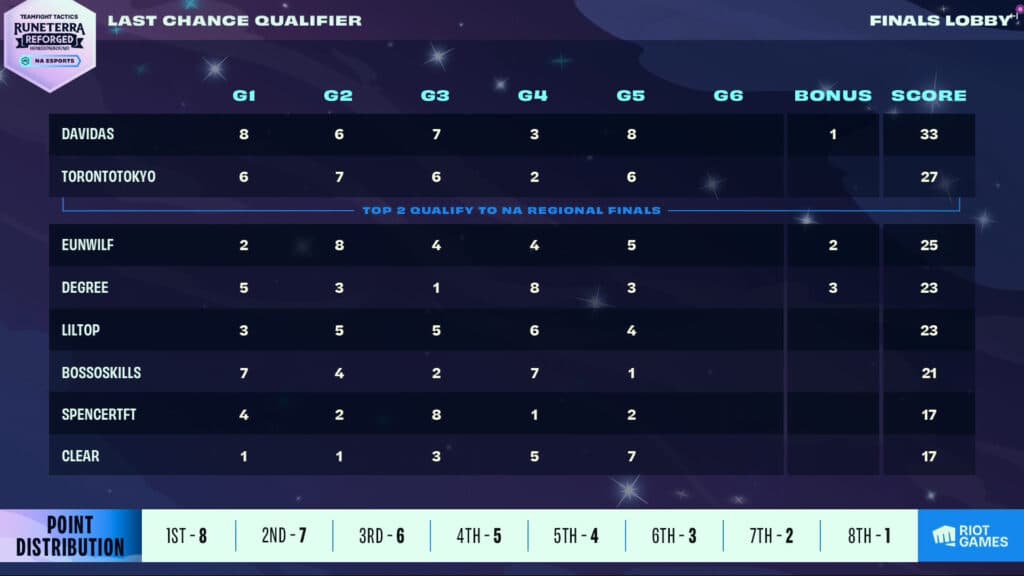 Scores prior to the final game (Image via Riot Games)
The final game of the NA Last Chance Qualifier
With a six-point lead, DavidAs had all but won the tournament prior to Game 6. Even if Torontotokyo tied with DavidAs after the final game, DavidAs would win the tournament based on the first and second tiebreaker conditions. Thus, Torontotokyo had to place first alongside DavidAs placing eighth in the final game to overcome DavidAs's lead. This miracle situation never came to fruition, as DavidAs maintained his dominance over the field.
The closing fight of DavidAs's win
LilTop, in an attempt to catch Torontotokyo at second place overall, put up a valiant effort in the final game. He ended up in a Soraka Neeko reroll line with a twist. He fielded a Rek'Sai 3 carry, a stark differentiation to the traditional version of the composition. However, DavidAs, once again, with an early Slayer emblem from his 2-1 Tome of Traits, played a 6 Slayer Quinn Reroll board that was ultimately too much for LilTop's board to handle.
DavidAs could not be stopped from closing out his tournament victory with another game win. With a convincing 41 points and an 8-point difference between him and second place, DavidAs more than earned his place to compete for a spot at the Runeterra Reforged Championship.
DavidAs entered the tournament with an unorthodox strategy and improved upon his performance each day. As fellow competitor and second-place finisher Torontotokyo put it, "It felt like DavidAs definitely had a way stronger read on the meta."
NA Last Chance Qualifier prize pool distribution
This is how the competitors split the $2,500 USD prize pool:
| | | |
| --- | --- | --- |
| 1st | $800 | DavidAs |
| 2nd | $500 | Torontotokyo |
| 3rd | $400 | Eunwilf |
| 4th | $300 | LilTop |
| 5th | $200 | Degree |
| 6th | $150 | Bossoskills |
| 7th | $100 | Clear |
| 8th | $50 | SpencerTFT |
You can check out the full scores and standings of the event here.
Other qualifications
TFT Set 9 NA Regional Finals qualification information (Image via Riot Games)
With a second-place finish in this tournament, Torontotokyo secured himself the final slot at the NA Regional Finals. He and the other 23 qualified participants are gunning for four spots to represent NA and defend the world title at the Runeterra Reforged Championship.
What's next in North America?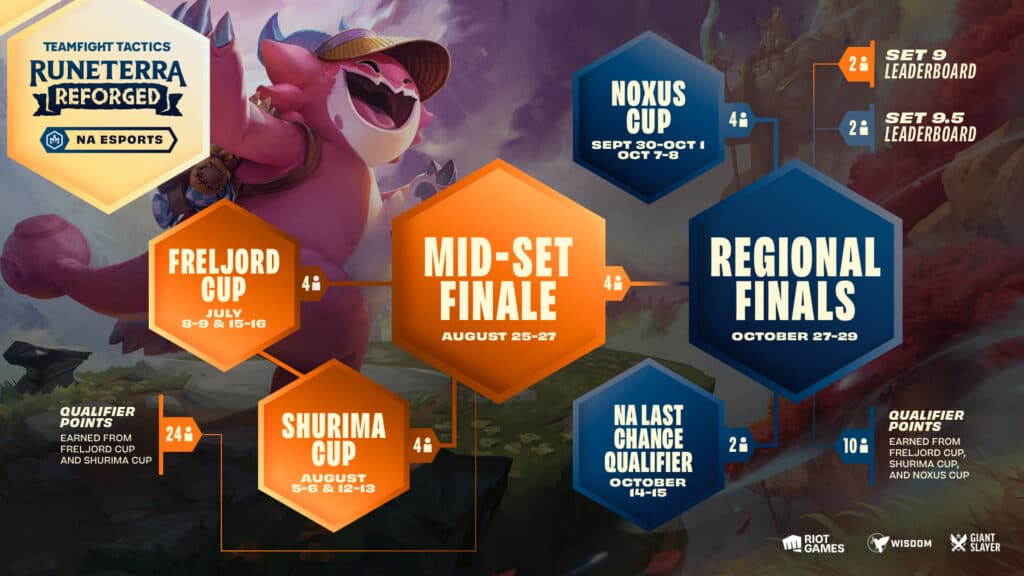 TFT Set 9 tournament information (Image via Riot Games)
The last tournament of North American TFT in Set 9.5, the NA Regional Finals, will determine the four NA competitors to join Kurumx at the Runeterra Reforged Championship. Be sure to tune in to the broadcast of that tournament on Oct. 27 to 29 at 1 p.m. PT.