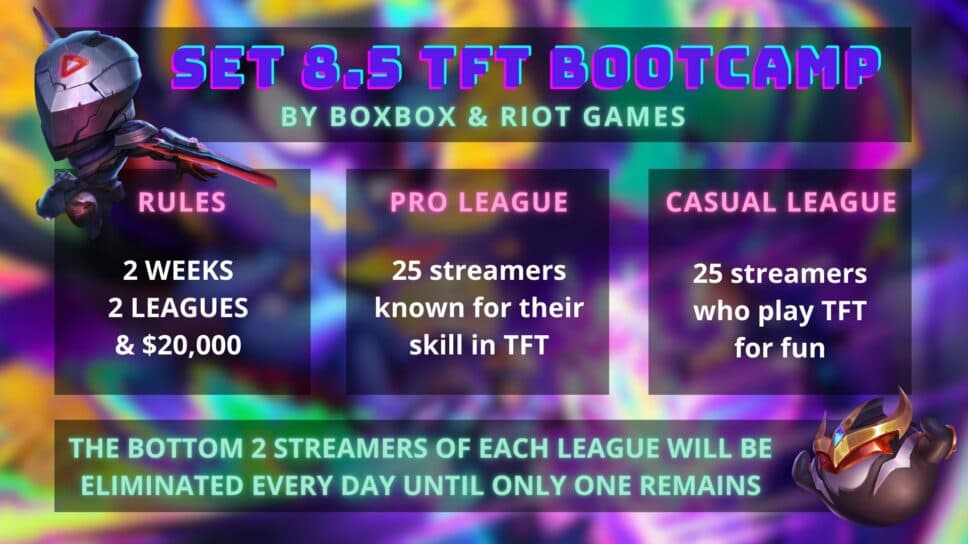 Boxbox Bootcamp returns for the release of Set 8.5!
Teamfight Tactics and variety streamer Boxbox partnered with Riot Games for a $20,000 prize pool competition at the start of the new Teamfight Tactics set.
Today marks the release of Teamfight Tactics Set 8.5. Along with its release, the Boxbox Bootcamp has begun. With a larger prize pool and updated format, here's everything you need to know about it.
Boxbox Bootcamp competition
Boxbox has selected over 60 streamers to compete in his Boxbox Bootcamp. These streamers have been split into two groups: Pro League and Casual League. According to Boxbox, Pro League consists of streamers known for their skill in TFT. In contrast, the Casual League consists of streamers who play TFT for fun.
Previous editions of Boxbox Bootcamp rewarded participants for reaching certain goals. However, in this edition, the streamers are fighting for survival. Competitors play the ranked North American ladder over the course of two weeks as well. Boxbox Bootcamp eliminates the lowest-ranked competitors at the end of each day, and only one winner gets to stand in both groups.
Competitors are required to stream at least half of their games and be rewarded in gifted subscriptions. You can find more details on the rules here.
Boxbox Bootcamp participants
Streamers from all over the globe applied to the revamped survivor-style competition. The Pro League features streamers and established professionals from North America (NA), Europe, (EU), Korea (KR), and Southeast Asia (SEA). They are battling it out on the NA server to see who can end the highest rank after two weeks. The Casual League is made up of mostly non-TFT streamers who don't play the game at a serious level, but still wanted to compete in Teamfight Tactics.
Here are the Pro League participants:
Pro League participants (Image via Boxbox on Twitter)
Below are the Casual League players:
Casual League participants (Image via Boxbox on Twitter)
The graphics have some typos, so make sure to check out the website for links to competitors' socials and streams!
Boxbox Bootcamp elimination
For the first four days, everyone is safe from elimination. Beginning on the fifth day, competitors at the bottom of the leaderboard will be eliminated from the competition. Below is a breakdown of the number of eliminations that will occur per day.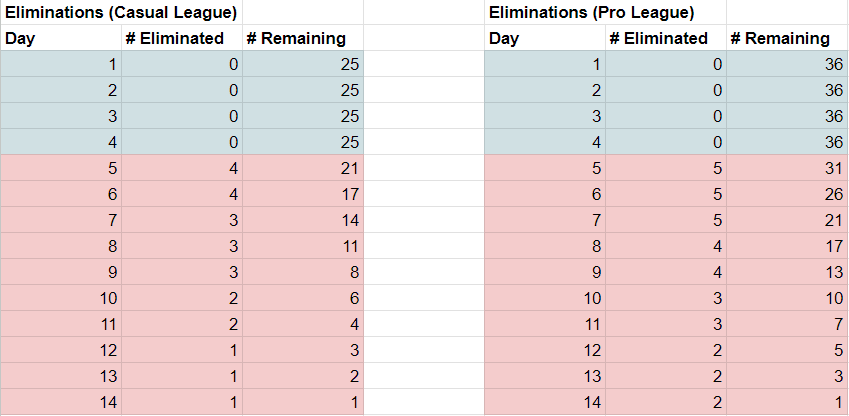 Elimination format (Image via Boxbox)
Prize pool
This is the breakdown of the $20,000 prize pool. Per league, this is what the streamers will receive for surviving the competition!
First Place: 500 Gifted Subscriptions
Second Place: 250 Gifted Subscriptions
Third/Fourth Place: 200 Gifted Subscriptions
Fifth/Sixth Place: 150 Gifted Subscriptions
Seventh/Eighth Place: 100 Gifted Subscriptions
Ninth to Twelfth Place: 50 Gifted Subscriptions
Thirteenth to Eighteenth Place: 25 Gifted Subscriptions
Maxwell Tsao
Contributor
Maxwell "Yenwei" Tsao is currently an esports freelancer who works largely in the Teamfight Tactics competitive space as a scout observer and tournament administrator. Other games he has worked include Call of Duty, Eternal Return, and Omega Strikers. The main games that he enjoys playing and watching are League of Legends, Valorant, and Teamfight Tactics. (Riot Games has done a number on him) When he is not playing or watching games, he enjoys watching Korean dramas and anime as well as scrolling endlessly through YouTube.