Nathan "Mister Crimson" Massol made history by becoming the first European to win the coveted Red Bull Kumite event. CPT Tour commentator Logan Sama explains just how he did it.
The world of competitive Street Fighter has almost exclusively existed online for over a year now. Balance patches, new characters and new system mechanics have all been released in that time and communities have adapted to them within their local meta. But the world's top competitors have not been able to test their skills and strategies against each other as all events have been region locked due to Covid regulations. Until last week, at Red Bull Kumite.
We've highlighted some of the key moments and strategies that secured victory this weekend for Mister Crimson and his unusual character choice of Dhalsim!
This past weekend Red Bull Kumite made its first appearance in London, after first leaving it's birthplace of Paris in 2019 for the spiritual home of Street Fighter in Japan. The tournament once again embraced some of the world's strongest and most exciting players and boy did they deliver. With France's Mister Crimson emerging atop the 15 other combatants to dominate the cage, there were some epic battles spread across the event.
Historically Asia has dominated, with an Asian player taking the trophy home at every Kumite since it's inception in 2015. However the West has slowly begun to assert their dominance in finals of big events over the last few years.
The last Evo Championships in 2019 saw 2 of the final 4 from NA and EU. The last Capcom Cup in 2019 saw 3 of the final 4 from NA and EU. And the last Red Bull Kumite Japan in 2019 saw 3 of the final 4 from NA and EU. While the significant majority of finalists at these majors are from Japan and the rest of Asia, the West is pushing back with talented young competitors to challenge the experienced Japanese masters.
The field of competitors at Red Bull Kumite 2021
Red Bull pulled their competitors from the 3 main territories of Japan, EU and NA. Of the 15 invitees, 4 were Japanese:
2015 Kumite champion Bonchan
Evo 2017 champion Tokido
Capcom Cup 2018 champion Gachikun
Exciting young prospect Kawano.
With notable absences from the reigning 2019 champion Fujimura and the legendary player Daigo Umehara amongst others.
North America provided 3 players:
Reigning Capcom Cup champion Idom
Capcom Pro Tour points all-time record holder Punk
One of New York's finest Smug.
From Europe the remaining 8 invitees included:
Evo 2014 champ Luffy (R Mika)
Evo 2018 champ Problem X
Multiple time Capcom Cup finalist Phenom
2019's 4th place runner up Takamura
Winner of the first ever CPT SFV event Mister Crimson
UK based Cameroonian online powerhouse Hurricane
The Spanish player Vegapatch noted for his unique character FANG
Boltstrike, who replaced the absent Taiwanese player Oil King as an alternate
The 16th spot, as is traditional was earned via an open qualifier, which was held online only to UK residents, and exciting Ken player Jones took the spot, defeating Boltstrike in the final.
In a change to the regular format, 4 round robin pools were drawn and the top 2 players each made it out in to a single elimination 8 player bracket. In what was quite an upset, early favourites Tokido and Gachikun were both eliminated along with Problem X and Smug. However in an unprecedented turnout, 7 of the final 8 were from the Western regions much to the pleasure of the local production team!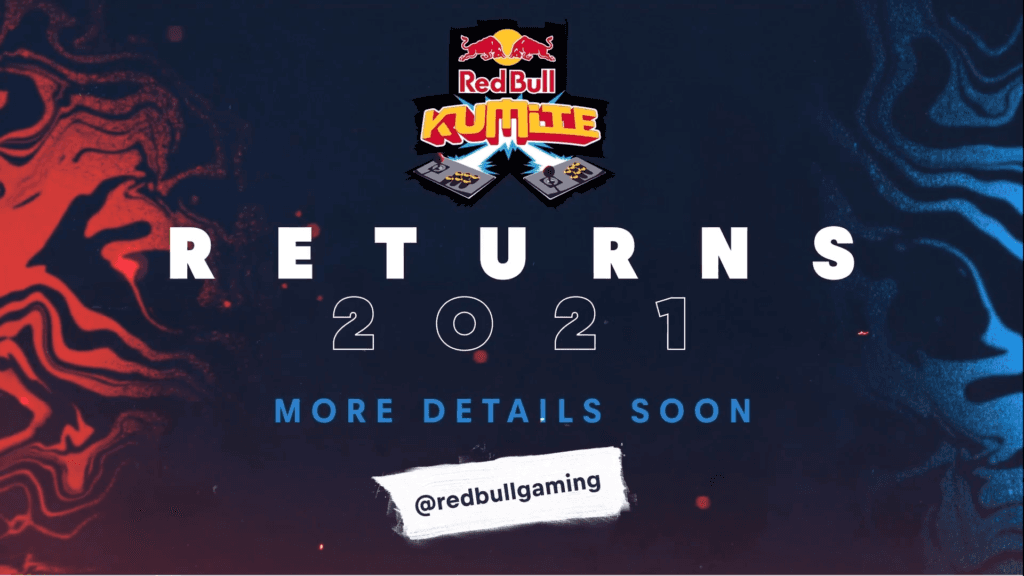 Red Bull Kumite was held in the UK for the first time ever this year
RED BULL KUMITE RO8: PUNK VS MISTER CRIMSON
With a significant back story going in to this top 8 match, Punk and Crimson had exchanged heated words both online and offline leading up to this draw. Thankfully they delivered with an incendiary performance in game and Mister Crimson secured his second big upset of the weekend after beating Gachikun in pools.
RED BULL KUMITE RO4: LUFFY VS MISTER CRIMSON
An unfortunate draw for Luffy who has been unable to best his French compatriot all year thus far in longer sets. The zoning style of Dhalsim along with Mister Crimson's exceptional defensive reads meant this was another day of frustration for Luffy as Crimson advanced to Grand Finals to face Idom.
GRAND FINALS: IDOM VS MISTER CRIMSON
In a first to 5 Final set, the odds were once again heavily against Mister Crimson as Idom had both the pedigree and the match up experience against Dhalsim. Some phenomenal plays from Crimson saw him bring the tournament to the line decided last game last round and the trophy was going home to France.
In a shock announcement Red Bull revealed that there would be another Red Bull Kumite this year in the USA. While details are still to be revealed, be sure to check back here for more info as it happens.