EVO 2022 will include an opportunity for fans to play Street Fighter 6 with four playable characters.
Fans eagerly awaiting news of the latest Street Fighter, this news is for you. Evo 2022 will be letting attendees play Street Fighter 6 and hear exclusive announcements this fall!
Street Fighter 6 gameplay at Evo 2022
According to the press release, fans will get to experience a playable version of Street Fighter 6 between August 5th to 7th. All fans have to do is visit either the Capcom or Sony booths. The gameplay will feature Ryu, Chun-Li, Luke and Jamie. Evo 2022 will have Street Fighter 6 announcements as well.
Taking place in Las Vegas at the Mandalay Bay Resort & Casino, Evo 2022 will culminate to the Street Fighter V finals.
Those who wish to attend this year's fighting game tournament can register for it via the Evo website. Applying the "streetfighter6" code results in a $25 discount.
Street Fighter 6 features three game modes, including Fighting Ground, World Tour plus the Battle Hub. It will be available for the PlayStation 5, PlayStation 4, Xbox Series X|S and PC next year.
Street Fighter 6 artwork. Image via Capcom.
Evo 2022 showcases fighting game tournaments and beyond
"The Street Fighter series is responsible for the origin of Evo," ​​said Rick Thiher, the general manager of Evo. "We are committed to collaborating with publishers like Capcom in an effort to celebrate the legacy of our genre and inspire the next generation of the fighting game community."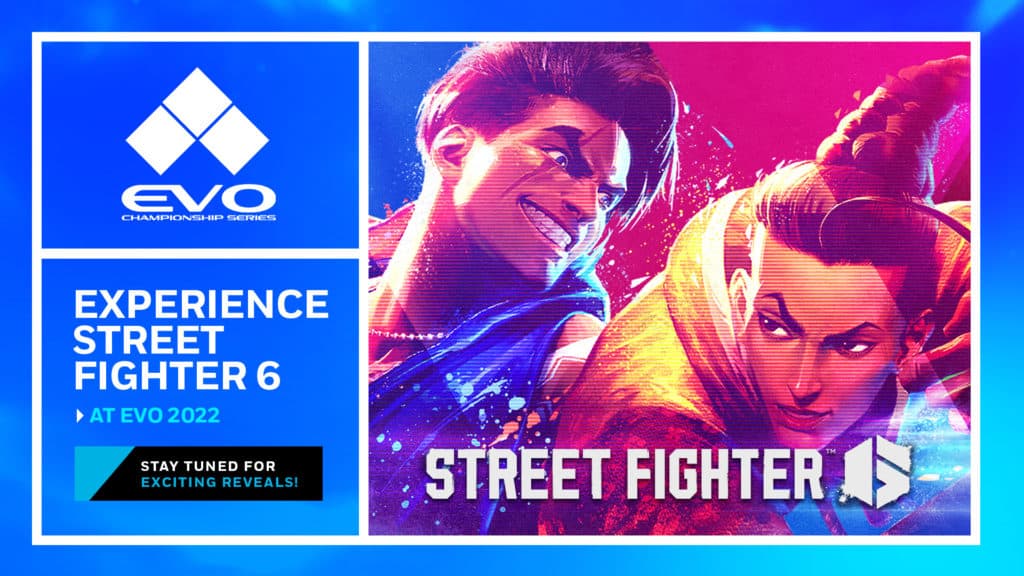 Evo 2022 information. Image via Capcom and Evo.
In addition to Street Fighter V finals, the fighting game tournament will feature a bunch of alternative esports action. Other Evo 2022 tournaments will include Games Guilty Gear -Strive-, Mortal Kombat 11: Ultimate, Tekken 7, The King of Fighters XV, Melty Blood: Type Lumina, Dragon Ball FighterZ, Granblue Fantasy: Versus and Skullgirls 2nd Encore.
Evo's official Twitch channel will livestream the competition as well.
Beyond the competition, there will be booths showcasing developers and publishers, an industry vendor section, an artist alley, a retro arcade, some casual setups and community championships.