Citing increased operational costs, Twitch is slashing the streaming quality in Korea down to 720p.
The streaming giant Twitch has announced that it will be adjusting image quality for viewers in South Korea. The change comes into effect on September 30th.
According to the statement: "Twitch has faithfully paid all network fees and other related expenses while continuing to comply with local regulations and requirements in Korea."
But according to the platform, the cost of operating in Korea continues to rise. With this rise expected to continue in the future, the company has to come up with new solutions, some of which may not be popular with the streaming community.
Image Via Twitch
Twitch decides against Peer-to-Peer after conducting tests in Korea
From July to August 2022, Twitch carried out a test for peer-to-peer networking. The test was conducted on select partner channels and their communities. Ultimately Twitch decided against P2P for widespread adoption in Korea.
While peer-to-peer is currently a viable solution for many service providers, it needs to be considered more deeply before widespread implementation.
To reduce operational costs, Twitch will be adjusting the original streaming quality for channels where transcoding is available. Transcoding is the process that allows Twitch to convert the source stream into a variety of resolutions that viewers can choose from. In essence, all Korean viewers will be limited to a max quality of 720p.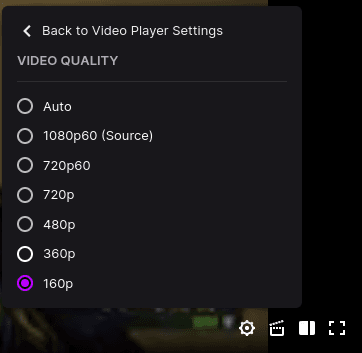 The resolution selection will be limited to 720p starting September 30th
With a number of issues cropping up recently for Twitch, the competing streaming platforms are anticipating more users. First it was the cutback on revenue split for streamers and then the failure to go live for many streamers. Combine these issues with Twitch's decision to remove the partner exclusivity clauses and YouTube is becoming a very exciting prospect.
Stay tuned to esports.gg for the latest updates on Twitch and streamers.