What more do you need to get that next Twitch Drop?
Twitch Drops are one of the more exciting parts of watching an event or a tournament on the Amazon-owned streaming platform. If you're participating in a Twitch campaign, you might have a few questions about checking your progress. Here's a detailed guide on how to check your progress and more.
What are Twitch Drops?
Twitch Drops are a way for users to earn in-game loot by watching their favorite streamers. Developers usually host events that allow users to get exclusive drops from their favorite streamers.
It is important to note you won't get Twitch drops on all channels. It's usually up to the discretion of the game developers to choose which channels to enable Twitch drops on. So we recommend checking the social media accounts or official channels for an accurate list of Twitch Drops enabled streamers.
How to check Twitch Drops Inventory Progress?
While collecting drops is great, you can also check how much progress you have made. It's also important to understand what you need to do to secure the next Drop. Here's a step-by-step guide to checking your Twitch Drops Inventory Progress.
Step 1: Open Twitch.tv on your browser. Click on your profile picture in the top right corner. Select Drops and Rewards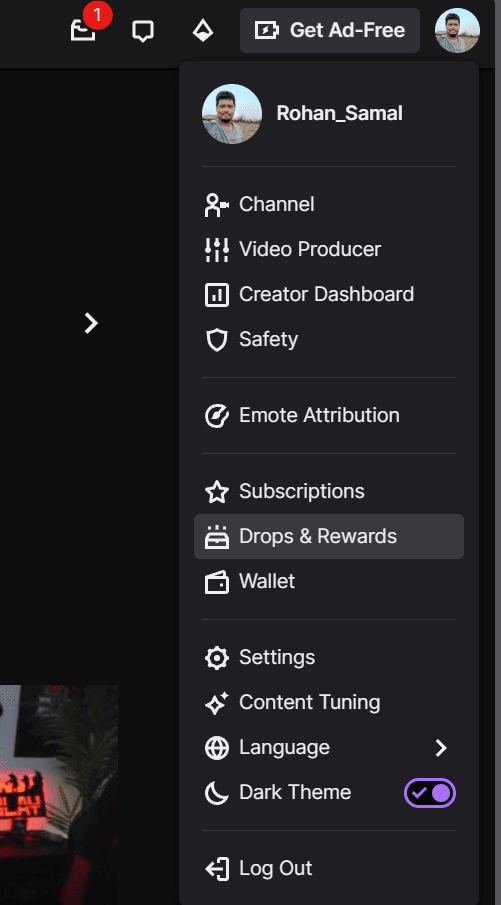 Step 2: You will see your Twitch Drop Inventory. This page shows you all the campaigns which are active on your account.
As you can see there are some campaigns that have a tick-mark under the card. These campaigns are already complete on your account and you have received the cosmetics in your respective account. 
Three campaigns are showing Connect, which means the user of this account needs to connect his account to Twitch to receive the items.

Step 3: Expand any campaign to understand the exact process for securing the drop.
In the All Campaigns tab, you can see all the campaigns on Twitch. This includes campaigns that are not active on your Twitch Profile. If you fancy any game or items, you can expand it to see how to get a particular cosmetic.
Step 4: If you want to dive deeper into any particular campaign, you can expand that campaign. You can also check the progress required and How to earn that particular campaign drop.
Following these steps, you should be able to check your Twitch Inventory progress. You can also check what else you need to complete to secure the Twitch exclusive drop that many game developers have recently promoted.