Trainwreck announces a new streaming platform called Kick, teasing future features than can compete with Amazon's streaming platform Twitch.
After weeks of teasing a new streaming platform, Trainwreck has finally announced his involvement with a new streaming platform called Kick. Trainwreck has been known to be discontent with the famous streaming platform Twitch despite being one of the top Twitch streamers in the world with 2.1 million followers. He announces the new streaming platform with a long rant on how Twitch has "lost its grasp on reality" and "they are going in the wrong direction".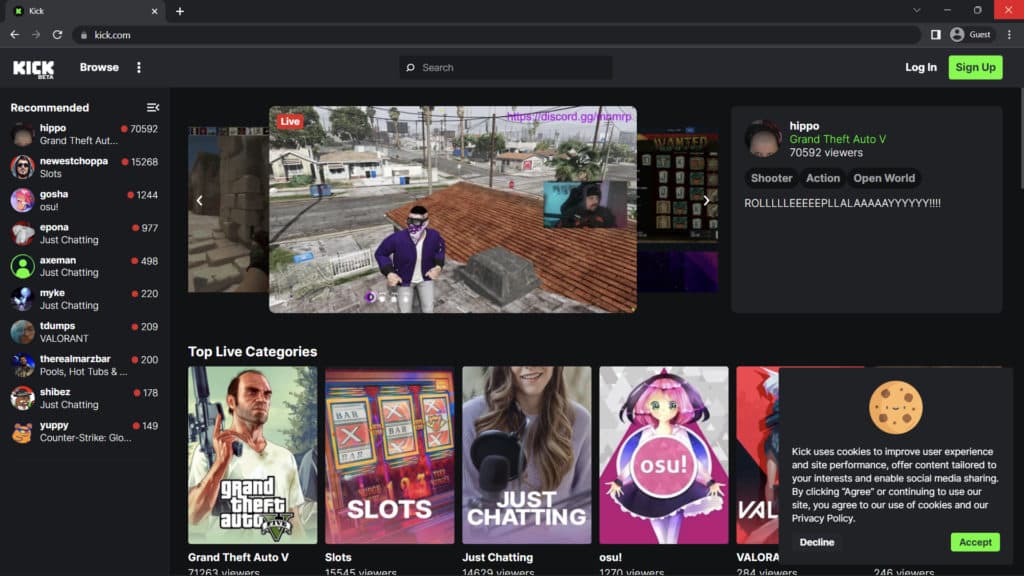 Trainwreck joins Kick as a non-owner advisor and non-exclusive broadcaster.
In a TwitLonger post, Trainwrecks, whose real name is Tyler Faraz Niknam, stated how Twitch has been neglecting the majority of its streamers. He insisted that Twitch has inconsistent policies and is taking a more significant cut than they need.
"Twitch used to feel like a place made for us, by us. But Twitch built their empire off our backs and then forgot about us. They lost the reason Twitch became #1 in the first place."
He said he chose to work with Kick because Kick is willing to listen to creators' input in making their platform better. He is joining Kick as a non-owner advisor and a non-exclusive broadcaster.
What can allegedly expect from Kick?
95/5 subscribers split
With Kick, everyone will get a subscription button. The subscription income will be following a 95/5 split, where 95% of the subscription income will go to the streamer with Kick taking only 5%. This is a massive difference from the standard 70-30 subscription split by YouTube and the 50-50 subscription split by Twitch.
"I don't believe it's right to take such a high percentage of the work that a streamer does. Twitch does nearly no marketing for streamers, no discovery, and limited help in building their business. Those streamers only succeed from the blood, sweat, and time they put in themselves. Twitch's only role is as a website host. Given their contribution, it is absurd that they take 50% of our income," he said.
Tips will go directly to the streamer
Tips given to the streamers will be called "kicks". The streamers will receive a hundred percent of the tips given and they will be able to withdraw the income on the same day.
A new model of a creator program
Trainwreck explains further that Kick will use a new innovative exclusive creator program that rewards the streamers in a different way compared to the other streaming platforms. Instead of relying on your subscriber count every month, streamers will get a more steady income based on hours watched and total viewers. This subscription program will also have an option for same-day withdrawal.
"We're putting the power into the streamer's hands to decide if you want exclusivity or not. If you want to pursue exclusivity, we will offer additional paid options through our creator program."
Transparent TOS
Twitch is known for its ambiguous bans where streamers will get banned without knowing the specific reasons. Trainwreck explained that Kick will have a Terms of Service (TOS) that is designed to be clear and transparent. The rules will also include ethical gambling.
Will Kick become the new gambling hangout?
Twitch started to clamp down on gambling content this year, banning online casino content from unregulated gambling sites. Trainwreck being one of the most followed gambling-content creators has been vocal about his disappointment with Twitch's decisions.
With Kick's green light in gambling content, we can expect a movement of gambling content creators to the new site. The movement has already started with famous streamer Roshtein and Xposed who has recently decided to stream on Kick.
Trainwreck has given a brief look at Kick's stands on ethical gambling. "Fill balances must be disclosed. No wager-locked giveaways, no code locked giveaways, and no lying to audiences regarding the reality of gambling's losing nature." Currently, Kick is already seeing an active community in the Gambling category.
Kick is still in the Beta phase
Trainwreck explained that this streaming platform is still in the building stage and he is involved in directing all the new features. He emphasized that this is not a hard launch and Kick will add features and fix problems as they come.
"If you're a streamer reading this, give Kick at least a year to develop. Watch Kick's development and decide if it's the right platform for you. "
He closed his TwitLonger by sharing his vision for the new streaming platform. He says that Kick is built first for the content creators and his team will "bring live streaming back to what it was before Twitch lost its way."