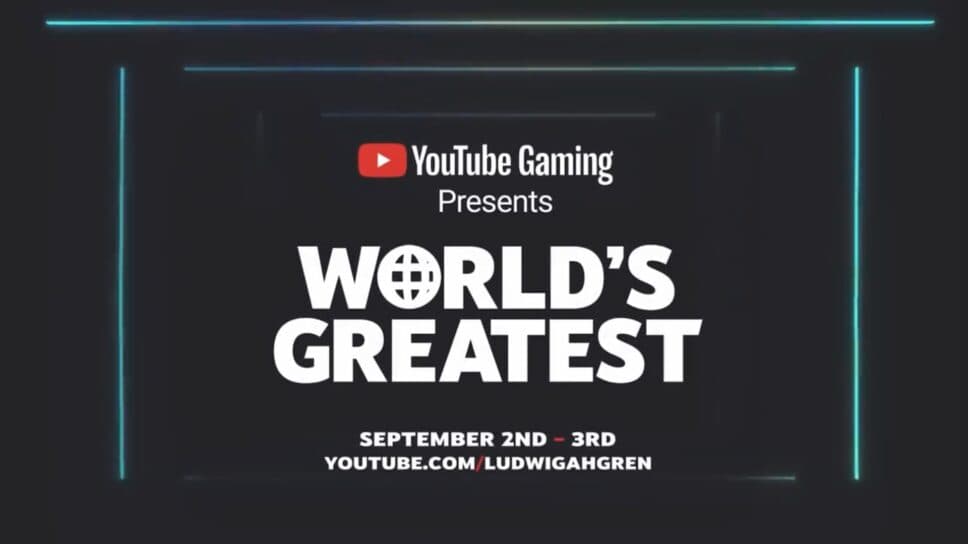 The world's greatest gamer? Ludwig and YouTube Gaming are teaming up to find them…
YouTube Gaming is partnering with its superstar creator Ludwig to find the objectively best video game player in the world.
Move over Billy Mitchell, as YouTube Gaming and Ludwig are out to hunt down the real world's greatest gamer. Announced across Twitter, YouTube, and by release on July 31, YouTube Gaming is partnering with streaming superstar Ludwig to find the world's greatest player through a month-long campaign of competitive events.
Taking some of gaming and streaming's most-famous gamers, and featuring 11 of the biggest games, new and old, including Street Fighter 6, Trackmania, XDefiant, Tetris, Minecraft, Genshin Impact, LEGO 2K Drive, Fortnite, Rocket League, Fall Guys, and a surprise game. The search will crown once and for all who the world's greatest gamer is.
Starting in August, creators from around the globe face off in various challenges to prepare for a two-day competitive finals event hosted in Los Angeles, California. The finals event takes place on September 2-3 and will be streamed live on each creator's YouTube channel.
Each week throughout August, four participating creators will be revealed by Ludwig and fans can tune in live to watch a two-hour bootcamp session across the campaign titles as they prepare for the finals event in September.
Multiple-time FGC champion Dominique "SonicFox" McLean, VALORANT pro Tyson "TenZ" Ngo, chess grandmaster Qiyu "Nemo" Zhou, and streamer Matthew "supertf" DeLisi round out the first four announced competitors.
List of World's Greatest Gamer competitors:
Dominique "SonicFox" McLean
Tyson "TenZ" Ngo
Matthew "supertf" DeLisi
Brandon "Aceu" Winn
Albert "BoxBox" Zheng
James "Clayster" Eubanks
ConnorEatsPants
Eric "erobb" Robbins
Jaiden "Jaiden Animations" Dittfach
Jesse "JerAx" Vainikka
Kathleen "Loserfruit" Belsten
Joseph "Mang0" Marquez
Ali "Myth" Kabbani
Qiyu "Nemo" Zhou
Rizzo
Danny "Shiphtur" Lee
Tanner "SmallAnt" Charles
Saahil "Universe" Arora
VoiD
Zachary "zekken" Patrone
Just from these names, it's clear the roster is going to be diverse, not just a bunch of one-trick gamers. To watch, keep your eyes locked on Ludwig's YouTube Channel, and follow YouTube Gaming for more details.
---
Stay tuned to esports.gg for more esports and gaming news.