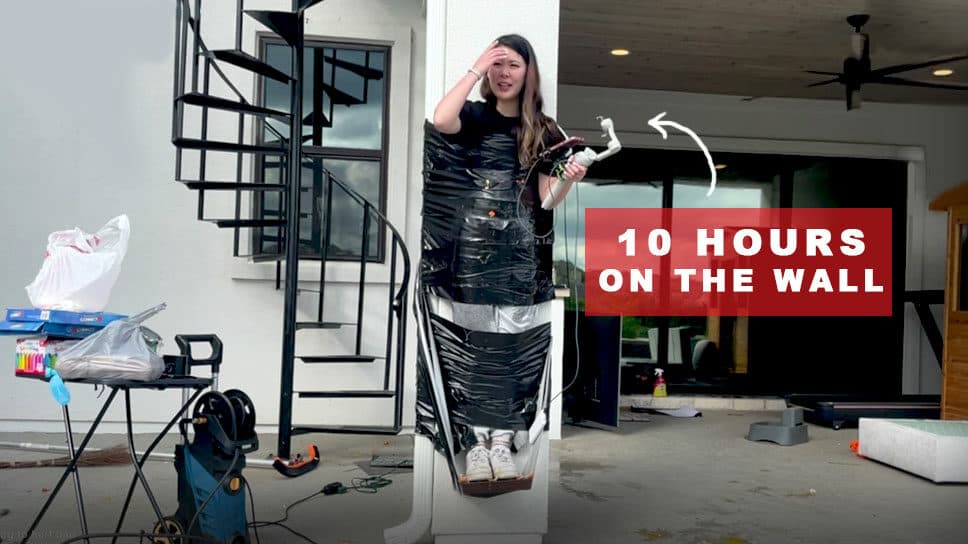 ExtraEmily tapes herself to the wall for 10 hours during her Wall-A-Thon
ExtraEmily spent 10 hours taped to a wall for her Wall-A-Thon.
The OTK Network's latest member, ExtraEmily, went the extra mile to bring entertainment to her followers. On her recent stream, she did an Easter special by doing a Wall-A-Thon. The up-and-coming Twitch streamer set off with extra tape and a lot of determination to pull off the subathon event.
ExtraEmily's Wall-A-Thon didn't go as planned
ExtraEmily started the stream on the morning of Easter Sunday. Her initial goal was to do a minimum of one hour and a maximum of six hours of her being taped to the wall during the Wall-A-Thon, which is a version of a subathon. Subathons are popular events for streamers that encourage viewers to subscribe to their channels.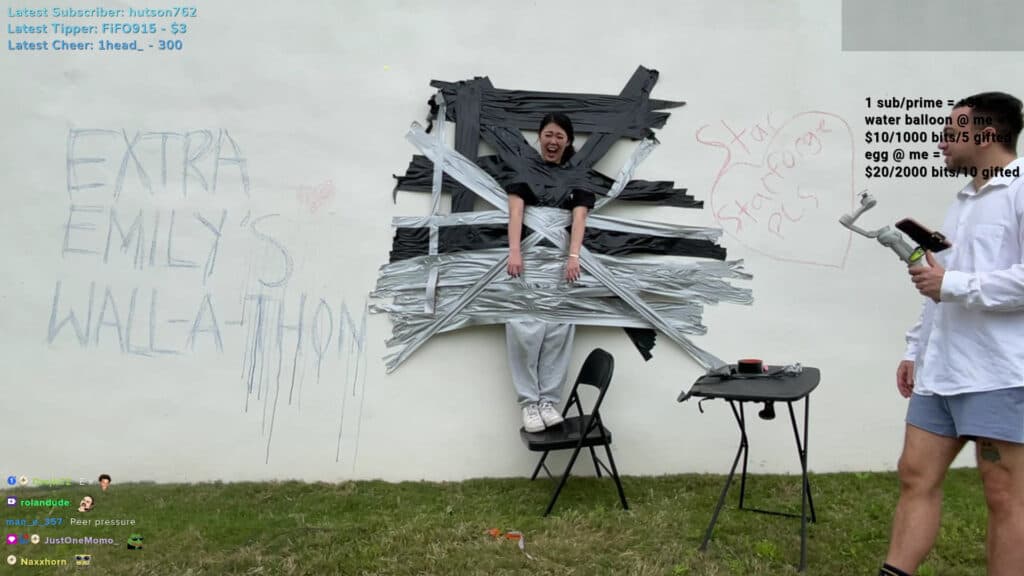 ExtraEmily's Wall-A-Thon event (Image via ExtraEmily)
For ExtraEmily's Wall-A-Thon, every subscription added thirty seconds of her being taped to the wall. Viewers added to the fun by giving five gift subs, 1,000 bits, or $10 USD in donations for ExtraEmily to be water ballooned. Furthermore, 10 gift subs, 2,000 bits, or $20 USD in donations were given to throw eggs at her.
With full dedication, ExtraEmily started with a few rolls of tape and a large wall outside the house of OTK's owner and cofounder, Tim "Esfand." When she revealed her ideas to her stream, her viewers were a bit worried. With the help of another Twitch streamer, Wake Wilder, they began taping ExtraEmily to the wall.
In less than two hours, they decided to go back to the drawing board and cut off the tape as the situation did not seem safe for ExtraEmily. Her viewers were relieved and they started to throw ideas at her on how to make it safe and comfortable as she was planning to do the subathon for quite a while.
Hanging by tape for 10 hours
ExtraEmily then decided to find another place to do the Wall-A-Thon before deciding on a pillar near the house. This time, the plan worked. She started the subathon three hours into the stream.
ExtraEmily's Wall-A-Thon livestream (Image via ExtraEmily)
Throughout the subathon, she was joined by other OTK members such as Mizkif, Tectone, Emiru, and Esfand. They spent the day hanging out around her until the day turned to night, showing support and keeping her company. She also joined them in playing video games by the end of the stream.
She ended the Wall-A-Thon 10 hours after she started her second attempt at being taped to the wall. ExtraEmily celebrated the end of her Wall-A-Thon with a quick splash in the pool. The amount of subscriptions she gained from the subathon is undisclosed for now.
Stay tuned to esports.gg for more streamer and esports news.