Code Miko 3.0 arrives, the Technician's new and improved model of the glitchy NPC
Long-anticipated by the virtual streamer's audience, Code Miko 3.0 was finally revealed in a recent stream, where she shared the new updates made to the model.
Widely known for the realistic graphics of her VTuber model, Code Miko has teased the debut of an upgrade over the past few weeks on Twitter. Initially set for an earlier reveal, the multiple delays had left fans highly anticipating the new model's arrival.
Code Miko 3.0 reveal
The well-loved, chaotic and unfiltered Miko remains unchanged but she comes in a brand new packaging of impressive visuals.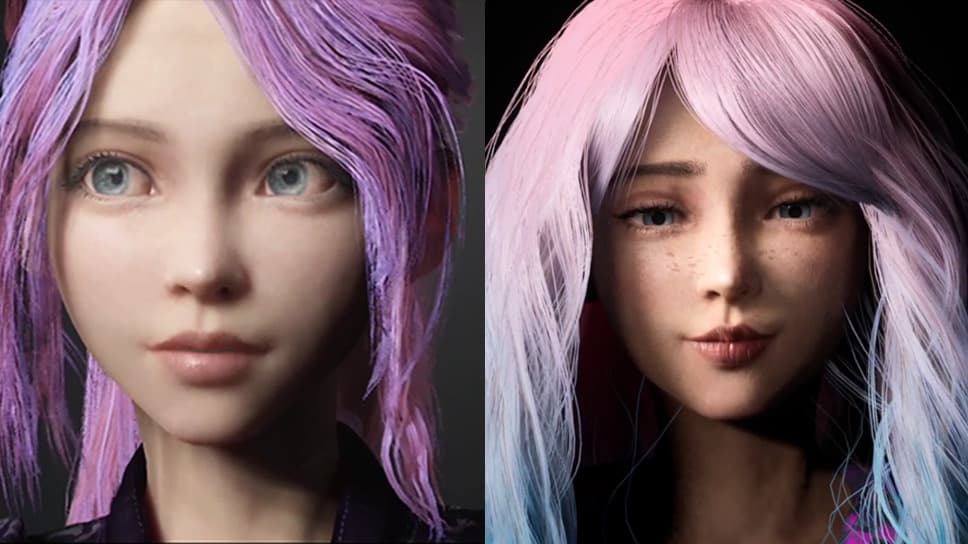 Code Miko 2.0 (left) and Code Miko 3.0 (right)
Revealing the new model to over 20 thousand viewers, Miko shared her concerns with her audience. "What if you guys are like, ew Miko you're so ugly. It feels like middle school all over again!" But her worries were definitely unnecessary, as people immediately came to love her new model.
Looking very fashionable in a cropped jacket and ripped fishnet tights, the highlight of her new model was definitely the blue-purple gradient, individually simulated head of hair.
"The biggest upgrade is my hair. My hair is simulated. Every single strand is simulated. They're real. It was a lot of work to put it together." She commented. Her skin had also received a major update, showing a lot more detail and texture that makes it look all the more realistic.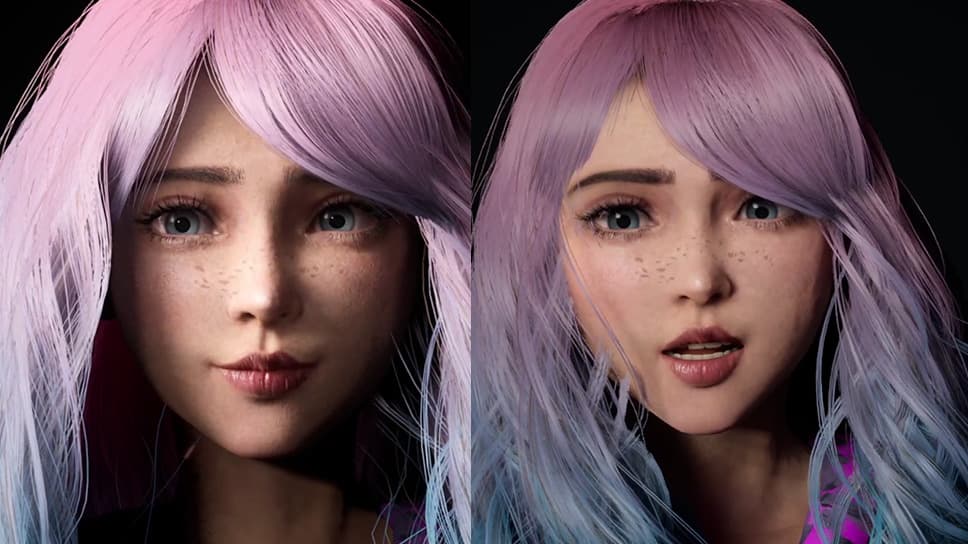 Unreal Engine 4 (left) and Unreal Engine 5 (right)
Miko mentioned that the new model was powered by Unreal Engine 4 despite initially wanting to use Unreal Engine 5. She noted that while the latter software renders shading and other details better, the simulation is very buggy. "They did a major upgrade on the simulation and it's worse." She claimed.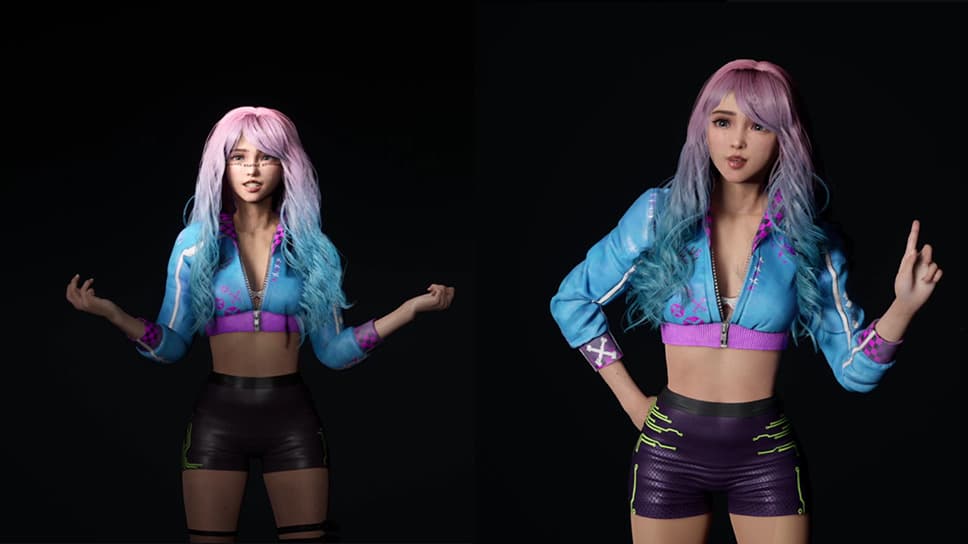 Unreal Engine 4 (left) and Unreal Engine 5 (right)
The effort to upgrade Code Miko was definitely an uphill battle, according to the streamer. She shared how the team had worked tirelessly for the last month to get the model out and that every day was just 'constant, constant developing.' She herself has had very little sleep over the past few days. Then, just hours before the scheduled reveal, they ran into some technical difficulties that inevitably delayed the stream.
It resulted in a pretty scuffed stream although the viewers didn't seem to mind, poking fun at some of her hilarious technical difficulties.
CodeBeardo
Mikoverse
In the same stream, Miko announced Mikoverse, her innovative VTuber technology company.
"This is made by Mikoverse. It's powered by Unreal Engine but made from Mikoverse." She said, referring to her model. "And if you guys want to join and apply as a VTuber, go to mikoverse.com,"
"There's one thing that I am really like, jealous of the VShojo girls is that they all have each other and they're like a family and like, friends." She claimed, referring to members of the VShojo organisation. "I have friends too but no one that does something like me. So if there is people that want to do Code Miko type of stuff -I would love that."
She encouraged people to apply to be part of the Mikoverse so that she is not 'alone in the space'. The one requirement that she mentioned, however, is that you have to use Unreal Engine because her team mainly uses Unreal Engine.
And if you're not wanting to become a VTuber, you can also apply to be part of the team where there are some job openings.
The brilliance of the Technician's creation
While the visual graphics of her streams are a wonder in itself, the interactivity within them is the hook; the very essence of a Code Miko stream. By giving a certain amount of bits, the viewers get to choose how to interact with the stream.
List of interactions
Ranging from writing words on her face to blowing up the streamer herself, the chaotic and unpredictable nature of her broadcasts constantly keeps her viewers entertained.
Her interviews with streamers and influencers are even more hilarious to watch. Oftentimes, the guests have to witness seeing random dead bodies in the background or endure a random dancing Miko moment. Even her chaotic personality itself is more than enough to incite hilarious reactions from interviewees.
Experimenting even more with interactive features, she had introduced a fun little game show series where she brings multiple guests on to play random little games such as Trivia.
Code Miko's game show
Twitch, the platform itself, really values viewers' interaction with streamers. So when Code Miko introduces this unique way of interacting with viewers, reinventing the normal viewing experience on the platform- it's not all that surprising to see her thrive and rise to fame over a short course of two years.
While Code Miko herself has skyrocketed to stardom, her Technician counterpart has also been successful in her own endeavors. Earlier in the year, she signed with Envy Gaming, joining other female content creators the likes of JustaMinx and the Botez sisters.