More exciting showdown will accompany fans as DisguisedToast reveals another Valorant Pros vs Noobs event with tarik and TenZ!
The highly anticipated finals of the VCT Masters will begin soon and that's not the only thing that's coming. Right after the grand final, Twitch streamer, DisguisedToast will host an event featuring a lineup of professional Valorant players and popular streamers. Names in the likes of tarik, Tenz, Valkyrae, Scarra, and more will battle it out in a couple of Valorant game modes. This is our chance to see an exciting showdown between our favorite streamers and the formidable pros.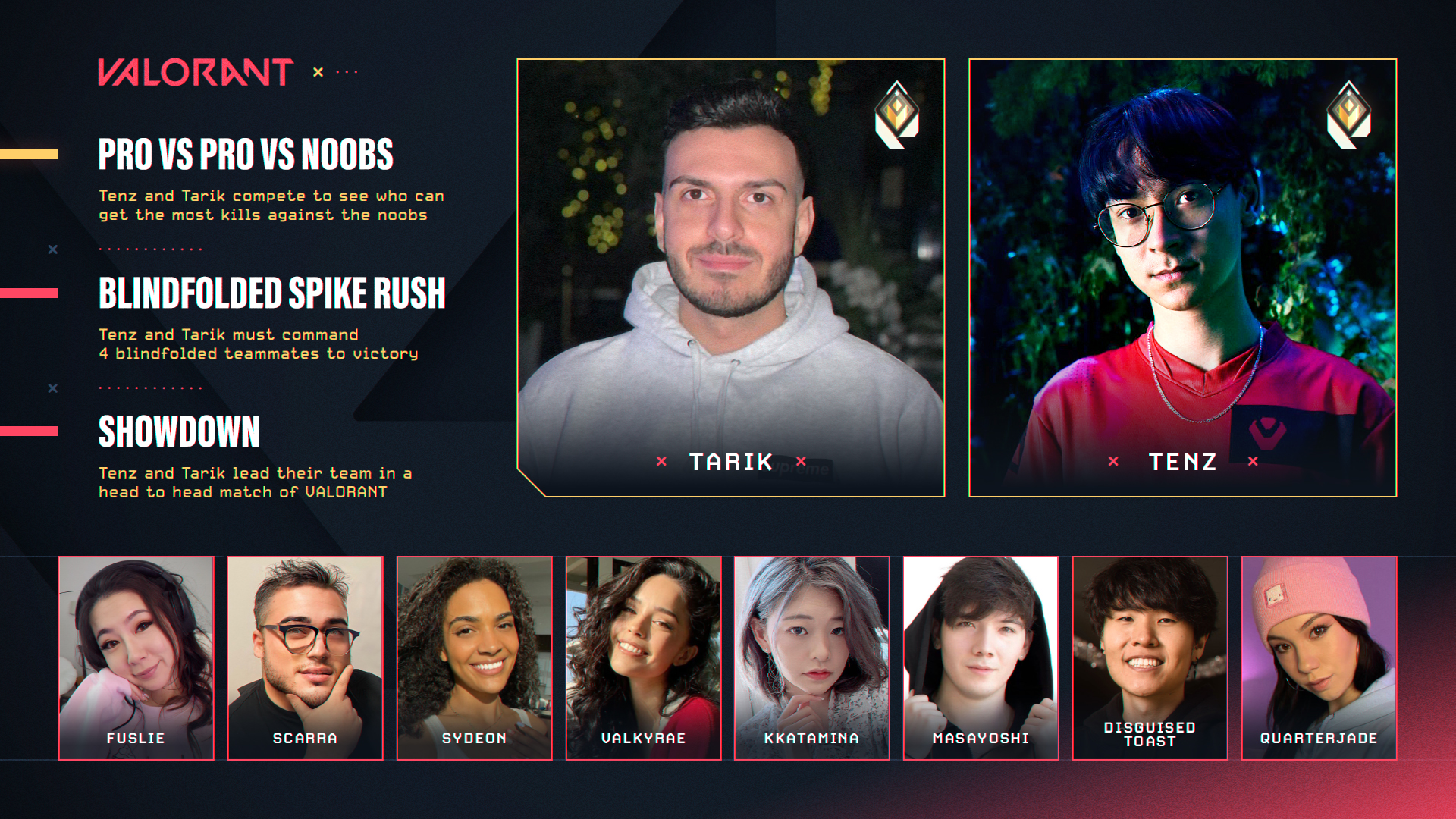 The next Valorant Pros vs Noobs event revealed
In the midst of all the hype approaching the VCT Masters finals, DisguisedToast revealed another exciting event to look forward to. He will be hosting a fun Valorant contest among professional players and popular streamers. 
The lineup consists of the following figures:
Pros
Tarik – Former CS:GO pro, now Valorant streamer
TenZ – pro Valorant player and streamer
Streamers
fuslie
Scarra
Sydeon
Valkyrae
kkatamina
Masayoshi
DisguisedToast
QuarterJade
Labeling the contest as "fun meme games", DisguisedToast also revealed the game modes that they will be battling in. The first game mode is the Pro vs Pro vs Noobs, in which TenZ and tarik compete to see who can get the most kills against the "noobs". The next one is Blindfolded Spike Rush, in which Tenz and tarik must command 4 blindfolded teammates to victory in the game's Spike Rush mode. The final one is a normal, actual Valorant 5v5 matchup with "special pistol rounds".
The event will go live "around 2 pm PST", so for those who are looking forward to the livestream, you can go to DisguisedToast's Twitch channel. You can also go to any of the listed participants' channels to watch the event from their perspective.
The previous Pros vs Noobs event was a great success
We all know DisguisedToast is a master at running his own fun events and we can expect this one to be just as marvelous. Previously, he organized a similar event, with a lineup of pros; Tenz and Som, against streamers; Valkyrae, Sykkuno, Kyedae, and more which received tons of traffic. It even had two official casters, Darlyn 'Gompers' Diaz and Gustavo 'Upmind' Franco Domingues that made the competition feel like an actual tournament. Now, if we are to assume this upcoming event will be similar to the previous one, we might even see official casters on board. 
If you're wondering how the previous Valorant Pros vs Noobs went by, you can check out our full recap here.
Stay tuned to Esports.gg for more streamer news and updates!