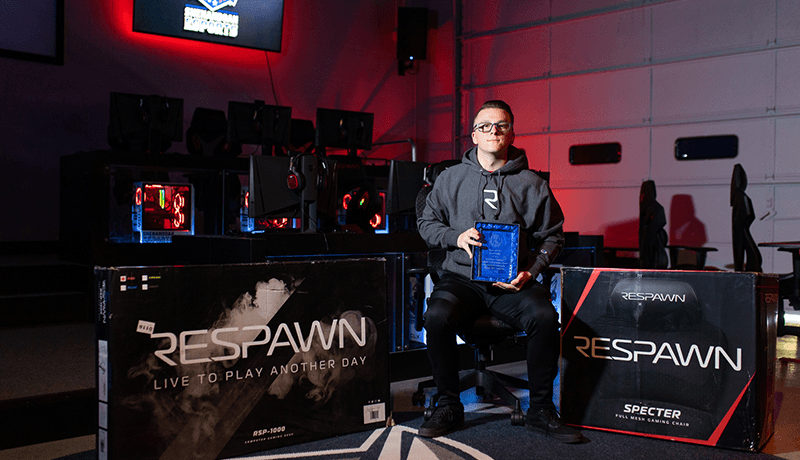 RESPAWN announces Collegiate Student of Excellence Award
RESPAWN highlights an exceptional collegiate broadcast master from Shenandoah University.
Collegiate Student Awards
The NC based furniture company is presenting an annual award to a student for their collegiate esports success in and outside of the classroom. Award winners receive a trophy, RESPAWN apparel, and a new gaming chair/desk. This year's recipient is Sean Kelly (Class of 2022) from Shenandoah University.
Kelly '22 is a double major in business administration and esports management who works as a lead broadcast producer for the Shenandoah program. The award seeks to reward students that go, "above and beyond."
The word that comes to mind is extremely grateful. This is something I want to do for the rest of my life, and to already be recognized for the work I've done feels great. It has been an amazing experience to have such a lead role in this program, and I look forward to everything else that this program and I can accomplish in the future in esports.
Sean Kelly '22
RESPAWN expanding beyond furniture
Despite being a furniture company (chairs and desks), Respawn Marketing Manager Alex Gonzalez believes its important to recognize the growing scholastic scene.
We are very excited to be working with our partners within the collegiate and high school space to begin recognizing excellent students associated with gaming/esports programs. As scholastic esports and gaming continues to grow it is definitely a key focus area for the RESPAWN brand. This award is one of our first steps and opportunities in which we can start giving back to these communities - we aim for this award program to naturally develop into internship opportunities, scholarships, and much more.
Alex Gonzalez
In the age of collegiate esports, expect more awards and initiatives like this to continue.
Ezekiel Carsella
Administrator, Editor, Author, Contributor, Subscriber, SEO Manager, SEO Editor | Twitter
@jamaican116
Ezekiel Carsella is a freelance writer for Esports.gg, a former Collegiate Rocket League coach, and an alumnus of the College of Charleston.