Psyonix's removal of player-to-player trading in Rocket League has negative reactions from the Rocket League community.
The Rocket League community took another hit when Psyonix announced its decision to remove the player-to-player trading. Starting from December 5, any P2P trading activities will cease to exist. The huge change received a lot of backlash from the Rocket League community, including pro players and content creators.
On Oct. 10, Psyonix posted a simple but deadly blow on their website regarding the removal of player-to-player trading. Psyonix decided to remove the P2P trading to align with Epic's overall approach to game cosmetics and item shop policies.
Psyonix assured the Rocket League community that the Trade-In system for Core Items, Tournament Items, and Blueprints will still work as intended. This means players can still trade in duplicate or unwanted items for a higher rarity random new item.
How does the Rocket League community react to the removal of P2P trading?
The announcement on X was met with negative reactions from Rocket League players. The removal of P2P trading is seen as being tone-deaf and affects Rocket League's casual community.
His comment is referring to the recent layoffs by Epic. Last September, 16% of Epic employees were put out of job. It wasn't made public how many of those employees were working for the Rocket League Esports. However, from tweets of current and former employees of Psyonix, it seems like the Rocket League unit took the hardest fall in the layoffs.
The Rocket League community has always been vocal about the lack of communication by Psyonix. Even with all the negative reactions, Psyonix still has not released any comment addressing the issues.
Jon Sandman, known for his Rocket League content on YouTube, tweeted "You just killed an entire piece of your community". He went on to talk about the topic in his YouTube video. "This is so tone-deaf, to completely buy out a community and then slowly kill it off because you're trying to make it like Fortnite."
He continued talking about how many people get into the Rocket League and stay active in the community because of the P2P trading. "Literally, many people that I brought into the game early on got in because of trading. Because of crates, because of mini-games we have created. There's just so many things that we did as a community and that is gone."
Rocket League content industry will face a rebranding without P2P trading
widow, a Rocket League content creator under Gen.G Mobil1 Racing, tweeted saying "[Epic] lets go of most the staff who handle community and influencers; now you're cutting out the one way creators can still give back to their community. This isn't Fortnite. We don't have a creative mode and constant new updates to share."
This highlights how player-to-play trading has become an essential tool in the Rocket League content creator community. The content surrounding P2P trading includes blind trading, crate trading, or community giveaways.
Pixel, a content creator for Endpoint CeX, posted a YouTube video talking about how most of his content revolves around the community of P2P trading. "I can't do 80% of the videos that I make. The next couple of months, I guess we'll have a little farewell and finale to a lot of the Rocket League content that I've come to love and make for the last seven years."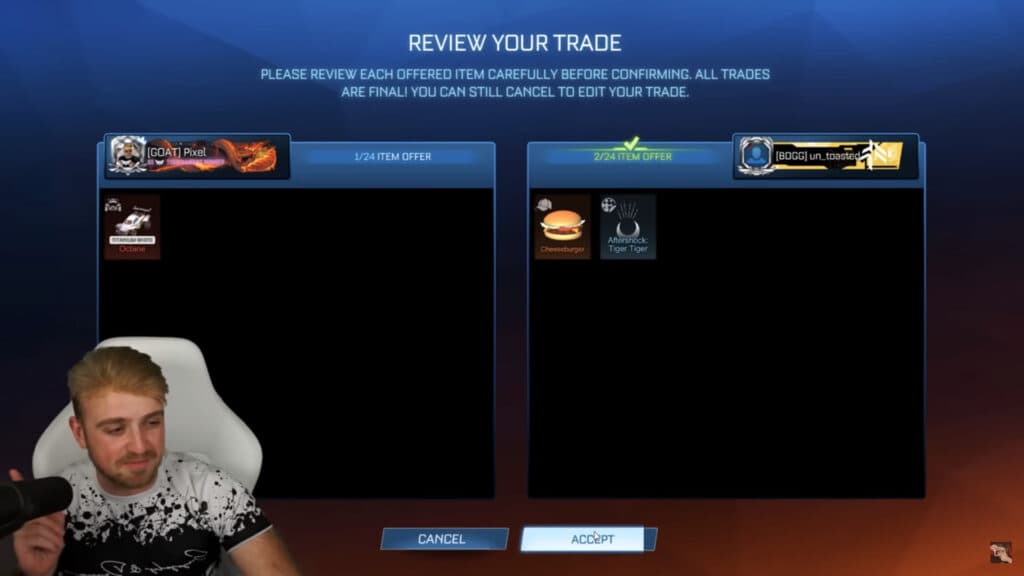 Blind Trading by Pixel - one of Rocket League content type affected by removal of P2P trading (
via YouTube
)
Rocket League's first debut in UE5
Unreal Engine 5 (UE5) has been the talk of every Rocket League player since the rumors of production were leaked in 2021. Since Rocket League runs on Unreal Engine 3 (UE3), the rumored integration with Fortnite means a new look for UE5 Rocket League.
Lethamyr, a content creator for Spacestation Gaming, thinks that the removal of P2P trading can be a positive move to prepare for account transfer to Rocket League UE5. He tweeted, "I'm holding out hope this is the case, but I can't believe a company would be this negligent to a community's cry for communication."
---
The player-to-player trading will be removed from Rocket League on December 5 at 4 p.m. PST. Stay tuned to esports.gg for more Rocket League and esports news.