Players are in for a Team Go Rocket treat this Halloween.
October is usually a special month for Pokémon Go players because of Halloween. The game blesses them with many Ghost Type encounters, tricks, treats, and rare rewards. This time, just as Spooktober is about to end, Niantic has injected an extra round of Halloween-themed content into the game. Team Go Rocket is among the showstoppers this time, with plenty of chances for players to send them blasting off again.
Giovanni and shadow Regigigas for Halloween in Pokémon Go
Defeating Giovanni will reward players with a shadow Regigigas (Image via Niantic)
As part of the Team Go Rocket specialties, Giovanni is back in Pokémon Go. This time, he's bringing a shadow Regigigas for Halloween. This is the first time that players are getting the chance to rescue shadow Regigigas from Team Go Rocket. Of course, by extension, it means players also get the opportunity to score a powerful legendary Pokémon in the process. Many players like to keep their shadow Pokémon unpurified so they can take advantage of the more powerful attacks. In that case, shadow Regigigas can pack quite the punch.
During the event, players gain access to a new special research task that gives them a Super Rocket Radar to locate and defeat Giovanni. The event ends on Oct. 31, but the special research remains in the game until Dec. 1. This gives players plenty of time to capture the legendary shadow Pokémon and defeat Giovanni.
Shadow Lugia raid boss and potential shiny encounter
Players can now capture this Pokémon by defeating it as a shadow raid boss (Image via Niantic)
While shadow Regigigas is making its way to the game for the first time, another exciting legendary that Pokémon players can try to capture is shadow Lugia. Shadow Lugia is getting added to the growing roster of legendary Pokémon among shadow raid bosses. Of course, the fact that this is now a raid encounter means some lucky players can stand a chance to encounter a shiny shadow Lugia!
Wild encounters and egg hatches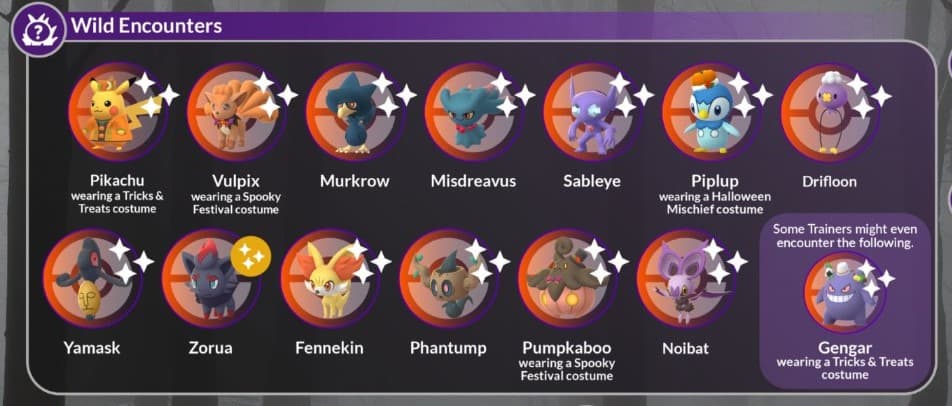 Wild encounters (Image via Niantic)
Every Halloween event brings a set of wild encounters with Pokémon in Halloween costumes. This time, these encounters include the usual Trick or Treat Pikachu, along with Vulpix, Piplup, Pumpkaboo, and Gengar. Gengar is wearing a costume, Vulpix and Pumpkaboo are wearing the spooky festival costume, and Piplup is wearing a Halloween Mischief costume. Zorua has a chance at being shiny.
Additionally, players can also receive new Pokémon from 12 km eggs. These include Larvitar, Sandile, Pawniard, Vullaby, Deino, Pancham and Salandit.
Halloween Part II begins on Oct. 26 at 10 a.m. local time in Pokémon Go. The event ends on Oct. 31 at 8 p.m. local time. Niantic also announced the party mode feature to add to the Halloween experience.
Stay tuned to esports.gg for the latest esports and Pokémon Go news.