Find out how to get the new Pokemon, Mimikyu, in Pokemon UNITE here.
To celebrate the spooky Halloween, Pokemon UNITE introduced a new Pokemon called Mimikyu. This ghost-and-fairy-type Pokemon is adorably spooky, but don't be deceived. It has a lot of tricks up its sleeves!
How to get Mimikyu in Pokemon UNITE
Find Mimikyu's license in the Unite Battle Committee.
(Image from Pokemon UNITE)
You can get Mimikyu in the Pokemon UNITE shop in the UNITE Battle Committee section. Mimikyu's license - an item that allows you to play the Pokemon - is now sold for 14,000 Aeos Coins. You can collect Aeos Coins by simply completing challenges and playing matches!
But if you prefer an easier (but costlier) method, you can purchase Mimikyu's license for 575 Aeos Gems - an in-game currency purchased with real money.
Get a free Mimikyu 3-day license from the Mimikyu Commemorative Event.
(Image from Pokemon UNITE)
If you are unsure about purchasing the Mimikyu, Pokemon UNITE now offers a free 3-day license that you can use to experiment with the new Pokemon. You can get the free Mimikyu 3-day license in the Events section, from the Mimikyu Commemorative Event. Claim the free license on the first-day bonus!
All Mimikyu skills in Pokemon UNITE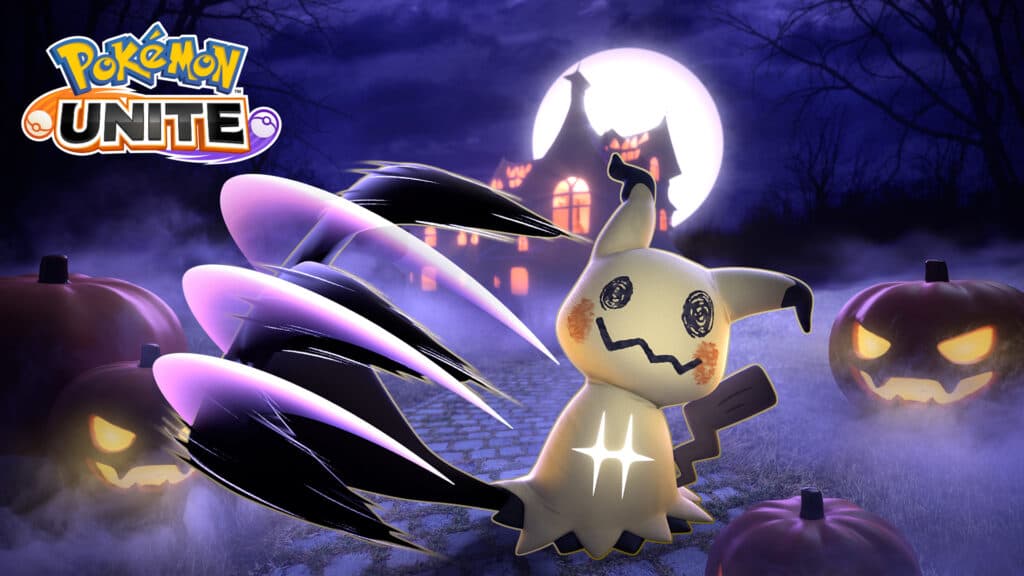 Mimikyu is a new addition in Pokemon UNITE with a balanced Offence and Endurance. This Pokemon is powerful to engage in fights and deal surmountable damage. But it's not your average flimsy Pokemon - it is very mobile and is capable of self-sustain.
Read below to know its basic information!
| | |
| --- | --- |
| Mimikyu's Basics | Type |
| Role | All-rounder |
| Attack Type | Melee |
| Damage Type | Physical |
| Difficulty | Intermediate |
Mimikyu's basics in Pokemon UNITE
Mimikyu's third basic attack will proc another attack, striking twice. After using a move, its basic attack will also strike twice.
Ability
When in Disguise Form, any opponent that deals damage to Mimikyu will be marked and Mimikyu turns into Busted Form. When this happens, Mimikyu will get an increased movement speed and deal tons more damage to the marked opponent. It will also suffer a slight HP decrease however, all damages are nullified for a set amount of time.
Level 1 and 3
This ability causes Mimikyu to shout and deal damage to opponents.
Mimikyu charges at a targeted direction, dealing damage and slowing any opponents it hits. If this ability is pressed again directly after, Mimikyu will serve an attack to opponents in front of it - dealing additional damage based on the opponent's missing HP.
Level 5
Mimikyu jumps ahead and moves around its opponent, slowing their movement speed and dealing multiple damage instances. After the attack is finished, it will jump back to a targeted location. This ability can be upgraded to increase Mimikyu's movement speed for a short period after the attack is finished.
This ability causes Mimikyu to slash its claws in front of itself - dealing damage, slowing movement speed, and also restoring Mimikyu's HP. Shadow Claw's cooldown reduces with every basic attack that Mimikyu makes. You can upgrade this ability for it to deal additional damage based on opponent's missing HP.
Level 7
This ability causes Mimikyu to extend it shadow and any opponent it hits will become a shadow target. Those marked as shadow target will receive additional damage based on how much HP it has lost. If this move is used again, Mimikyu deals more damage and extends the duration of the shadow mark. If an opponent gets knocked out from Shadow Sneak, this move's cooldown resets and Mimikyu gains back HP.
This ability creates an area around itself where any movement speed debuffs will turn into an movement speed increase instead. Mimikyu will also take less damage from outside of the area.
UNITE Move
The strongest move, Play With Me..., makes Mimikyu jump toward an opponent and trap it inside its rag. This deals damage over time while granting Mimikyu a shield for itself. But the most interesting part is, the opponent will not be affected by any moves except for Mimikyu's while in its trap!