In-game characters will no longer be named after employees. Overwatch will receive a new FFA map in September as the developers push back a planned storyline to later this year.
Activision Blizzard has announced plans to rename McCree's name in Overwatch. However, they have not announced the new name just yet.
McCree is named after Jesse McCree, a former Blizzard employee who was recently let go from the studio after a sexual harassment lawsuit against the company. McCree was one of the people present in the infamous 'Cosby Suite' as reported by Kotaku. This follows developer promises to remove inappropriate references in Azeroth in World of Warcraft.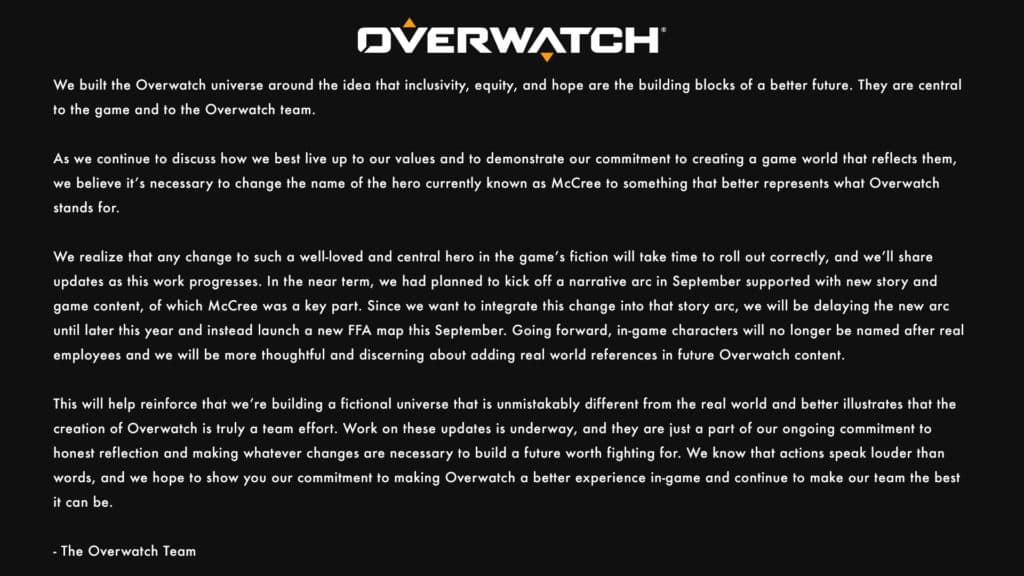 An action that is a response to a sexual harassment and discrimination lawsuit. Image via
Overwatch's Twitter
.
What's McCree's New Name?
Despite announcing a change of name for the gunslinger, Activision Blizzard just stopped short of revealing the character's new name. Implementing a name change for a character integral to the game will take time, says the game developer. McCree has been a part of the game for more than five years and was an important character in a new Overwatch storyline.
Blizzard had plans for a new storyline, due to launch in September, in which McCree played a key role. With this announcement, the new Overwatch storyline will see delays as the developers want to integrate this change into the story arc. To fill the content void, Overwatch players will receive a new FFA map, where they can try out their favorite heroes.
Overwatch Characters will not be named after Blizzard employees anymore
While announcing changes to events in Overwatch and the release of a new FFA map, Blizzard also revealed a policy change.
Moving forward, in-game characters will no longer be named after real employees.
Real life references will also receive careful consideration and thought before being a part of the game. This change would prevent instances where a developer's real life actions affect the game's integrity and hurt the sentiments of players.
This is part of a larger approach by the developers to separate the fictional Overwatch universe from the real world. But it is also a move by Blizzard to improve their standing after weeks of negative, not unwarranted, PR for the games company.
McCree is no longer part of Overwatch and Blizzard
Jesse McCree was a part of Blizzard for several years and worked on iconic games such as Diablo 3,Diablo 4 and several WoW expansions,. He left the company earlier this month after the sexual harassment and gender discrimination lawsuit against the company.
Jesse McCree was one of several former and current Blizzard employees who were part of an image from Blizzcon 2013. The 'Cosby Suite' image contained a giant portrait of Bill Cosby in the background.
The suite belonged to Alex Afrasiabi and had a notorious reputation because of Afrasiabi's behavior in the company. References to Afrasiabi are no longer in World of Warcraft and Activision Blizzard has now pulled the plug on McCree's in-game name as well.
The California Department of Fair Employment and Housing (DFEH) sued Activision Blizzard for gender discrimination and sexual harassment at the workplace. The lawsuit also claimed a 'frat boy culture' at the games company and included some horrific stories of sexual abuse and harassment. Activision Blizzard employees staged a walkout demanding better working conditions. The ABK Workers Alliance also rejected Blizzard's choice of law firm which is famous for its 'union-busting' activities. The lawsuit and subsequent backlash against the game company has impacted the Overwatch League, which lost nearly half of its sponsors.