Overwatch League 2023 Playoffs Day 3 showcased Boston Uprising's incredible teamwork. We interviewed Yoo "smurf" Myeong-hwan and Kim "birdring" Ji-hyeok!
Overwatch League 2023 Playoffs Day 3 concluded with victories earned by Boston Uprising and the Houston Outlaws! After Boston Uprising took down London Spitfire 3-1, we sat down with players Yoo "smurf" Myeong-hwan and Kim "birdring" Ji-hyeok for a post-match interview!
Boston Uprising at the Overwatch League 2023 Playoffs (Image via esports.gg)
Smurf talks epic Orisa plays and Boston Uprising's team synergy
Throughout the live London Spitfire versus Boston Uprising showdown at the Mattamy Athletic Centre, the crowd saw a lot of great plays by smurf. As Boston Uprising's tank, he landed multiple Orisa ultimates that turned the tide of battle.
"Picking up Orisa's ult is not something that I can do by myself," smurf told esports.gg. "So I trusted my teammates. And then I also [had a lot of] trust in my teammates that like they're gonna engage together with me. It actually did go well in scrims, so I just played how we usually played in scrims."
Boston Uprising's smurf as Orisa (Image via Blizzard Entertainment)
During the match, whenever smurf pushed forward as Orisa, he had his team ready to work with him. While birdring brought out the relentless DPS with Bastion, Jang "Decay" Guiwoon waited for the perfect moment to duke it out as Genji. Meanwhile, Lee "LeeJaeGon" Jae-gon as Lucio and Kim "IZaYaKI" Min-chul as Baptiste came through with clutch heals, lamps, and damage amplification.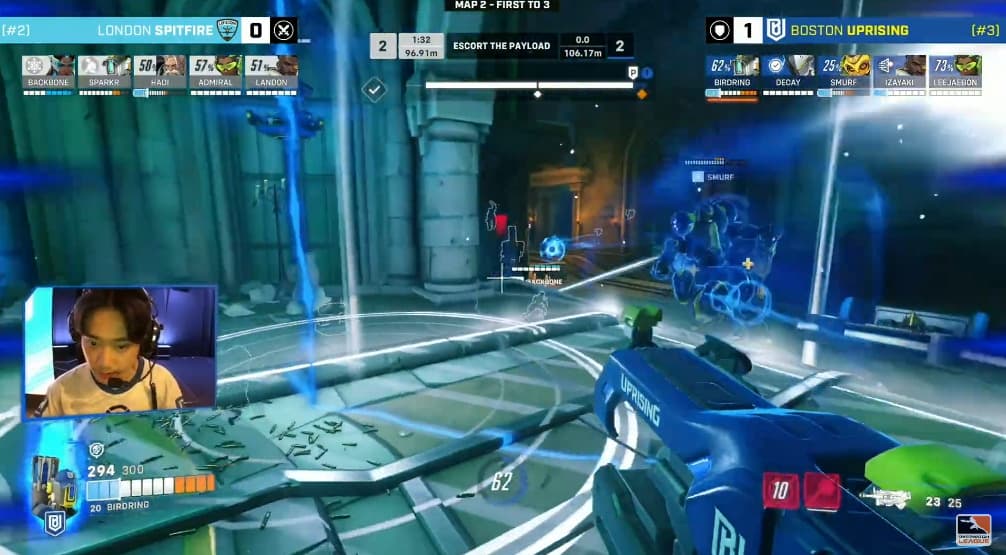 Birdring playing as Bastion (Image via Blizzard Entertainment)
Smurf also attributed the victory to playing at their best and Boston Uprising's coaching staff who strategized going up against London Spitfire's lineup that featured Hadi "Hadi" Bleinagel on Reinhardt.
"We're playing our comfort picks, our best composition. So that's why we're able to break the Rein composition. And there's also our coaching staff. They know how to break them, so it was very helpful."
Birdring and smurf build unforgettable moments with fans
Smurf and birdring also talked about what it felt like to play on stage with a cheering audience. Smurf said that all of the fans who came to see him made him really happy. Birdring then shared how playing with his team and meeting others are moments he'll never forget.
"I've been playing since [I was a teenager], so I consider my career [to be very] special. [I am] making a lot of memorable moments with the team and everyone. I will never forget this moment and my career. I'm really satisfied with what I'm doing right now."
Boston Uprising went 3-1 against London Spitfire (Image via esports.gg)
When the match concluded, Boston Uprising earned a score of 3-1. The team claimed Lijiang Tower, Suravasa, and Esperanca!
Below are all of the Day 3 results:
Overwatch League 2023 Playoffs Day 3 Results: Sept. 30
| | | | |
| --- | --- | --- | --- |
| Completed | London Spitfire 1-3 Boston Uprising | 1-3 | Boston Uprising |
| Completed | Houston Outlaws 3-0 Dallas Fuel | 3-0 | Houston Outlaws |
All of the match results and scores can be found here.
That's all for now. Stick around on esports.gg for more Overwatch 2 news and updates!