Here's everything to know about Overwatch 2 Invasion, including the new Story Missions, Hero Mastery mode, Flashpoint maps, and more.
Blizzard just did an Overwatch 2 Invasion reveal livestream. Read on for what to expect for Overwatch 2 Invasion Story Missions, Hero Mastery mode, player progression, and the new PvP Flashpoint maps.
Overwatch 2 Invasion screenshot (Image via Blizzard Entertainment)
Overwatch 2 Invasion Story Missions
The Overwatch 2 Invasion Story Missions will take place in Rio de Janeiro, Toronto, and Gothenburg. The missions will also include interactions between characters who have never met before.
"Basically, these are cooperative missions that finally move the story in Overwatch forward," art director Dion Rogers said. He then gave a recap of why Winston recalled the heroes back together, noting that past allies and new faces will unite to stop Null Sector's plans.
"Lucio hasn't met Reinhardt yet," Rogers added. "So you're going to learn exactly how these characters meet each other, what they've been up to before this invasion happened."
Overwatch 2 Invasion Story Mission screenshot (Image via Blizzard Entertainment)
Overwatch 2 Hero Mastery mode launch date
According to Blizzard, Hero Mastery mode will let players hone their skills with heroes and challenges. Hero Mastery in Overwatch 2 will also be solo content meant for players who wish to practice as different characters. 
Five heroes will arrive with the Hero Mastery launch in the Overwatch 2 Season 6 mid-cycle, according to senior game producer Kim Horn.
"There will be different heroes you can play," Horn continued. "Some will unlock differently. And they'll be scores, so you can compare your scores."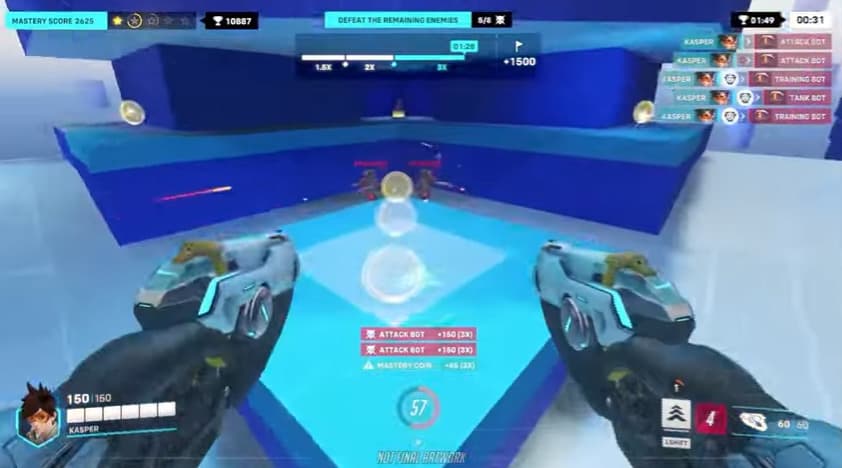 Hero Mastery mode (Image via Blizzard Entertainment)
"In order to deliver the best possible experience for the new Hero Mastery mode, we are postponing the launch of the mode to our Overwatch 2: Invasion mid-season update in September. Thank you for understanding."
Overwatch 2 player progression
Next, the Overwatch 2 player progression system will be per hero, involve different categories, and increase each hero's level. The livestream noted that Blizzard will track one's playstyle through categories like games played, damage done, damage mitigated, and healing done. As players do this, they'll level up those categories plus earn emblems for specific heroes. 
"And the interesting thing about it is you can go into your career profile, check out the progression section, and kind of get a story for the way that your particular hero plays the game," game director Aaron Keller said during the livestream. He added that the amount of experience that players can get in a category will not be capped.
Overwatch 2 Invasion maps
As for the Flashpoint PvP game mode, it will arrive with two new maps. These will be New Junk City and Suravasa. The livestream noted how the size of these maps will allow for more theming and narratives.
"You're gonna see things like Omnic temples, marketplaces, refineries, palaces, gardens — you name it. We're all over it," principal environment artist Daniel McGowan said.
That's all for now. Stay tuned on esports.gg for more Overwatch 2 news and updates!