No Self-repair as Bastion becomes more of a pseudo-sniper in Sentry mode.
Blizzard revealed some changes to Sombra and Bastion before the Overwatch League Grand Finals between Shanghai Dragons and the Atlanta Reign. Sombra's EMP no longer removes shields in OW and has reduced crowd control. Meanwhile, the Overwatch 2 Bastion's upgrades are both visual as well as to its kit. These are significant changes that will completely change the way the game is played at the professional level.
Bastion Changes in Overwatch 2
Bastion's newfound friendship with Torbjorn has earned him a visual upgrade. (Friendship with Torb pays off!) With a new hat and a slightly sleeker look, Bastion's new Overwatch 2 look makes him much more approachable, even as an omnic.
It's not just looks that have changed for Bastion. The formerly dormant Omnic also has received several changes to its kit.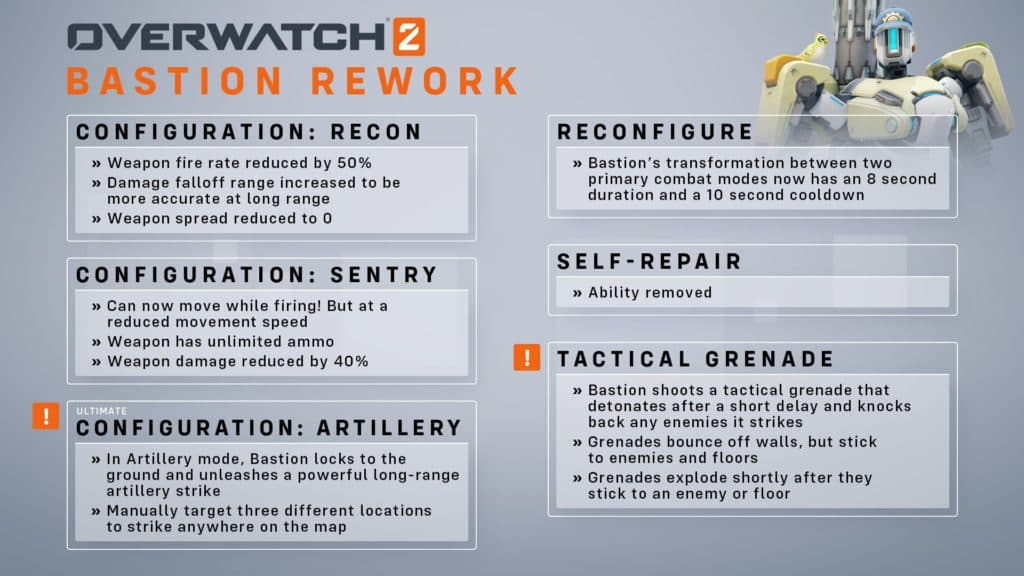 Changes to Bastion in Overwatch 2.
Configuration Recon: 
Weapon Fire Rate reduced by 50%
Damage Falloff range increased to be more accurate at long range.
Weapon Spread reduced to 0
Configuration Sentry
Can now move while firing! But at a reduced movement speed.
Weapon has unlimited ammo.
Weapon Damage Reduced by 40%
Configuration: Artillery
In Artillery mode, Bastion looks to the ground and unleashes a powerful long-range artillery strike.
Manually target three different locations to strike anywhere on the map.
Reconfigure
Bastion's transformation between two primary combat modes now has a 8-second duration and a 10-second cooldown
Self-Repair
Tactical Grenade
In Overwatch 2, Bastion Shoots a tactical grenade that detonates after a short delay and knocks back enemies it strikes.
Grenades bounce off walls, but stick to enemies and floors.
Grenades explode shortly after they stick to the enemy or floor.
Bastion is more of a pseudo-sniper with these new changes and the reduced spread.
Bastion's ultimate, Artillery strike, is a new ability that allows the Omnic robot to call in a powerful long-range artillery strike. He can manually target three different locations to strike anywhere on the map.
Coupled with the Sombra changes, Overwatch 2 has a greater focus on reducing crowd control. Blizzard has already confirmed all 32 heroes will be available for OWL Season 2.