Who would win in a fight? Genji or Hanzo? The answer is… complicated. This is the story of two brothers at odds.
It's a question that's as old as time: who would win in a fight? Genji or Hanzo? These two characters have duked it out not as mere strangers, but as the Shimada brothers. Why are they fighting? Who won? What are they up to in Overwatch 2? Read on for details.
Overwatch dragons (Image via Blizzard Entertainment)
What is the story of Genji and Hanzo?
As the eldest son of the Shimada clan in the Overwatch universe, Hanzo was taught from a young age to lead his people. Hanzo shouldered the unspoken responsibility of every older sibling: to be successful and a role model.
He excelled in leadership, strategy, and tactics in addition to swordsmanship, the bow, and martial arts. Both Genji and Hanzo sometimes trained alongside Kiriko, who is the daughter of the Shimada clan's former sword master.
The Shimada brothers training alongside Kiriko (Image via Blizzard Entertainment)
Being the eldest also meant fulfilling family-bound duties. The Shimada clan was no ordinary family, however. Composed of assassins who attained a lot of power over the years, the clan became a criminal empire that was infamous for dealing with illegal substances and weapons.
Why did Hanzo kill Genji?
While Hanzo dedicated his time to training, Genji was more carefree as the younger brother. Genji also excelled in his ninja training, but wasn't interested in the Shimada clan's business. Much to the dismay of the clan's elders, Genji enjoyed a playboy lifestyle. The elders also hated how Hanzo and Genji's father coddled the latter.
Upon the death of Genji and Hanzo's father, the elders saw their chance to straighten out the younger brother. They had Hanzo ask Genji to rule the empire alongside him. When Genji refused, tensions grew between the brothers until their violent battle.
It was this battle where Hanzo supposedly killed Genji.
Hanzo defeats Genji (Image via Blizzard Entertainment)
Who is more powerful? Genji or Hanzo?
So who would win in a Genji versus Hanzo fight? Hanzo won the first battle.
However, his victory was not sweet. Genji's defeat broke Hanzo, making him reject the Shimada clan's legacy and abandon everything. This decision branded Hanzo a traitor, forcing him to be on the run from assassins.
Hanzo wandered about with the mission to punish and redeem himself. He also wielded a bow as his weapon of choice. He no longer carried a sword that he had trained so hard to perfect. After all, it was his sword that killed Genji.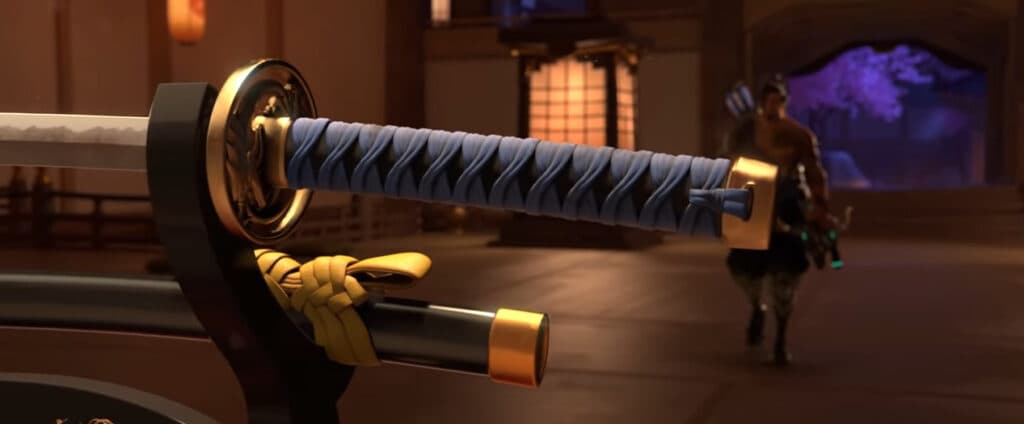 Hanzo's sword in Hanamura (Image via Blizzard Entertainment)
Even as a wanderer, Hanzo still visited the Shimada estate to pray for Genji. Since assassins never stopped going after Hanzo for his betrayal of the clan, the elder had to break into the complex. Hanzo took down the guards one by one until he reached a room to honor Genji.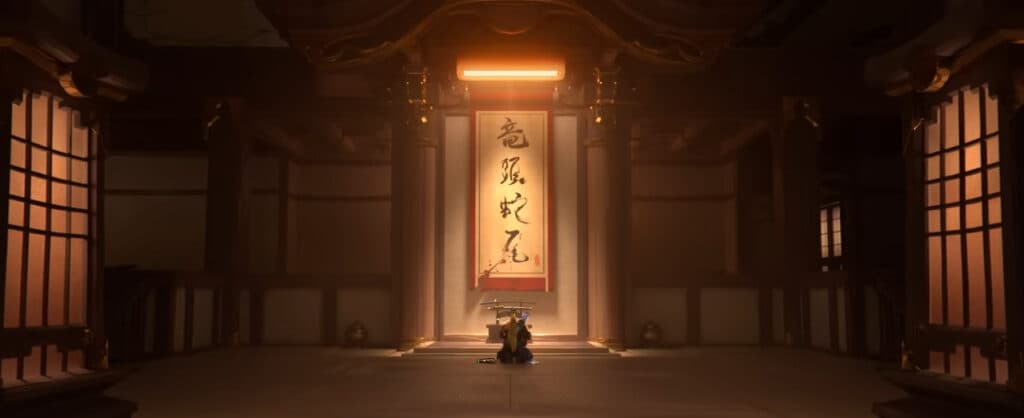 Hanzo wants to redeem himself (Image via Blizzard Entertainment)
However, this quiet ritual got interrupted as Hanzo noticed an assassin at his back. A scuffle ensued, with Hanzo displaying his skills with the bow against his attacker's agility, shuriken, and deflects. The battle reached the rooftop as the masked character talked about what had happened between the two brothers.
"I know you tell yourself that your brother disobeyed the clan and that you have to kill him to maintain order. That it was your duty," the stranger said.
Genji using his Dragonblade ultimate (Image via Blizzard Entertainment)
Who won? Genji or Hanzo?
These words angered Hanzo, making him sloppy in his movements. In frustration, he brandished his bow without arrows as a weapon instead. The two characters fought and argued about the concept of honor until Hanzo used his Dragonstrike ultimate. This sent two blue dragons at his foe, making the latter summon his own dragon ultimate.
It was at this moment that Hanzo realized something was amiss. Only a Shimada had the ability to control the dragons. But it was too late as Hanzo was defeated. He asked the assassin to finish him.
So who would win in a Genji versus Hanzo fight? Genji won this showdown.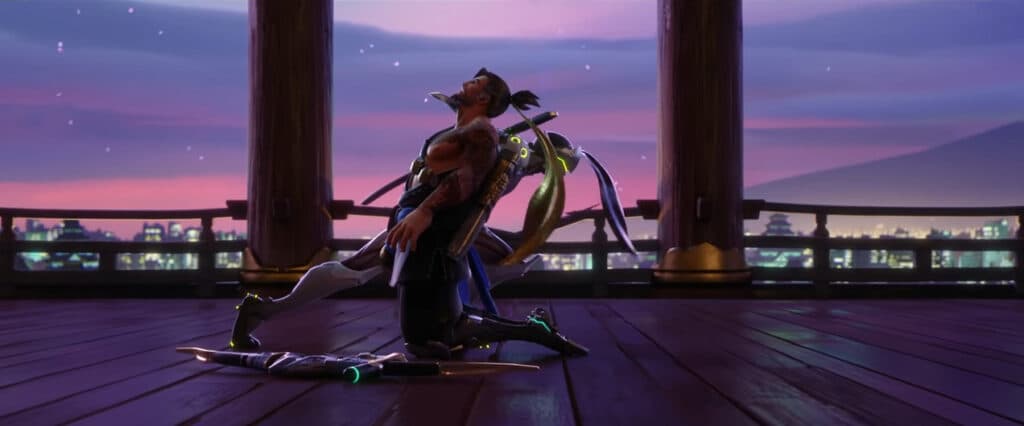 Genji defeats Hanzo (Image via Blizzard Entertainment)
Hanzo and Genji lore in Overwatch 2
However, the masked assassin refused to kill Hanzo. In the next moment, he revealed himself to be none other than Genji.
"No, I will not grant you the death that you wish for. You still have a purpose... brother," Genji said. He then revealed his face and forgave Hanzo.
The elder was skeptical and angry, pointing his bow and arrow at Genji as the latter began to leave. Hanzo hesitated and Genji disappeared in a cloud of smoke.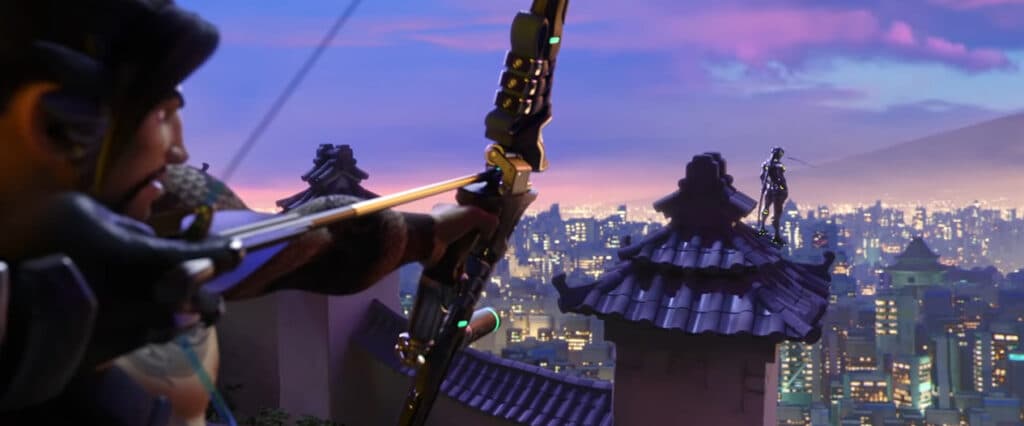 Will Hanzo and Genji be in Overwatch 2 PvE? (Image via Blizzard Entertainment)
Ten years ago, Hanzo only left Genji at the brink of death. He did not actually kill him. After Overwatch saved the younger sibling's life, Genji lived as a cyborg and fought under the organization's Blackwatch division. He struggled with his purpose in life after the fall of Overwatch, but found solace thanks to the help of an Omnic named Zenyatta.
When Winston made the call to reunite Overwatch, Genji answered it and gave Hanzo a choice: "The world is changing once again, Hanzo. And it's time to pick a side."
The brothers reunited brings hope for more Genji and Hanzo lore in Overwatch 2 (Image via Blizzard Entertainment)
Blizzard's FPS came out in October 2022, and while more Hanzo and Genji Overwatch 2 lore hasn't been revealed yet, it would be cool to see how the story unfolds for these two iconic siblings.
Perhaps not as rivals in Hanzo's mind, but as brothers once more.