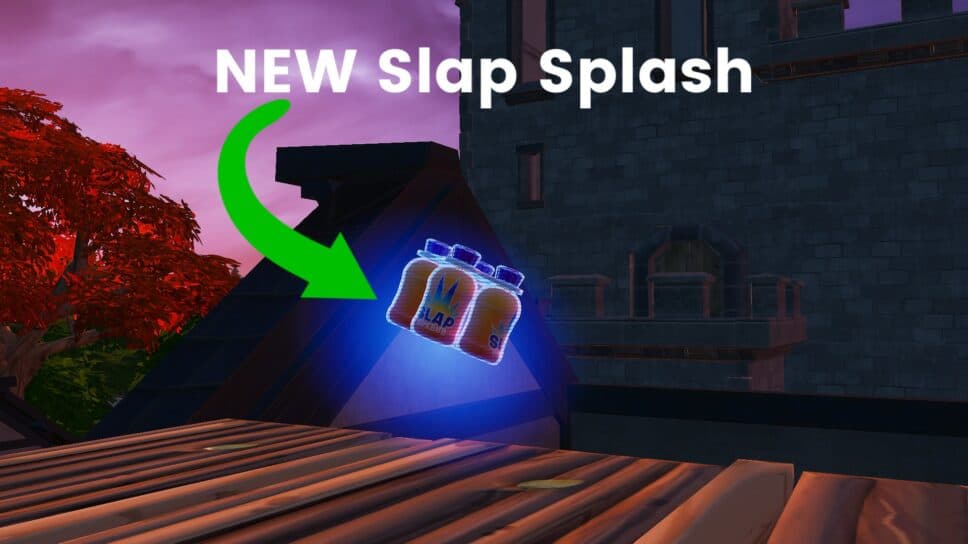 Slap Splash in Fortnite: Where to find and how it works
The Slap Splash is the shiny new healing item in Fortnite.
Fortnite's silent update this morning unveiled a new healing item named the Slap Splash. This new healer follows similar branding to the Slap Juice–an item introduced in Chapter 4 Season 1. However, from a statistical and aesthetic standpoint, the Slap Splash is another version of the Chug Splash.
The item is now available in-game, and here is everything you need to know.
Fortnite Slap Splash: What does it do, and where can you find it?
The video above by GrenadeBR on Twitter shows that the Slap Splash in Fortnite acts similarly to the Chug Splash. You can throw it against the ground and heal yourself and any teammates in the area.
There are two versions of the Slap Splash; Rare and Exotic. The difference between the two rarities lies in how much health you gain when using it. The Rare version restores 15 HP per use, while the Exotic heals 30 HP. 
Fortnite's latest update also introduced the Splash Party Reality Augment. You can select this perk to receive a stack of four Slap Splashes in Fortnite matches. The new healing is available on the ground, in Chests, Coolers, Holo-Chests, and more. Perhaps check out Slappy Shores for an increased chance to grab the Slap Splash item.
Here are all the statistics for the two Slap Splash rarities:
Rare
Max Stack: Six per slot
Slap Duration: 30 seconds
Healing Given: 15 HP/Shield
Drops in: Stacks of two
Exotic
Max Stack: Six per slot
Slap Duration: 60 seconds
Healing Given: 30 HP/Shield
Drops in: Stacks of two
The Slap Splash is a perfect beverage for healing in Fortnite during the hot summer. Speaking of summer, check out our complete patch notes write-up for the Fortnite Summer Escape update while it's still live! There are cosmetics to earn, challenges to complete, and much more.