The bloody fights just got bloodier.
Mortal Kombat 1 has confirmed that Homelander will be in the game alongside other guest characters such as Peacemaker, Omni-Man, Quan-Chi, Ermac, and Takeda. Read on for the Homelander's Mortal Kombat 1 release date and more.
Is Homelander coming to Mortal Kombat 1?
Yes, Homelander will enter Mortal Kombat 1 as a DLC character. Other DLC characters include Peacemaker, Omni-Man, Quan-Chi, Ermac, and Takeda. NetherRealm Studios, the folks behind Mortal Kombat 1, revealed this at San Diego Comic-Con.
In a reveal trailer, these characters slowly appeared one by one before Homelander flew down to join them. While Homelander is from The Boys, Peacemaker is a DC character and Omni-Man is from Invincible.
This isn't the first time that Homelander appeared in a game. Homelander, Starlight, and Black Noir from The Boys were revealed as playable operators in Call of Duty Modern Warfare 2 and Warzone 2. These characters entered the franchise as part of Call of Duty Season 4 Reloaded.
Mortal Kombat 1 DLC characters (Image via Warner Bros. Games)
When does Homelander come out in MK1?
Homelander will be available in the spring of 2024. He will be obtainable through the Kombat Pack Fighters DLC.
Mortal Kombat 1 Kombat Pack Fighters:
Homelander

Peacemaker

Omni-Man

Quan-Chi

Ermac

Takeda
Mortal Kombat 1 Homelander voice actor
According to Homelander's actor, Antony Starr, the character will not be voiced by Starr himself. On social media, he stated "nope" in reply to a question about this.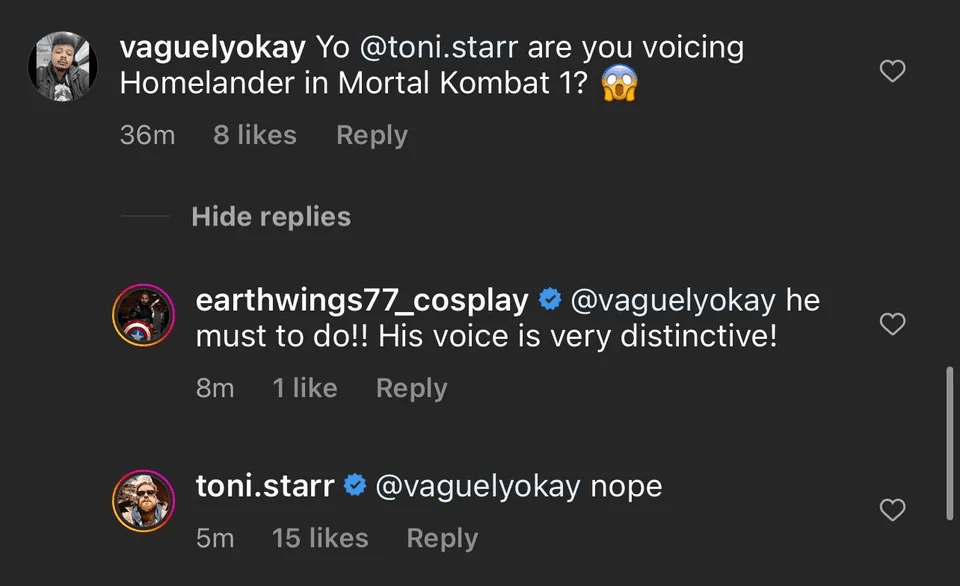 The actor's reply (Image via Reddit)
Mortal Kombat 1 launched on Sept. 19 and became playable on the Nintendo Switch, Xbox Series X, PlayStation 5, and PC. Interested players had the opportunity to purchase the game ahead of time through the official Mortal Kombat 1 pre-order website.
That's all for now. Are you ready to join the battle? Stay tuned on esports.gg for more news and updates.