It's football season in PUBG Mobile. Read on to know all about the game's upcoming update.
PUBG Mobile is getting a huge update later this month. With the FIFA World Cup kicking off in Qatar on November 20th, football celebrations are landing in PUBG Mobile too. The game is collaborating with legendary football star Leo Messi, bringing big changes to Erangel, and more.
PUBG Mobile November update to bring Leo Messi collab
The biggest feature in the November update to PUBG Mobile is the collab with Leo Messi. Tencent hasn't revealed much about the collaboration yet, though.
However, the developer has confirmed that he will be the captain of the PUBG Mobile Global Chicken Cup. Players will be able to play alongside him in this mode.
PUBG Mobile Global Chicken Cup: New football-themed mode in the game
As a part of the PUBG Mobile Chicken Cup, a grand football-themed park will be added to Erangel. It will have unique architecture and offer great loot to players.
The theme park will have a unique recall mechanic as well. There will be a countdown when a player lands at the park during which if they're eliminated, they will recall automatically on the plane.
Furthermore, there will also be tracks around the park for players to travel around in the football-themed vehicle which is being added with PUBG Mobile's November update.
Play as a football in the new update
A major feature in the new update is that players will be able to play as a literal football. That's right, there will be a vehicle in the form of a big football. You will be able to jump in this vehicle and also quickly move around the map.
Football pitches are spawning across Erangel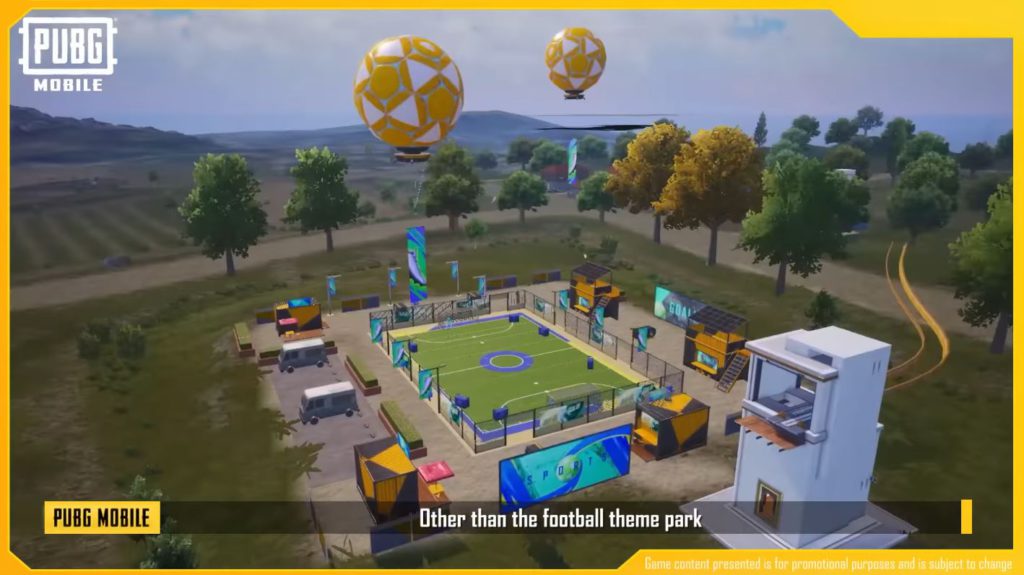 Another exciting feature in PUBG Mobile's November update update is that Tencent is adding multiple football pitches around Erangel. Players can go to these pitches to find special "Messi Golden Shoes." On wearing this, the players' movement speed will be significantly increased.
There will also be footballs on the pitches which players can score goals with to win some rewards. Additionally, these footballs can be used in battle by kicking them towards an enemy. A special undisclosed effect will be activated on doing so.
More new features in PUBG Mobile's November update
Tencent has revealed that it will be hosting special football social events in the game when the update releases.
The Aftermath's map is getting a complete overhaul with updated armour, firearms, and energy mechanics.
More weather effects are being added to Livik.
Tencent is improving the stages and mechanics of classic Erangel to improve the players' experience.
---
Stay tuned to Esports.gg for the latest mobile esports news and updates.