The first-ever MLBB Women's Invitational accumulated 392K Peak Views – becoming the most viewed women's esports tournament of all time.
The year is starting off great for women in esports! Recently, publisher Moonton hosted the first-ever Mobile Legends: Bang Bang (MLBB) Women's Invitational (MWI) in Southeast Asia (SEA). The tournament received astounding reception and broke viewership records. According to Esports Charts, the championship achieved a staggering 392K peak views – the highest of all time for women tournaments.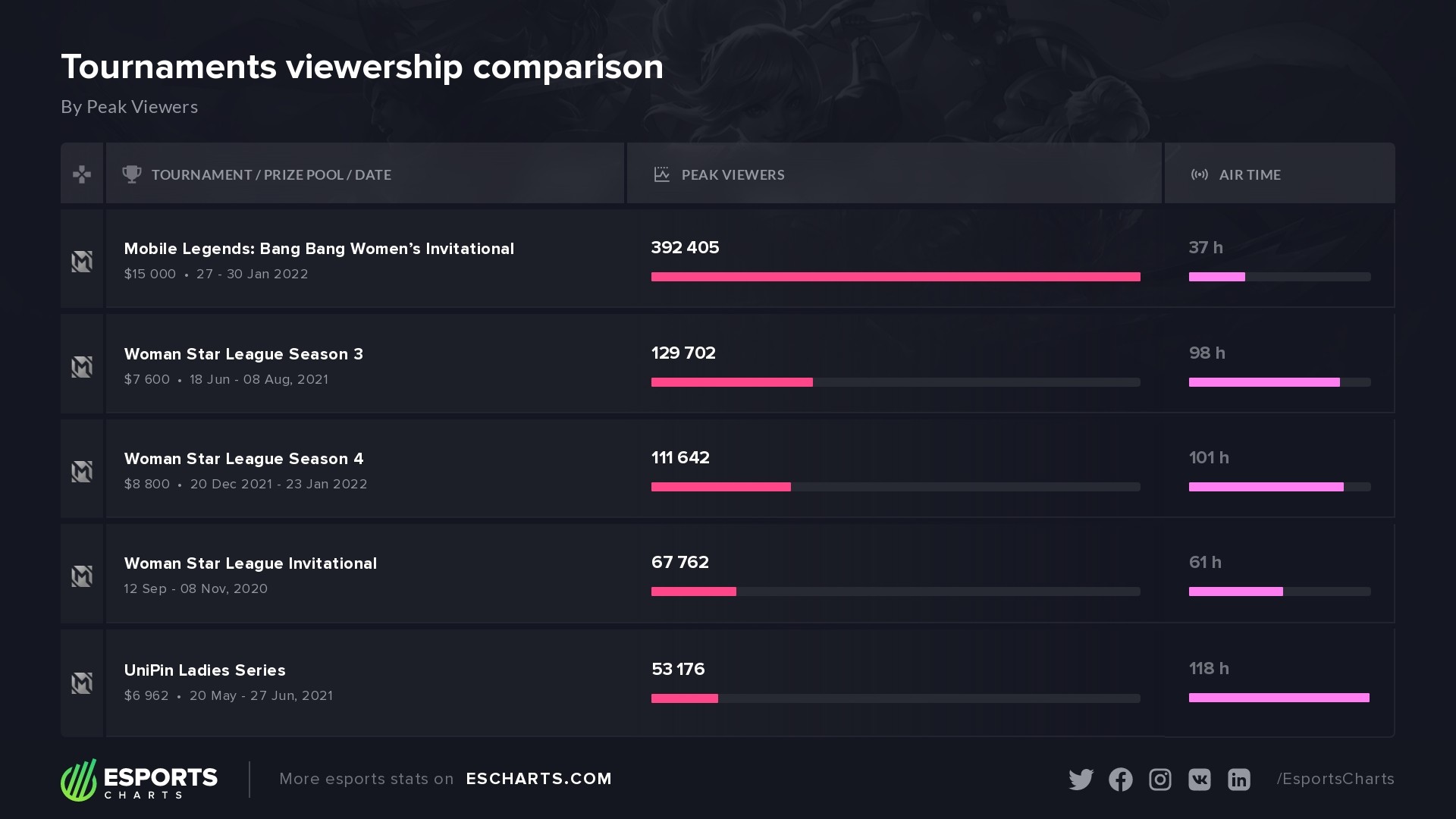 MLBB Women's Invitational achieves a new milestone for women's esports
In a 4-day event organized by Moonton, MLBB Women's Invitational gathered all-women teams across SEA to compete for $15K USD. From 27 – 30 January, nine of SEA's best women teams faced off and the peak of the tournament garnered significant attention.
In the Grand Finals of the event, GPX Basreng vs Bigetron Era amassed 392K peak views. According to Esports Charts, this skyrockets the milestone for the highest viewed women's tournament – tripling the previous record.
The MWI held a couple of high-viewed matches including GPX.Basreng vs Bren.Victress (326K Peak Views) and Bigetron.Era vs Karra (168K Peak Views). Furthermore, it reached 2.1 Million Hours Watched and half of it came from YouTube.
The tournament was broadcasted on YouTube, Facebook, and even Tiktok but not on Twitch. The reason for this is MLBB's audience is abundant on YouTube and Facebook instead of Twitch.
MWI comprises 84% of viewers of the Indonesian language, which isn't a surprise considering Mobile Legend's popularity in the country. As seen in another review by Esports Charts, MLBB reigns supreme in Indonesia when compared to other esports titles.
Mobile Legends's women's esports scene flourishes
The giant mobile MOBA has fostered brilliant growth for women in the scene. Moonton constantly provides platforms for women gamers of Mobile Legends. Not only did it sponsor the MLBB Women's Invitational, but it has also sponsored leagues in Indonesia which possibly nurtured the recent milestone.
What started as a small, trial league called Women Star League (WSL) Ignition which only ran for 9 hours and accumulated 7k viewers, grew into a huge spectacle. Moonton then continued to fund WSLs and it evidently grew in views and hours run.
As a result, Mobile Legends now conquer the top 5 of the most-watched women's esports tournaments of all time.
However, when compared to the size of mainstream esports leagues, such as the Mobile Legends Pro League (MPL), women's tournaments are far behind. The MPL is known to rake in millions of views and is huge among the world's esports events. Nevertheless, the recent record definitely proves an improvement for women in esports, and it hints at a bright future for the scene.
Stay tuned to Esports.gg for more mobile esports news and updates!