Take a look at all M5 Pass rewards and events here!
It is finally time! The highly-anticipated M5 Pass is now here and in it are tons of delicious in-game rewards. There are also plenty of events that will accompany the M5 Pass which you can participate to get more rewards and benefits. Check out below for all M5 Pass rewards, events, features, content and more!
M5 Pass - Get basic and exclusive rewards
All Mobile Legends players can access the M5 Pass for free and grab the basic rewards. This includes the M5 Banner of Morale, M5 Coin, M5 Lucky Recall Chest, M5 Glory Avatar Border, and much more.
You can unlock these rewards by progressing your M5 Pass level. To gain levels on the pass, you can complete daily tasks, challenges and join ongoing M5 events!
A look at the M5 Pass in Mobile Legends.
(Screenshot via esports.gg)
Of course, aside from the basic rewards, there are also more exciting exclusive rewards. You can get your hands on these exclusive items by purchasing the regular M5 Pass (399 Diamonds) or the M5 Pass Plus (699 Diamonds).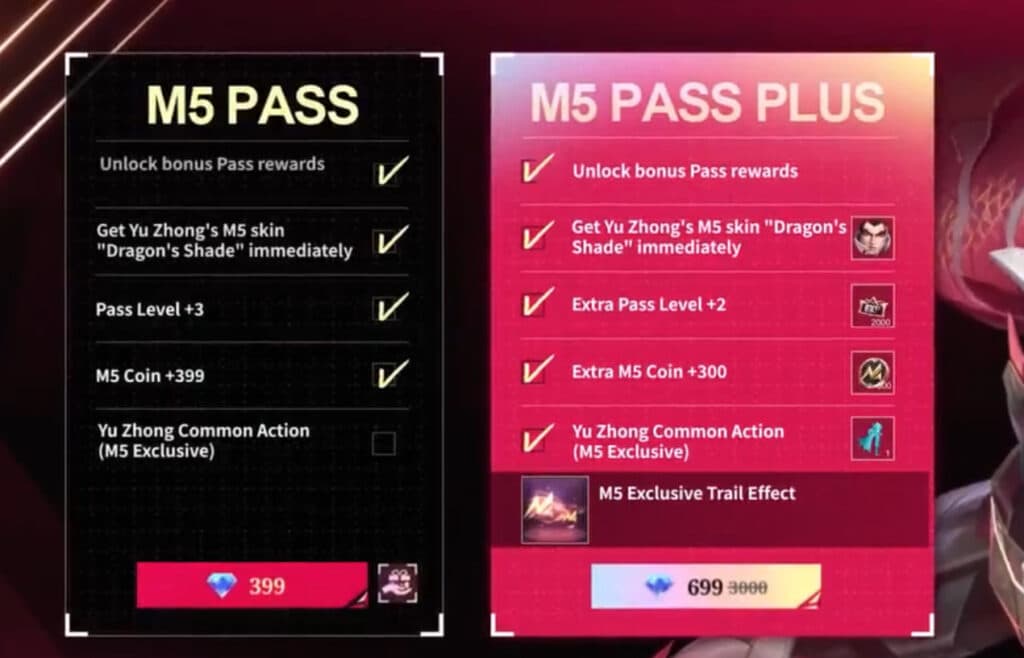 The regular M5 Pass vs the M5 Pass Plus.
(Image via Moonton)
Other exclusive items on the M5 Pass are the:
M5 Battle Effects

M5 Avatar Border

M5 Graffiti

M5 Exclusive Emotes
Exclusive Yu Zhong M5-themed skins and figurine
M5-themes exclusive Yu Zhong skins in the M5 Pass.
(Image via Moonton)
By purchasing the regular M5 Pass, you can immediately obtain the Yu Zhong "Dragon's Shade" skin. There is also the epic Yu Zhong "Cosmic Dragon" skin which you can unlock at level 75 on the M5 Pass. You can immediately get to level 75 by purchasing the M5 Pass Plus.
Aside from in-game skins, you can also grind your way on the M5 Pass to get an exclusive real life Yu Zhong figurine delivered to your doorstep. You can achieve this by reaching level 150 (maximum level) on the M5 Pass.
M3 items encore
M3 items make a return in the M3 Items Encore event.
(Image via Moonton)
Moonton is also bringing an element of nostalgia to the event. During the World Championship season, there will be an M3 Items Encore event which allows you to purchase items from the M3 season.
This event is a one-time only encore, which means these M3 items won't be sold again in the future. You can purchase these items using M5 Coins or Diamonds.
Gift M5 Pass to your friend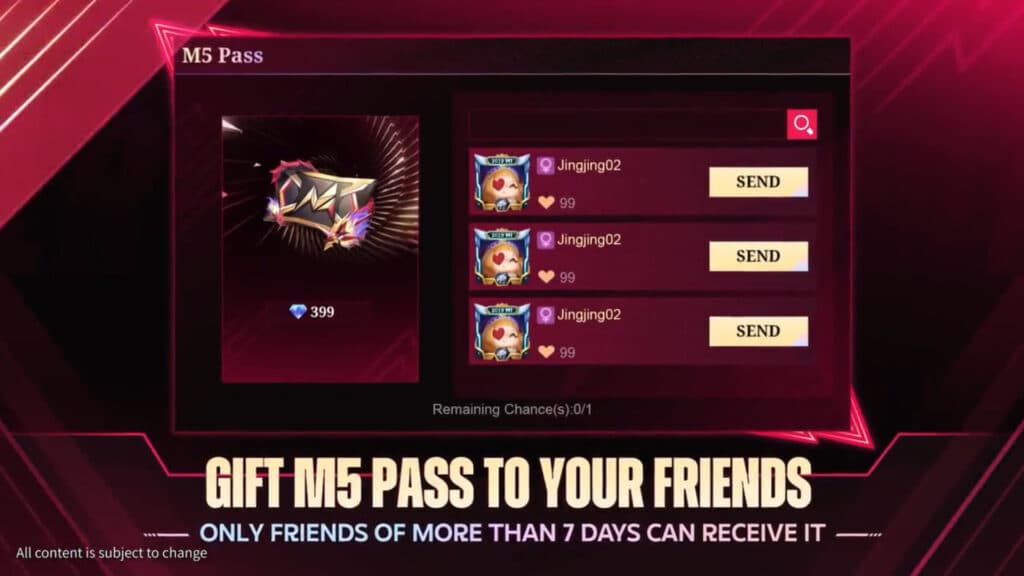 You can gift the regular M5 Pass to a friend.
(Image via Moontoon)
You can also gift the M5 Pass to your buddies across the internet! This feature is, however, limited to the regular M5 Pass which costs 399 Diamonds. You can only gift the battle pass to a friend of more than 7 days.
M5 Pass Event Shop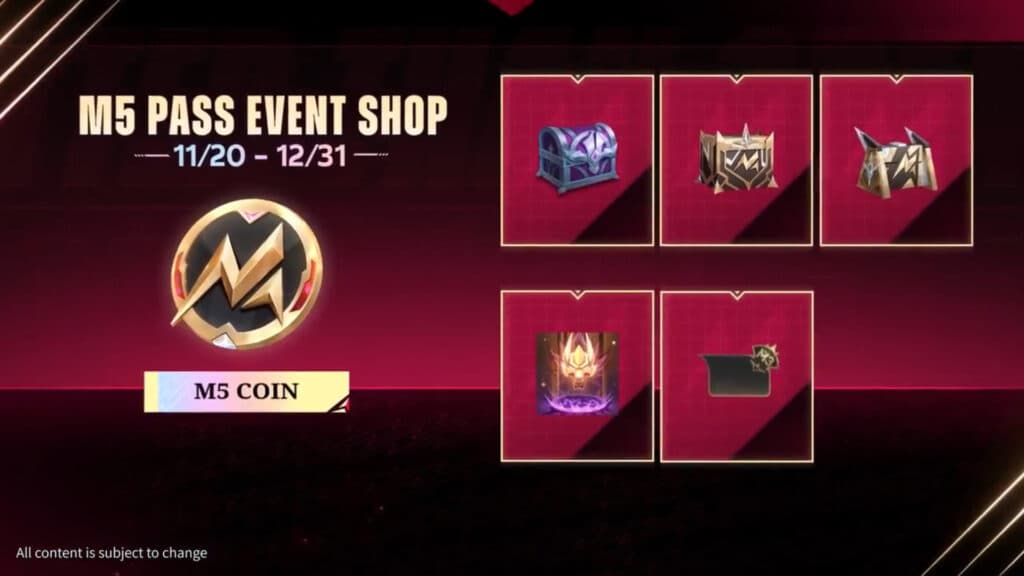 The M5 Pass Event Shop.
(Image via Moonton)
There will be a M5 Pass Event Shop which hosts plenty of items and cosmetics. You can purchase these items using M5 Coins, which you can collect through M5 Pass levels and other events.
M5 Battle Night
The Battle Night offers tons of lucrative bonuses.
(Image via Moonton)
Towards the end of the season, there will be a two-day window in Mobile Legends where you can get bonus rewards. From December 30 to 31, all heroes are free to play and all skins are free to equip.
There will also be game perks where you can earn double the experience, battle pass points, and more in the first five matches. Here are the battle bonuses that will be available during the M5 Battle Night:
Star protection for three matches

Double star-raising points for five matches

Double exp for 5 matches

Double BP for 5 matches

Double protection point for 5 matches
More events to obtain M5 Pass levels
There will be tons more limited-time events which offers M5 Pass levels and more benefits! Here are all the upcoming events during the M5 Pass season:
M5 Ranked Boost: Nov 20 - Dec 31

M5 Login Gift: Dec 2 - 17

M5 Guess: Nov 20 - Dec 16

M5 Team Support: Nov 20 - Dec 15

Wild Card Support: Nov 20 - 26
---
And that is all for M5 Pass content that has been announced by Moonton. Now you can log into Mobile Legends and enjoy the exclusive rewards and exciting events!