Get free rewards by correctly answering the daily questions.
A brand-new unit will soon arrive in Dislyte. Players can participate in her Esper Pop Quiz event to earn in-game rewards! Read on for all of the correct Dislyte Norah quiz answers so you can collect some free Gold Records.
Dislyte Norah quiz answers (Image via Lilith Games)
Dislyte quiz answers for Norah
The answer to "Which mythology are Muses from?" is option B: Greek. Next, the answer to "Who is Norah's friend?" is A: Anna. This is shown in the Sea and Song video where Norah promises herself to finish singing the song she wrote for Anna 14 years ago. Norah also remembers how Anna wanted her to become a great singer. Finally, the answer to "What is Norah good at?" is option C: Music.
Esper Pop Quiz Norah answer day 1: Greek
Esper Pop Quiz Norah answer day 2: Anna
Esper Pop Quiz Norah answer day 3: Music
Norah wrote a song for Anna in Dislyte (Image via Lilith Games)
Dislyte Esper Pop Quiz Norah answers
Correctly answering a question results in a free Gold Record the next day. In Dislyte, Gold Records are used in the Echo to pull new or additional units. Players can train these units and equip them with upgraded relics to fight against others, progress through the game's story mode, challenge different miracles, and more.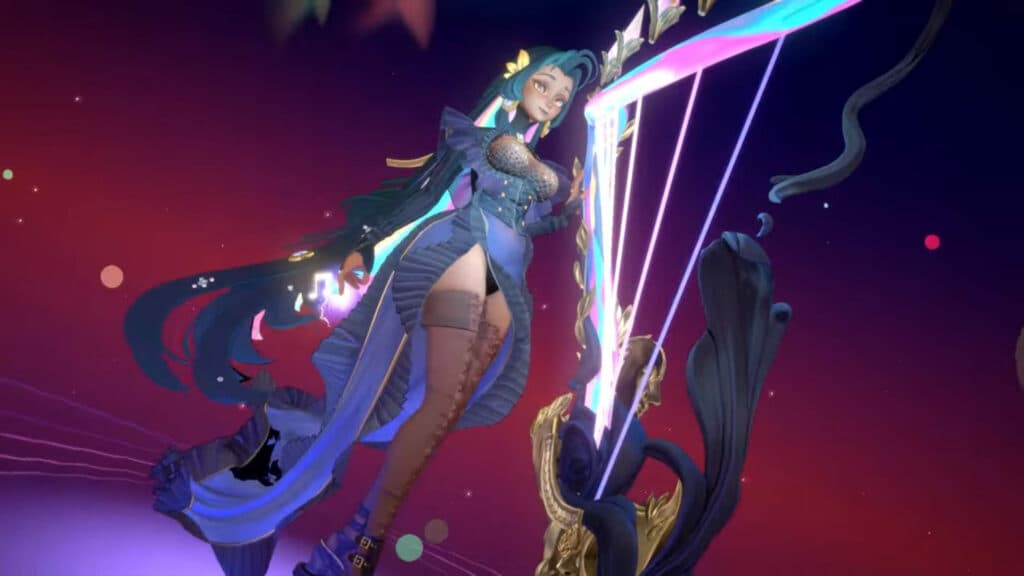 Norah's 3D model (Image via Lilith Games)
Answering a question incorrectly results in 100 Nexus Crystals, which is worth half a Gold Record. In addition to buying Gold Records, Nexus Crystals can be used to obtain consumables such as Point War Admission Certificates or Stamina.
To participate in this event for Norah, launch Dislyte, tap on the "Events" icon located near the top-left corner of your mobile screen, and select the right answer. Additionally, don't forget to participate in the event missions to gain more in-game items.
Norah (Muse) in Dislyte (Image via Lilith Games)
Norah (Muse) abilities
Norah is a five-star Wind Esper who is also a Fighter unit. She's great at launching counterattacks and AoE attacks. Her abilities include Tempo Trio, Rainbow Rondo, and Hearing the Divine.
Tempo Trio (Ability 1): Deals damage to 1 enemy based on Norah's ATK. Gains different bonus effects based on the songs Norah plays.

Passive: Plays different songs whenever casting Tempo Trio. Plays Presto, Andante, and Largo in order in a loop.
Presto: Upon dealing damage, inflicts extra damage based on the target's Max HP, up to a certain percentage of Norah's ATK.
Andante: Upon dealing damage, reduces the target's AP.
Largo: Upon dealing damage, dispels buffs from the target.

Rainbow Rondo (Ability 2): Makes Norah ready to counterattack until her next turn starts. During the time, Norah has a chance of casting Tempo Trio to counterattack when any teammate is attacked.

Ascension: Every 3 times Tempo Trio is cast, Norah gains 1 stack of Halcyon Harmonic.
Halcyon Harmonic: After casting any ability, consumes Halcyon Harmonic, reduces Hearing the Divine's cooldown, and performs a Pursuit Attack on all enemies with Halcyon Harmonic. The Pursuit Attack deals damage based on ATK, has a chance of dispelling enemy buffs, and dispels ally debuffs.

Hearing the Divine (Ability 3): Inflicts ATK Down on all enemies for 2 turns. Extends all their debuff durations by 1 turn. Then, attacks all enemies. The first 3 hits deal damage based on Norah's ATK. The last hit deals damage based on the enemies' Max HP, up to a certain percentage of Norah's ATK.

Passive: Norah's damage cannot land critical hits, but each point of ACC increases the percentage of enemy DEF Norah ignores.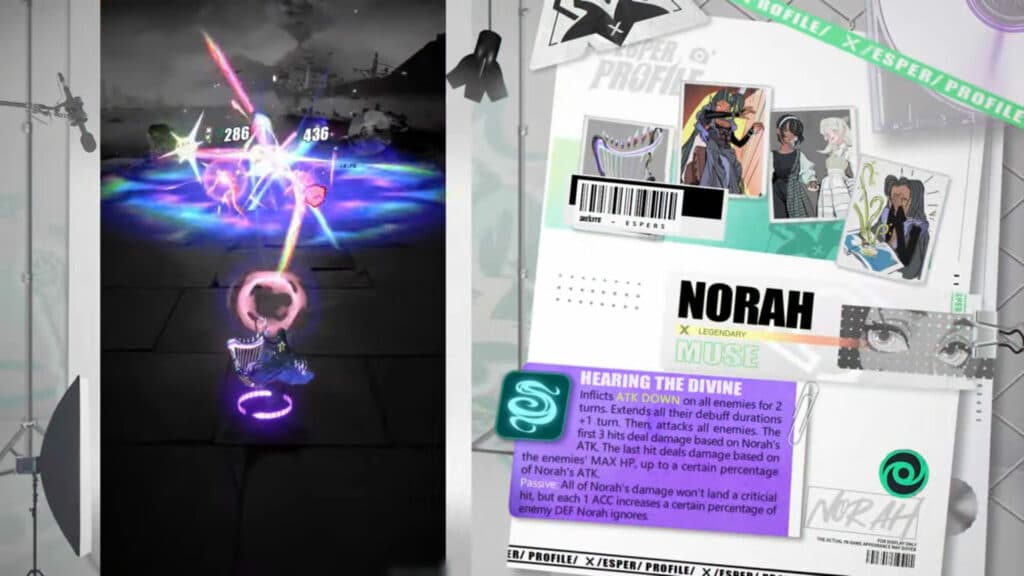 Dislyte Norah gameplay screenshot (Image via Lilith Games)