Worlds 2023: A visitor's guide
Need a plan for attending Worlds 2023? We've got you covered with a useful visitor's guide!
In case you're worrying about not having a planned itinerary for visiting Worlds 2023 in South Korea, don't worry — we've got you covered. Read on for our Worlds 2023 visitor's guide!
Where is LoL Worlds 2023?
| | | |
| --- | --- | --- |
| Dates of play stage | Play stage | Location for play |
| Oct. 10 to 15 | Play-Ins | LoL Park |
| Oct. 19 to 23 and 26 to 29 | Swiss Stage | KBS Arena |
| Nov. 2 to 5 and 11 to 12 | Knockout Stage | Sajik Indoor Gymnasium |
| Nov. 19 | Finals | Gocheok Sky Dome |
LoL Park: The best mode of transport to LoL Park, which is also the home of the LCK, Riot store, and Worlds 2023 Play-Ins, is via the subway. LoL Park is located next to Jonggak Station on Line 1 of the Subway in Seoul. The park itself is on the third floor of the Gran Seoul Building, which can be accessed through the first exit.
KBS Arena: Similar to visiting LoL Park, the best route involves the subway. Lines 5 to 9 are the most direct routes. Just look for the huge arena. If in doubt, check the map.
Sajik Indoor Gymnasium: The easiest way to get to this venue is via the subway. Take Line 3 to Sajik Station before walking a short distance to the gymnasium.
Gocheok Sky Dome: For the finals, the Gocheok Sky Dome can be accessed via bus or subway. To get there, head to the nearest Guil Station and take a short walk to the venue itself. Alternatively, you can get the bus to the venue, the express city bus numbers 301 or 320, or the regular bus service numbers 10, 83, 88, or 510.
Worlds 2023: Arrival times
The matches start at 4 p.m. KST or 5 p.m. KST on most days, with entry to the venue starting an hour before play. With this in mind, we suggest arriving around half an hour to an hour before doors open to allow for getting lost and any last-minute cancellations of transport. Depending on your walking speed and being distracted by the view of the city, the walk could take a while. However, if you don't mind running, you don't need to be in the queue right when the doors open.
Worlds 2023: All things food
With South Korea being known for incredible street food and night markets, be sure to check out local restaurants and cuisine regardless of which venue you'll be visiting!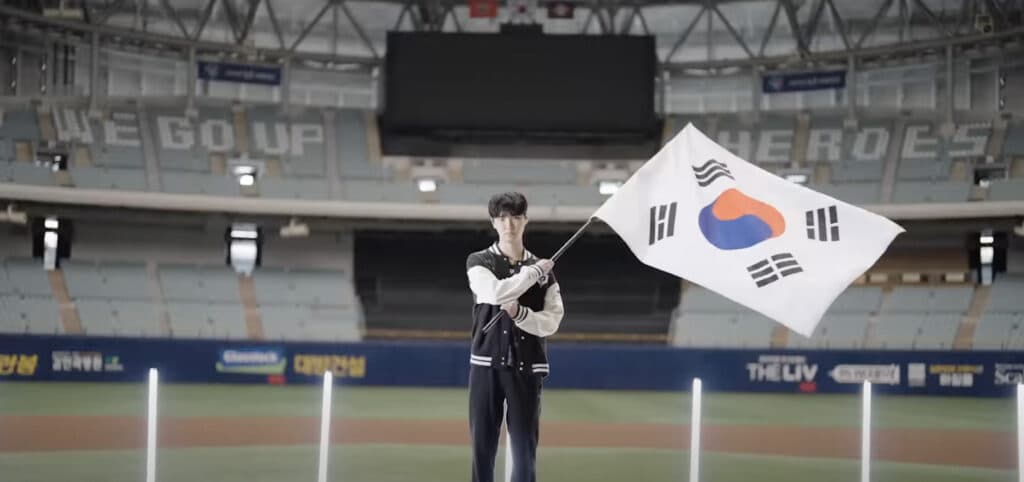 We're going to South Korea! (Image via Riot Games)
Worlds 2023: What to bring with you
Although Worlds 2023 doesn't require anything in particular, a notebook for players to sign if you see one isn't a bad idea! We also suggest a sign of your favorite player as you could end up on the LoL Esports Flickr. Of course, don't forget to bring your regional pride!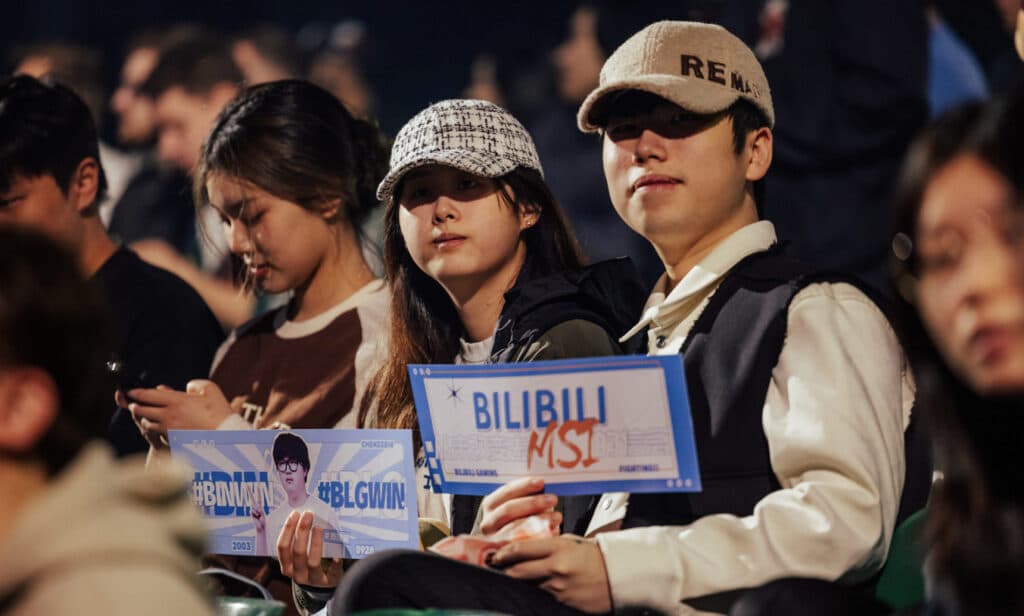 Fans with their signs at MSI 2023 in London (Image via Colin Young-Wolff/Riot Games)
With 22 teams coming to Worlds 2023, be sure to bring your energy as there are plenty of players to cheer for. Don't forget to bring assorted drinks so you can cheer longer! If you have a team jersey, then wear it with pride! Also remember to bring some money for special Worlds 2023 merchandise and various Riot or LCK items.
Worlds 2023: Getting home
You can take a similar route back to your starting location. The subway is likely your best bet, but if you feel like doing some exercise, then you can always take a walk through Seoul or hop on a bus. See you soon in Seoul for Worlds 2023!