With Worlds 2023 right around the corner, it's finally time to make your winning predictions!
Pick'ems are back for Worlds 2023! We are doing a quick overview of everything you need to know about playing it ahead of the first match at Worlds 2023 in Seoul!
How to get your account ready for Worlds 2023 Pick'ems
To get yourself ready for the predictions, make sure that you have a valid Riot account and summoner name. Additionally, make sure that you're in a qualifying region. According to Riot, Pick'ems are not available in the following regions: Cuba, Iran, North Korea, Crimea, Donetsk People's Republic (DNR), Luhansk People's Republic (LNR), Sudan, Venezuela, Syria, China, Myanmar, Quebec, or any other region where this offer is void.
After ensuring that your Riot account is valid and not listed as being in one of the above regions, you can head on over to the official Pick'em page to make your Worlds 2023 predictions.
Login in to your account on Pick'ems to claim emotes for participation (Image via Riot Games)
Worlds 2023 predictions
Sign in to your account to start making your predictions. Predictions went live Oct. 4 and can be changed up until the start of Worlds 2023. There are 20 Worlds 2023 prediction questions to answer, and these are available up until the first match of the play-in stage. After that, predictions will lock in and you will be unable to change your answers.
Pick'ems are back (Image Riot Games)
Finding out if you got points
At the end of Worlds 2023, you will be able to see the total of points earned through your predictions. You'll see either what the coin flip did or your own predictions! You'll climb the leaderboard and gain exclusive emotes just by participating!
Here the some special rewards for correct predictions:
Some of the exclusive prizes for Worlds 2023 (Image via Riot Games)
Below is the text version of this:
Crystal Ball Performance Tiers

Top 5,000 Rank: Worlds 2023 Renekton Skin + Champion
S-Tier Rank (Top 5%): 50 Event Tokens + 4 Worlds 2023 Capsules + K'Sante "K'Sad" Emote + Karma "So Relieved" Emote

A-Tier Rank (Top 20%): 3 Worlds 2023 Capsules + K'Sante "K'Sad" Emote + Karma "So Relieved" Emote

B-Tier Rank (Top 40%): 2 Worlds 2023 Capsules + Karma "So Relieved" Emote

C-Tier Rank (Top 70%): 1 Worlds 2023 Capsule + Karma "So Relieved" Emote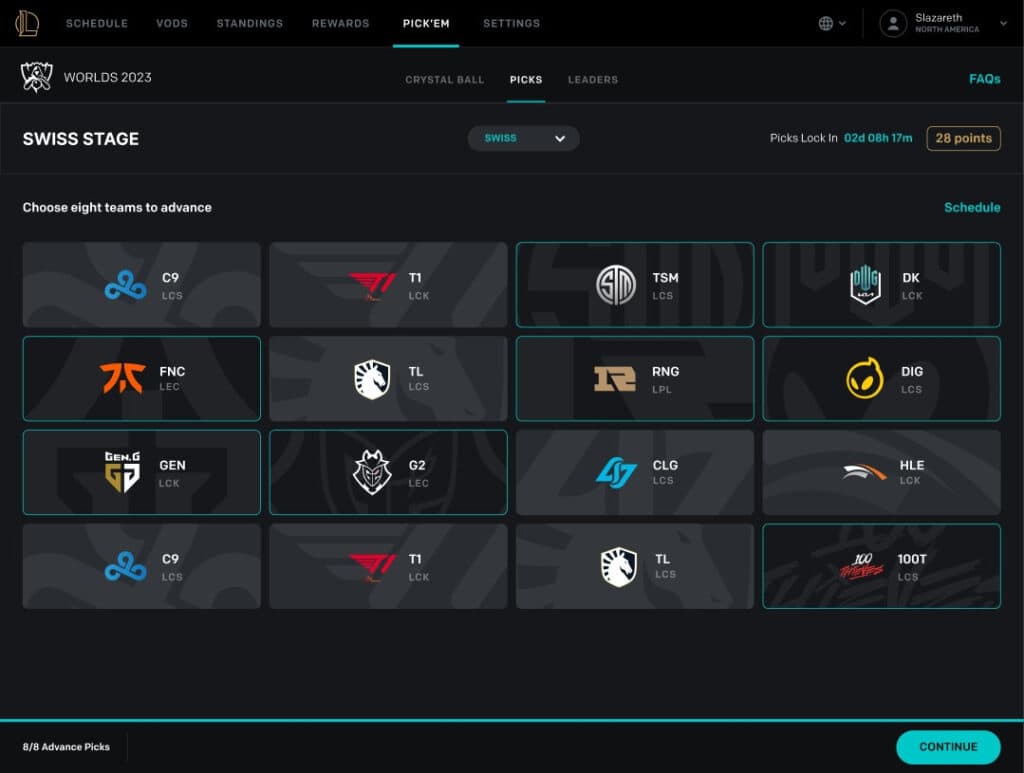 Make your predictions to win emotes and more (Image via Riot Games)