It is the first esports tournament to cross six million peak viewers
The League of Legends Worlds Championship 2023 concluded by crowning T1 as the Champion for this year. And with it, the tournament has also set a new record in terms of viewership. The Grand Finals between T1 Esports and Weibo Gaming saw more than six million peak viewers. This number does not include Chinese viewership statistics.
Worlds 2023 Grand Finals Viewership record
After a long few weeks of gameplay, T1 esports and Weibo Gaming faced each other in the Grand Finals of World 2023. The Gocheok Sky Dome was full of eager League of Legends fans cheering for their favorite teams. But many millions didn't attend the venue, but that didn't stop them from watching the matches live.
According to ESCharts, the 2023 League of Legends Worlds Grand Finals saw six million peak viewership, a new record for esports.
The League of Legends event is the first tournament to surpass the six million mark, reaching a peak of 6.4 million viewers. The previous event that held the highest viewership record was Free Fire World Series 2021 Singapore. The Free Fire event had 5.4 million viewers.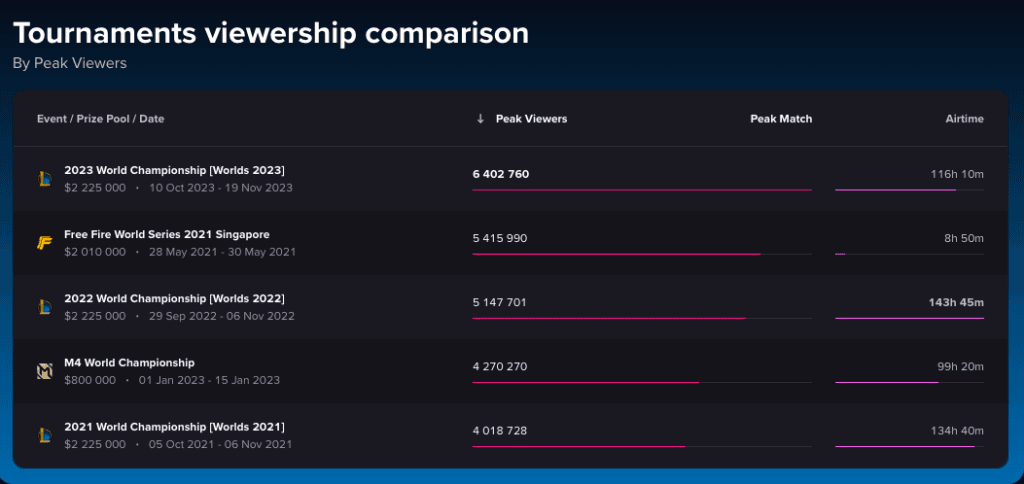 Despite the highest peak viewership, Worlds 2023 failed to break the previous 'Watch time' record. The record still holds with Worlds 2021 which had 174,826,794 hours watched in total. Worlds 2023 145,577,623 hours watched, which was significantly lower than that in 2021.
Here are the top five League of Legends Worlds events as per ESCharts:
Worlds 2023 — 6.4 million Peak Viewers;

Worlds 2022 — 5.1 million Peak Viewers;

The Worlds 2021 — 4 million Peak Viewers;

Worlds 2019 — 3.9 million Peak Viewers;

Worlds 2020 — 3.8 million Peak Viewers.
T1 esports won Worlds 2023 with a 3-0 dominant performance over Weibo Gaming. This is their fourth Worlds victory making a name for themselves as one of the best orgs in the game.