The 2020 world champion coaches were a big offseason pickup, but consistently odd strategies and poor results mean they're now free agents as T1 looks for a new direction.
As their roster continues to disappoint, T1 have announced big changes to their League of Legends division. The core of the coaching staff, Yang "Daeny" Dae-in and Lee "Zefa" Jae-min, have been released.
World Champions Daeny and Zefa failed to replicate DWG success
It's been an awful year to be a fan of the most successful organization in LoL history. The spring split was full of issues. The big one that stuck out though, was the constant roster swaps. T1 essentially were fielding a 10-man lineup, constantly switching up their starting five. It was pointed out often as a very odd strategy, and one that clearly wasn't working. They'd end up finishing fourth, far below what an org of their standards should be aiming for.
While the summer split saw an end to the roster swapping, their results have been no better. T1 currently sit fifth, having been surpassed even by spring's 9th-place finisher Afreeca Freecs.
But while 2021 T1 has been a big disappointment, there's much more to this than just poor results. Daeny and Zefa are the reigning world champion coaches. Guiding DAMWON Gaming to the title in 2020, Korea's first Worlds title in four years, was a huge achievement. They were massive offseason pickups by T1, and it's surprising to see such a fall from grace.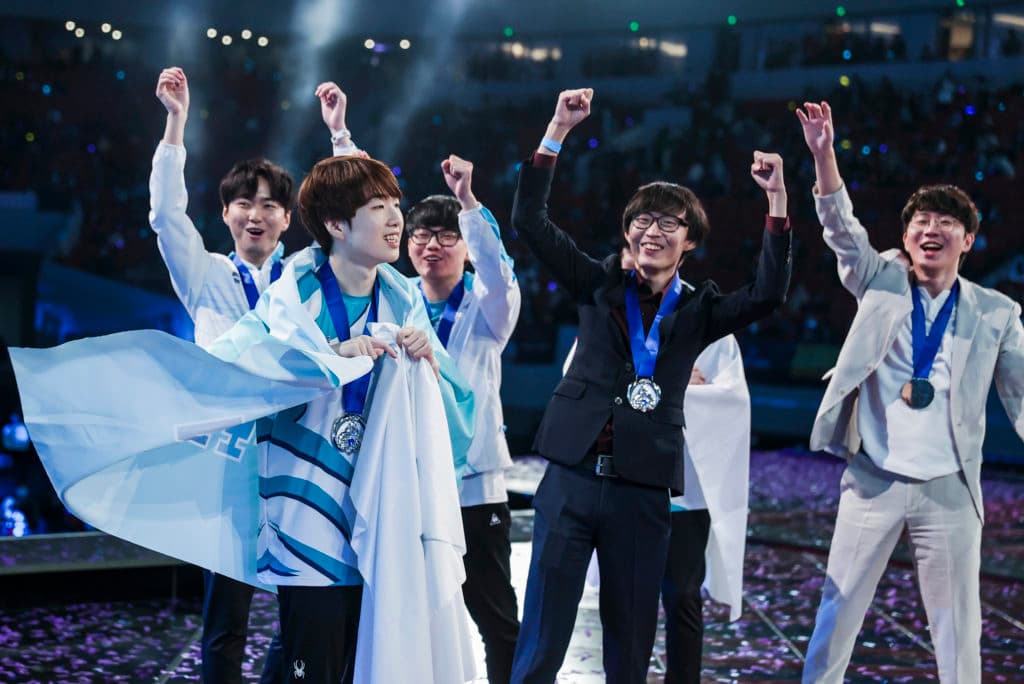 Daeny and Zefa celebrate their world championship win with their team. Image credit: David Lee/Riot Games.
The future for T1 and their former coaches
In the interim, Son "Stardust" Seok-hee and Kim "Moment" Ji-hwan will take over T1's coaching. Stardust was an assistant coach under Daeny and Zefa, while Moment coached T1's Tier 2 Challengers roster. Whether T1's results will improve remains to be seen. They have a relatively balanced schedule coming up, with some tough opponents, such as DK, and some easier ones. Will the new coaches be able to turn around the roster?
The moves also mean some of the most experienced coaches around are available. While T1 has been a failure, Daeny and Zefa are still world champions. It seems likely they'll find a new team to guide for the rest of the year, in Korea or China. But has their stock plummeted too far by now?