T1 Faker: "It's been a while since I got this title [LCK Championship], it feels awesome to be on top of the LCK again"
T1 went 20-0 as they and Faker won their tenth LCK title. They will now represent Korea at MSI 2022.
T1 has gone the distance and went the perfect split. The three-time world champions went an incredible 20-0 as they took down Gen.G in the 2022 LCK spring grand finals. For T1 Faker, this is his tenth domestic trophy in what is an already illustrious career. Following the emotional back and forward series, Faker and his team spoke to legendary esports figure Caster Jun.
T1 are on back on top of the LCK mountain
It has been a long time coming for T1 and Faker. LoL's most dominant organization have finally lifted the LCK trophy again after last hoisting the title back in Spring 2020. The LCK side will now get the opportunity to represent Korea on home soil at the 2022 Mid-Season Invitational. The last time Faker and co competed at MSI was in 2019. Although they won in spring 2020 the event was cancelled due to the rise of COVID-19.
There are not enough adjectives to describe the career of Faker. The demon king surged his team on to win himself and the org a tenth title. At the young age of 25, Faker has already achieved a career worth a hundred players. For Faker, the feeling of winning never gets old.
My teammates did a fantastic job today so I got carried[laughs], to be honest but still, it's been a while since I got this title, it feels awesome to be on top of the LCK again.
The joy of playing in front of a crowd again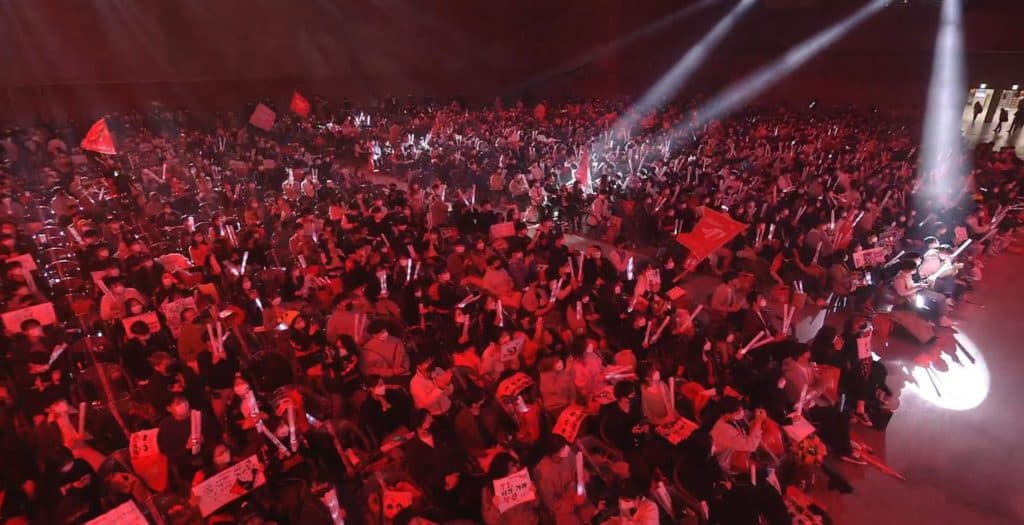 Although the esports world got to continue playing, the biggest contributor to the scene was absent, the fans. Fans are the lifeblood of entertainment and for many of the newer players, they were yet to experience playing in front of an audience.
Although Faker has experienced the roar of an audience on many occasions, he expressed his delight that he got the opportunity to be with the fans once more.
it's been a while since we played in front of a large crowd so it was really good and my teammates loved it as well.
Keria has been a rock for this T1 side and is considered one of the best supports in the world right now. At the age of 19, Keria has already made a mark in professional League of Legends. Keria burst onto the scene two years ago, playing for DRX and even reaching the semi-finals at worlds.
This was the first time Keria had gotten the opportunity to play in a big arena and in front of a large audience, in an emotional post-game interview Keria expressed how his dream had finally come true.
So before my debut I really wanted to be a pro gamer, watching other pros getting the trophy in front of a large crowd and my dream just came true. Finally, I was able to perform really well in front of this crowd, it's not been that long since I had my debut but still, I was always denied winning a title.
T1 are the first team to qualify for the 2022 Mid-Season Invitational. The newly crowned LCK champs can now sit back and relax as the LPL, LCS and LEC all have ongoing playoff matches to conclude.