Zhang will not be allowed to be a coach in any Riot developed game and authorized event again after his actions at TSM
Riot Games has permanently banned Zhang "Peter Zhang" Yi from affliating with any team or organization in a Riot authorized competition. This ruling comes following an investigation into unethical behaviour from Peter Zhang during his time at TSM. Zhang joined TSM in 2018 as their LCS Academy Head Coach and rose through the ranks to become their Head of Player Development.
What did Peter Zhang do?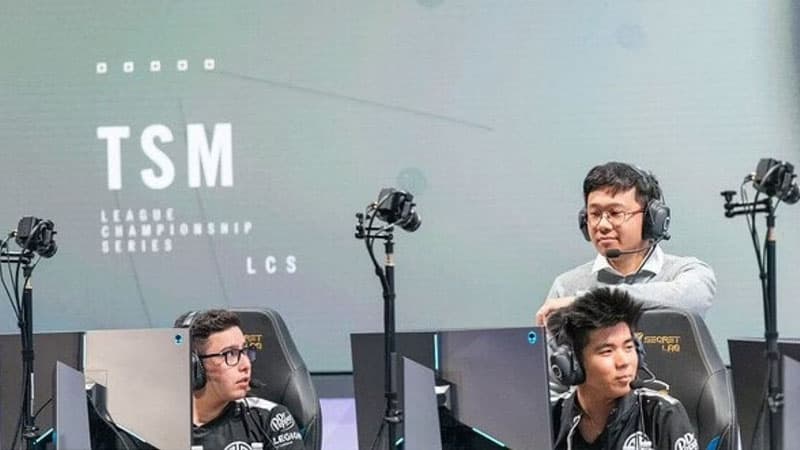 Peter Zhang coaching TSM (Image credit: Riot Games)
The former TSM League of Legends coach was earlier accused of diverting parts of player's salaries for his own use. This led to an internal investigation from the organization and termination of his contract.
After TSM fired him, Peter Zhang released a statement denying taking cuts from player's money. However he admitted to hiding money meant for the team's former support player, Hu "SwordArt" Shuo-Chieh.
Today, Riot as well as the LCS confirmed these accusations with their findings.
Peter Zhang violated the LCS Rule Set as well as the LCS Eligibility and Release Agreement by diverting portions of player salaries to accounts belonging to Peter Zhang and his associates, by misleading and failing to fully compensate a former TSM player for the sale of the player's car, and by soliciting loans from TSM players and staff.
Chris Greeley, Head of Esports for NA and Ocenia at Riot
According to Riot's findings, Zhang diverted an approximate sum of $250,000 in salary payments from two TSM players. He also shared non-public information concerning TSM's recruting decisions possibly in exchange for personal gains.
Furthermore, he failed to pay SwordArt the full sum for the sale of the car with $45,000 balance still owed. Riot's investigations also shows that Zhang asked eight TSM players to lend him an approximate sum of $15,000. TSM tried to reverse most of the loans after learning of Zhang's actions but the coach still owes about $4,500 to the players he borrowed from.
What Rule did Zhang Violate?
Peter Zhang's action violated section 14.2.10 of the LCS rule set and section 2 of the LCS Eligbility and Release form. These rules emphasize on intergrity, good conduct and fairplay. It also allows League officials to determine what violates the ethical standards. Following the violation of these rules, Zhang will not be allowed to be a coach in any Riot authorized League of Legends tournament as well other Riot games.
The investigation included a review of interviews from twelve witnesses, communications from involved TSM members and Zhang as well as bank transfer records. Riot stated that they invited Zhang to refute the allegations. However, he failed to provide compelling evidence to refute the evidence submitted by TSM's retained third-party law firm.