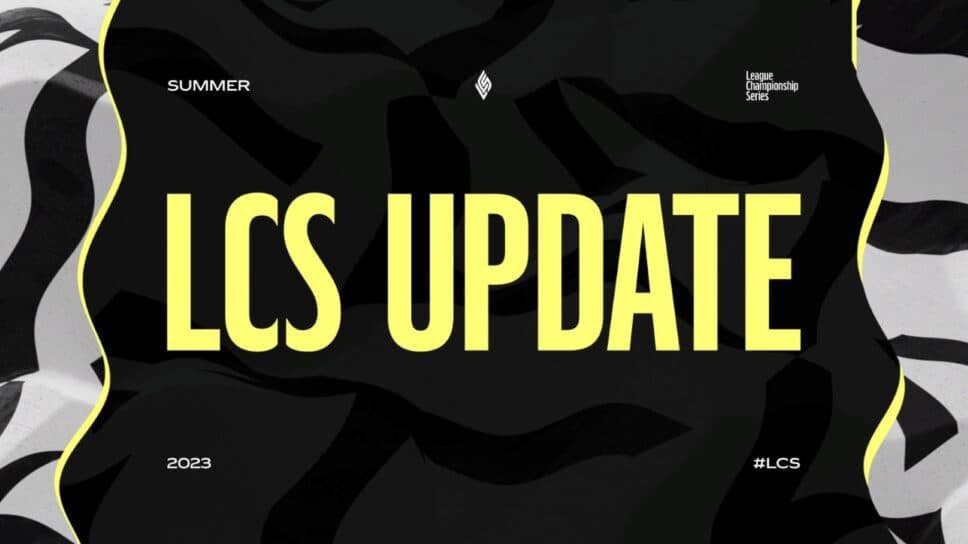 Riot confirms LCS has been delayed by two weeks following player walkout
The player walkout marks a historic day in League of Legends esports.
Riot Games has confirmed today that North America's League of Legends Championship Series (LCS) will be delayed by two weeks. The news comes following the ongoing player walkout which saw the LCS Players Association (LCSPA) set up a player walkout in protest of the handling of the NA scene.
On the evening of May 30, Riot Games global head of LoL Esports Naz Aletaha released a statement on lolesports.com to address the future of the 2023 LCS summer split. On May 29, the LCS Players Association announced their proposed walkout vote passed with flying colors. With rumors of "scab rosters" coming into effect, and the LCS summer split starting in 48 hours, time was running out for the LCS.
Riot makes the decision to delay the LCS by two weeks
LCS Week 1 at Riot Games arena. Photo by Colin Young-Wolff/Riot Games
Aletaha confirmed Riot Games had a "show must go on" mentality, with a "contingency plan" in place. That plan was for LCS organizations to field new rosters, dubbed "scab rosters" by the LCSPA, in order to maintain their original schedule.
Scab is a term used by unions to describe strike breakers, workers outside of a union, and those who cross picket lines. A scab roster, in this context, would be a group of players who do not adhere to the LCSPA's walkout.
"While last week we immediately put in place contingency plans to begin the LCS season on Thursday, we ultimately decided that it would not hold true to our values that Riot's esports offers our players and fans a showcase for the best competitive League of Legends. Nothing but putting the best players in North America on the stage at Riot Games Arena is acceptable."
Naz Aletaha on LCS being delayed
According to Aletaha, operating the LCS beyond the delayed period would make it "impossible to run a legitimate competition." Aletaha confirms if the league is not restarted in the next two weeks, the 2023 Summer Split will be canceled. This means teams from the LCS will not be attending the 2023 League of Legends World Championship.
Riot addresses LCSPA requests
The LCSPA has made a list of requests for the LCS to address
Alongside the announcement that the players would be walking out, the LCSPA put together a list of requests for Riot. In the statement, Riot addressed every request from the LCS Players Association giving grounds for why they would refuse each point. Here's a summary of Riot's response to each request from the LCSPA:
Promotion and relegation for LCS:
Riot claims adding a VALORANT style promotion and relegation system would run counter to their existing system. Each team had to pay 10 million dollars for their slot in the LCS. "It would dilute LCS teams' equity and put considerable downward pressure on the amount of revenue (our "League Revenue Pool") that we share with the teams."
Guaranteed contracts for LCS summer winners:
Guaranteed contracts for the winner of the summer split are not a 'necessary component of a healthy developmental league' said Riot. The LCS will continue to discuss methods for NACL players to reach the LCS.
Institute a 3/5 continuity rule:
"Teams provide greater continuity and structure, and therefore we will continue with our policy of slot ownership residing with organizations rather than players."
Riot commits to a revenue pool of $300,000 per NACL team, per year:
While Riot will not be committing to this on a permanent basis, the NACL's tournament operator Rally Cry will be provided with a one-time payment of $300,000.
Allow LCS orgs to partner with affiliates for cost-sharing:
Riot will continue to allow LCS organizations to develop affiliate relationships with teams in the Tier 2 system, citing Golden Guardians' partnership with AoE.
Esports.gg will continue to update this story as more information comes in.
---
Stay tuned to esports.gg for the latest League of Legends news and updates.