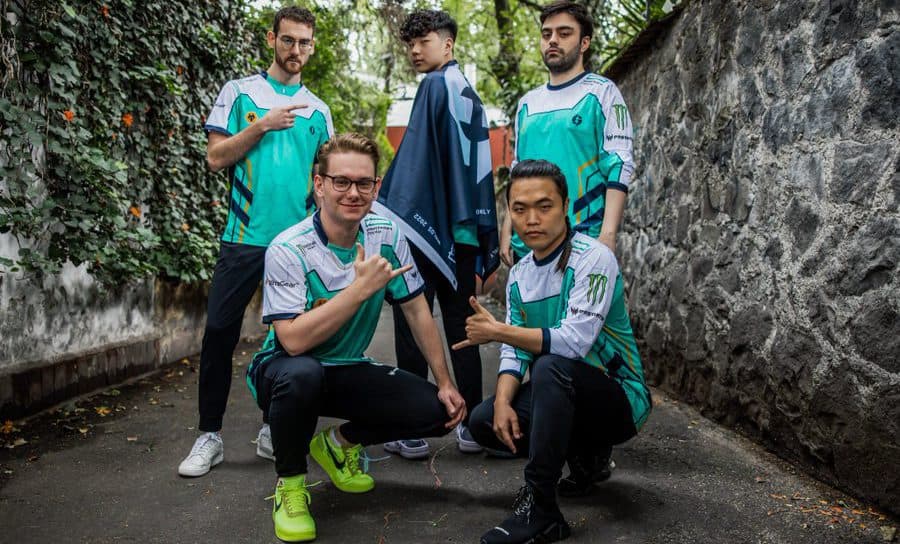 NA's LCS at Worlds: Results, seeding, and more
With Worlds 2023 coming up, we take a look at the history of NA at international events and how NA players feel about their region.
With many changes taking place in North America's (NA) League of Legends scene, we take a look at NA's League Championship Series (LCS) records across the League of Legends World Championship (Worlds), the first and second seeds, and what this means for NA's international reputation at tournaments.
History of NA's LCS at Worlds
Before we get into the details, let's first take a look at NA's history at Worlds.
NA's history at Worlds (Image via Nia Quinn)
NA's track record at Worlds
For many years, the NA region has been mocked by players. For example, some players stated that NA representatives can be ignored.
In the 2022 Worlds performance, Evil Geniuses ranked 11th place while 100 Thieves reached 13th place and Cloud9 came in 15th place.
The region's track record has been looked upon poorly despite some competitive results for the region from 2018. Below are the best results for NA so far.
The best results for NA
| | | | |
| --- | --- | --- | --- |
| Best Result | Year of Worlds | Seeding at Worlds | Team |
| 3rd - 4th | Worlds 2018 | 3rd Seed | Cloud9 |
| 5th | Worlds 2016 | 2nd Seed | Cloud9 |
| 5th | Worlds 2014 | 1st Seed | TSM |
While some may argue these results are from too long ago to be considered recent levels of success for the NA region, they are still proof that it's possible for NA to compete and be successful on the international stage. They might be lagging behind the League of Legends Champions Korea (LCK) teams and China's League of Legends Pro League (LPL), and if the recent years are anything to go by, then the eastern regions are only getting stronger and tougher for the western teams.
Additionally, these results show that NA's seeding didn't necessarily change the success of the region as TSM being the first seed at Worlds 2014 didn't give them an advantage over Cloud9 at Worlds 2018. Nonetheless, while NA may be a heavily-mocked region, these results show that there is plenty of talent.
How seeding has affected NA's chances of international success
If we take a look back up at that table of some of the best results, C9's seeding for Worlds 2018 didn't seem to be a defining factor. Seeding can be an issue, but not necessarily in the way of who is seed one and who goes straight into Groups versus the Play-ins.
Worlds 2014 Group Stage Group C
| | | |
| --- | --- | --- |
| Final rank | Team | Region |
| 1st | Samsung Blue | Korea – LCK |
| 2nd | Oh My God | China – LPL |
| 3rd | Fnatic | Europe – LEC |
| 4th | LMQ | North America – LCS |
But the seeding being interlinked with grouping can be a big cause of difficulties. While being a first seed gives you the luxury of not going through the Play-ins, all seeds are at the mercy of the Groups stage. This is something we've seen across the years and tournaments for teams that are not limited to just NA teams, but also the European (EU) region and the minor regions.
Worlds 2020 Group Stage Group B
| | | |
| --- | --- | --- |
| Final rank | Team | Region |
| 1st | DAMWON Gaming | Korea – LCK |
| 2nd | JD Gaming | China – LPL |
| 3rd | PSG Talon | Taiwan – PCS |
| 4th | Rogue | Europe – LEC |
The groups that seeds are sorted into can massively affect a region's chance of success at an international tournament. Especially if you're sorted into a group with an LCK and LPL representative like FlyQuest in 2020.
| | | | |
| --- | --- | --- | --- |
| LCS representative | Year of Worlds | Play-ins or Group stage group | Qualified for groups/knockouts? |
| TSM | Worlds 2015 | Group stage – KT Rolster, Origen, and LGD Gaming | No |
| Cloud9 | Worlds 2016 | Group stage – SK Telecom T1, Flash Wolves, and I May | Yes |
| FlyQuest | Worlds 2020 | Group stage – Top Esports, DRX, and Unicorns of Love | No |
Could this be NA's year for Worlds 2023?
The million-dollar question: is this NA's year with Worlds 2023 approaching soon? It's a difficult question to answer. Not only is their success based on who represents the region, but a lot of it is going to come down to seeding and groups.
This year's Mid-Season Invitational (MSI 2023) event saw NA bring in two representatives. The Golden Guardians were able to take a game off the second-place team of BLG, and this does offer NA fans some hope. Meanwhile, C9 placed one behind G2 Esports, falling into 6th place.
"I think being a representative of a region at an international tournament means there is always pressure because I don't want my region to be viewed as a joke or anything like that. But even with this pressure, we are focused on enjoying the tournament, having fun, and learning as much as possible."
Choi "Huhi" Jae-hyun speaking to Nia Quinn at MSI 2023 about performing well as an NA representative
Additionally, NA's LCS will have three representatives at Worlds 2023. So while the seeding will be something to consider, more seeds should incite higher results. More home representatives, more of a chance at winning, right? While we will have to wait and see just what happens for Worlds 2023 and the NA region, it should be an exciting watch. It might just be the year that a podium position can be claimed by the NA's LCS at Worlds.