After his match at MSI 2023, we sat down with MAD Lions player Hylissang for a lesson about being a support.
After a surprising loss to G2 Esports, the MAD Lions risked becoming a team that Europe didn't believe in. Despite this, there were clear signs of life and strong plays throughout the series. Support player Zdravets "Hylissang" Iliev Galabov kept his team even and pushed the opposing bot lane as far as possible. To get more insights about his experience at the Mid-Season Invitational (MSI), we sat down with MAD Lions Hylissang for an interview.
MAD Lions Hylissang on facing G2 Esports from a different angle
Question: What is it like facing G2 now that you're no longer on Fnatic? Or is there no difference for you?
Hylissang: I don't really feel a difference. Now that you say it, I still feel like they are the strongest team. Well, we are the strongest team right now, they are second best, but two very good teams are fighting. I'm still fighting against Mikyx, so it doesn't really feel that different for me — just that my team is MAD Lions instead of Fnatic.
MAD Lions setting up on stage to play against G2 Esports at MSI 2023 (Image via Colin Young-Wolff and Riot Games)
Question: As G2 looked weaker in the Spring Split, were you expecting them to play so fast and aggressively in game one or were you expecting aggression anyway because it's G2?
Hylissang: I wouldn't say that I didn't expect them to play the way they did. We underperformed quite a lot. I don't want to take too much credit away from G2. We played really badly, but G2 shouldn't get too cocky off it. They didn't play their best game, either. Maybe from the outside, it is different. But from inside, we had a hard time drafting and playing as a team. We didn't have great plans, everything was lacking for us, and we aren't the strongest team right now for us, but they played fine and deserved to win. I expected them to play how they did. They didn't do anything we didn't expect.
Question: In game one, you took Leona rather than one of your wilder picks. Were you trying to play back for a little?
Hylissang: No, not really. Leona was as good as it gets because they had Nautilus, which is a flex. I don't think I could pick a Pyke, for example, because my ADC was very vulnerable. So I needed to play more for my ADC than myself. So Leona was a good fit. It wasn't Tahm Kench or Braum, but it was still engage.
Question: Were you expecting this series to be a 3-0?
Hylissang: I didn't really have any expectations when I came into the series, as practice was very hard against the other teams. We were doing fine in practice, but there were still a lot of mistakes and we weren't playing well as a team. I thought we could beat G2, but I knew it wouldn't be the same style of fight as we had with them in playoffs because the meta changed a bit. It's a very different game now compared to two weeks ago — a lot has changed.
I did expect us to win a few games, at least — if not the series. But it didn't come to fruition this time. I do tend to have a very negative mindset when it comes to predicting the result. I'm more of a pessimist than an optimist, but I did expect more of a fight from us.
Creating the next part of his legacy
Question: You've obviously been with Fnatic for so long that you became synonymous with it. What legacy do you want to have from being on the MAD Lions?
Hylissang: Honestly, my end goal has never changed despite moving teams. I always want to help my team as best as I can and have people remember me as the player that I am right now. That's more than enough for me, so I wouldn't change anything from my point of view.
Question: We have seen Rekkles swap to support recently. Would you ever consider a role swap?
Hylissang: Honestly, I've never considered role swap. If I had to, I would consider it, but my hands probably wouldn't be as good as Carzzy or Rekkles. If I had to swap to ADC, for example, I'd have a lot to work on. For now, I don't really feel the need for it. So I'd just stick with support for now.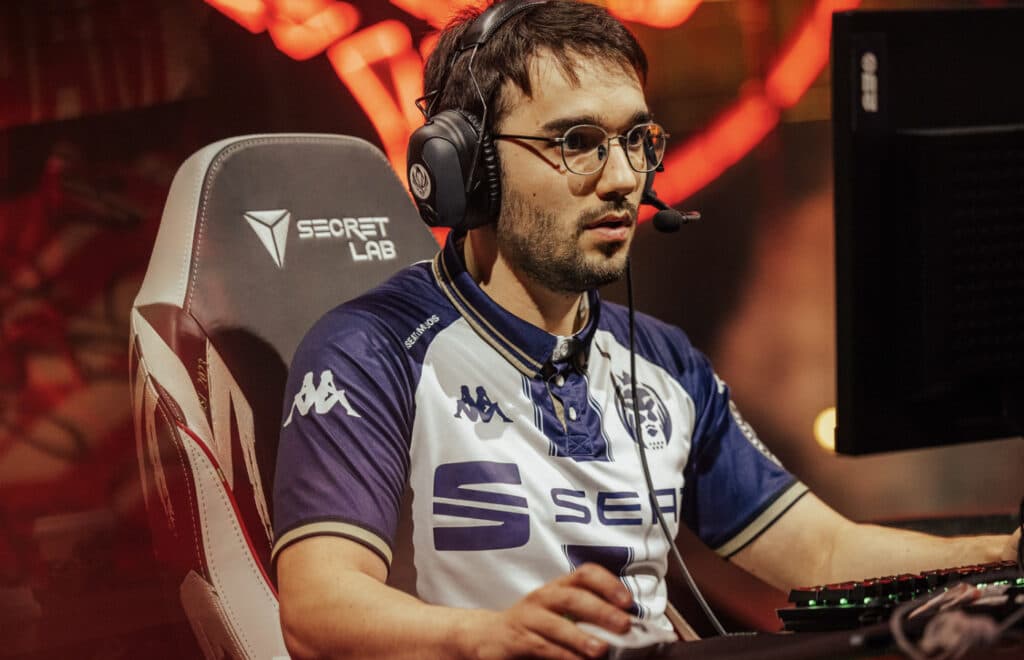 Hylissang on stage playing for G2 Esports (Image via Colin Young-Wolff and Riot Games)
Question: You've faced Mikyx before many, many times. So what was going through your head once you realized you would be facing off against G2 once again? But on the international stage this time?
Hylissang: I was very surprised, honestly, that we ended up facing them. I would have preferred it not to be versus G2. I'd have preferred it to be the Asian regions or just a different region, in general, to make it more interesting because we have played them a lot. I wouldn't say I was excited. It was more of a fun matchup. It always is — when it comes to going up against Mikyx. And it's always a pleasure to play with him. Playing against T1 is very high stakes and exciting — even if it'd be a stomp.
On being a sloth and owning a grumpy cat
Question: What animal would you be and why?
Hylissang: I think I am a sloth with the three nails or fingers. Very slow. Just likes to hang and do nothing. I mean, I don't know, but I'd say I'm probably this one as I don't like to change too much.
Question: Like your cat Alfie?
Hylissang: [Laughs] Oh, no. I am nothing like him. He likes his privacy and buries himself under the couch, but I like being around people.
Hylissang's grumpy cat (Image via Hylissang Twitter)
Question: What is the story behind your in-game name?
Hylissang: I was playing as a kid, I randomized a bunch of names I could have, there was a "Hyli," and I wanted to have that. But in games, I realized that the Asian players were very good — which is still true — so I wanted to add "ssang" at the end because there were a lot of Asian players who had that name or had it somewhere in their name. I thought if they think I'm Asian, they'll respect me more.
Question: What is your favorite thing about MSI being hosted in London this year? And what are your thoughts on British food?
Hylissang: I don't know if I've tried British food, honestly. I don't think I have. So far, what we've had in London, everyone has said it's really bad or something. But the food I tried was pretty good, so I can't confirm that statement.