We caught up with MAD Lions' Kaiser in the wake of their dramatic tiebreaker win at Worlds 2021, where they now advance to quarterfinals.
Starting the day 1-2, MAD Lions entered the final day of the 2021 LoL World Championship Group Stages looking to make a run for the quarterfinals. And in their first game against Gen.G, the European first seed was looking to make a statement in week 2. They lost. But even after their loss, they remained determined to qualify for the quarterfinals. With their tournament lives on the line, they win their next game against Team Liquid and absolutely demolish LNG Esports to bring their record to 3-3 and force the first four-way tie in groups.
Up against LNG Esports once again, a win means a ticket to the quarterfinals while a loss means their season ends. And the game looked grim at first. The MAD Lions fell down 5k gold to the Chinese team. But after a series of great team fights, the MAD Lions were able to pull it back, and even when it looked like LNG were going to make a comeback, on the precipice of defeat, the MAD Lions won the final teamfight, capped by a Trueshot Barrage double kill to make it to the quarterfinals.
Now, the MAD Lions are in the quarterfinals looking to make an upset against DWG.KIA happen. We speak to MAD Kaiser to talk about this historic group stage and what it felt like to be able to make it out of the four-way tie.
---
Congratulations on qualifying for the quarterfinals. Talk to me about being a part of this historic group stage?
MAD Kaiser: It was insane. After the first game, it was a bit demoralizing. Still, we did not lose any hope and I think if we did, there is no way we make the run we did today. Today really showed our willpower and mental strength to win games when we are on the brink of elimination. It was really stressful today and I am not even going to lie, we could have lost every single game today. Maybe if Team Liquid did not win against some of the other teams, there is no way we even get a tiebreaker with a 3-3 record. We were lucky that they helped us out. Everything was just stressful today so I am happy that the day is over and get to go home and relax a bit.
Let's talk about the Gen.G loss to start your day. When you were pushed into that situation of near elimination, what was the conversation like with the coaching staff to stay in a winning mindset?
MAD Kaiser: We knew that we could win this Gen.G game. Honestly, we could have won all three, but I think we showed that we can at least compete with them before. We really should have won that game, but even after, we felt renewed with a lot of confidence after experiencing the loss. That gave us the confidence to make a turnaround against TL and LNG. Our drafting was really good today and I think we out-drafted both of them the entire day.
But after Gen.G, we talked about what we wanted to do in our games and our win conditions going into the match. Having that clear plan and confidence. Throughout the day, we just felt so confident going into each game because there was such a clear plan for us to win. We were playing more aggressively than our initial games in the group stage. I do wish we were able to close out the day by getting first in this group though, but I cannot complain. It just feels amazing to be in the quarterfinals after such a long day and nearly being eliminated.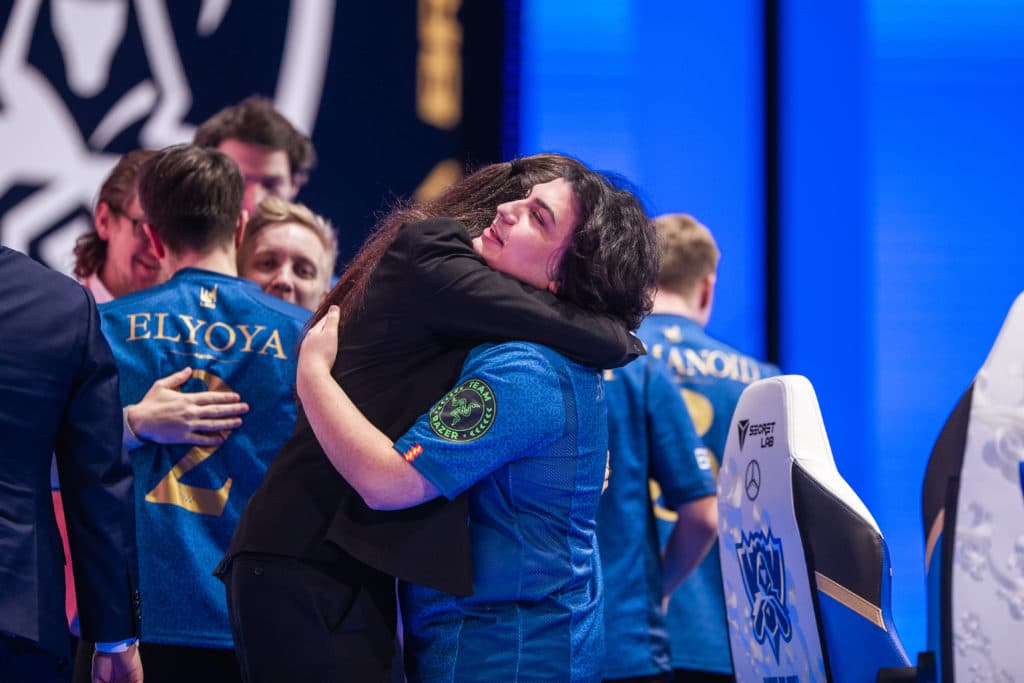 REYKJAVIK, ICELAND - OCTOBER 18: MAD Lions' İrfan Berk "Armut" Tukek reacts after a victory match at the League of Legends World Championship Groups Stage on October 18, 2021 in Reykjavik, Iceland. (Photo by Joosep Martinson/Riot Games)
Moving forward with that qualification game against LNG, things got scary at the end when they were pushing your nexus. What was going through your mind at that moment?
MAD Kaiser: When we were at their base, I was like, "there is no way we lose". We had five players, a minion wave and all our summoners and items ready. I wanted to just jump in, but i just hesitated a bit. That was on me, but I am really thankful my did a really great job in that last fight. I was really scared that my mistake almost cost us the game. I think LNG put up a really strong fight and we had to give everything to beat them. They got a bit scared to go for our towers so we had to capitalize on that moment. Once we got three kills onto them, I knew it was over finally.
But when Carzzy got that Ezreal ult double kill, everybody was just screaming. I was just super happy and screaming my lungs out. At that moment, it was such a relief knowing that we were in the quarterfinals. Emotionally, it was exhausting, but I feel amazing to come out of this group.
What was it like having Europe's weight on all of your shoulders knowing you were the last hope?
MAD Kaiser: It was all happy feelings going into the day honestly. I was not really thinking too much about Europe as a region. My main concern was set on being able to get MAD Lions out of Groups. There was more pressure for us to perform on ourselves at first.
We wanted to come into this tournament and show that the MAD Lions are a top-tier team that should not be underestimated. Then people in Europe began to really get behind us to perform well. When we did not meet those expectations in Week 1, it felt like we were not meeting expectations. But this week, we just removed that pressure and had a more chill environment. Representing Europe is a huge deal, but having this moniker of the last hope before Groups would just get to our heads.
That being said, looking at it now, it feels amazing to avenge our fallen brothers. Honestly, as a whole, it was not a bad year for Europe all things considered. Fnatic had a weird situation but was still able to take a game and Rogue nearly made it out of the Group of Death. I think all three teams can be proud of the performances they gave at Worlds and hopefully, we will continue to make Europe proud.
REYKJAVIK, ICELAND - OCTOBER 17: Team Fnatic, coaches and crew pose on stage at the League of Legends World Championship Groups Stage on October 17, 2021 in Reykjavik, Iceland. (Photo by Lance Skundrich/Riot Games)
What impresses me a lot is how resilient Mad Lions are under pressure especially after failing to make play-ins before. From then to now, how has your mentality in high-pressure situations grown?
MAD Kaiser: I think, especially in spring finals, we showed our mental resilience. This was even more evident after winning the final after starting 0-2 and nearly losing the final game. At MSI, we dropped games that we should have won and were not in great form, but we still kept it together to make the playoffs. But what I really think helped me handle high-pressure situations is how close I am with my teammates. We are all really great friends and have amazing teamwork. That does wonders for your mental strength.
That is the biggest deal in how we have made so much progress since our rookie years. We always think about how we can improve ourselves as players and as people. For example, in the last couple weeks of Worlds and before week 2, we actually practiced less. We took more time to ourselves. We played other games, went out together to get food, and just reset our mental energy. That really showed today as we were playing with so much more confidence. Our late-game team fighting was unmatched until our final game as well.
In the final moments of Gen G you ran it down mid, which made me laugh a lot. What was the reasoning behind that?
MAD Kaiser: laughs Yeah, I knew that game was already over after that Elder Dragon fight so I just ran it down. I hate staying in the base for the game to end and do not really care about my KDA. I'm a warrior, right? So I chose to run down mid like a true warrior and never back down from my opponents. In all seriousness, it was just super funny and we were all laughing about it. It really helped us stay in good spirits after losing that game for first.
You definitely need that mental strength for 11 hours so it's good you guys were able to not put that pressure on yourselves and even maintain a good mindset after the tiebreaker?
MAD Kaiser: Today was a super long day and I think he didn't really expect to be in a four-way tie to get out of the group. It was honestly the craziest day ever. I would go as far as to say this was the most exciting group ever. Now, I just want to go home to my hotel room and just sleep the night away. I am not sure what the other guys will do, but I am tired and I just want to chill. Laughs
Going into quarterfinals, you are the second and will be going up against DWG talk to me about the group draw and your thoughts on that MSI rematch?
MAD Kaiser: I think that DAMWON has been looking way way stronger than before. At MSI, I think we caught them off guard and we honestly could have beat them back then. But now, they look so much stronger and more refined. It is going to be really tough because the meta also suits them a lot better right now. They have fixed a lot of their problems coming into Worlds and they even went 6-0 in the group. Of course, I think we are also a very strong tea. We are a lot more refined after going through the group stages. We excel in best-of-five environments. All we needed was to make it to that point. We expect them to be strong, but not unbeatable.
---