GAM Kiaya at Worlds 2023 on playing on Asian soil, coming back after MSI and his friendship with Levi.
With a sad loss at Worlds 2023, we caught up with Trần 'Kiaya' Duy Sang of GAM Esports to ask if he was feeling the nerves of being on the LCK stage. We also dived into how he felt about being on Asian soil and his relationship with his jungle Đỗ 'Levi' Duy Khánh.
GAM Kiaya on being eliminated at MSI 2023 and playing in Asia
esports.gg: When we last saw you at MSI, you were crushed at being knocked out – how do you feel to have made it to the Worlds 2023 stage now?
GAM Kiaya: Right now, it feels kind of sad and depressing because we really put our heart and soul into getting the highest possible ranking and we lost our first game today. But to be back is something I'm very happy about even if today didn't go as planned.
esports.gg: How do you feel playing on Asian soil as opposed to traveling to NA or Europe to play?
GAM Kiaya: It feels pretty awesome, it's an interesting experience. This arena is home to the top LCK teams you know, this is where they play; so it's incredible to be in that same space. It feels awesome to watch everything that happens here and to also experience South Korea as a whole.
esports.gg: Is there anything specific you learned at MSI (as a player or as a team) that you want to bring to your Worlds appearance this year?
GAM Kiaya: We've learned a lot since our appearance at MSI 2023, we've learned to be incredibly careful during our preparation. Especially in pick/bans against other teams and how we keep our mentality strong. Coming to Worlds I think we need a really good mentality to be able to compete against the top teams.
Facing off against LOUD and Robo
esports.gg: You've obviously played LOUD and Robo before, what goes through your mind when you know you will be playing against Robo? And what do you make of him as a top-lane opponent?
GAM Kiaya: I would say Robo is a very special player, especially because of his pocket picks in champions – he really isn't like any other player. He doesn't just play to the meta, Robo plays champs that are outside of what other top laners would play, but he plays them in such a way that it doesn't matter that they aren't the current meta. For example, his Olaf is something we have to ban away from him, otherwise, it would be really annoying to face.
GAM Esports backstage at Worlds 2023 ahead of their day 1 match - image via Colin Young-Wolff/Riot Games
esports.gg: Since MSI, GAM has changed bot lane to have a new support and ADC, have you and the team found it difficult adjusting to this change?
GAM Kiaya: It really hasn't been difficult adjusting to the new bot lane because they were formerly our competition, and in past rosters and teams we played with them so we knew what to expect and didn't need to make any huge changes for our synergy to work. It probably took us a lot less time than had we not known them and had to get used to it
esports.gg: In Game 2 we saw you really get back into it with some awesome picks – were you feeling the nerves in Game 1?
GAM Kiaya: We were pretty nervous in Game 1 and it meant we did make some silly mistakes that were avoidable, at first we thought we were just nervous and we were warming up and would feel better in Game 2. But in Game 2 our silly mistakes continued and that cost us the series sadly.
Being able to swim and friendships off the rift
esports.gg: You and Levi have played together for several years (over four to be precise) – what is your relationship like with him as a player and as a friend?
GAM Kiaya: In game, Levi is obviously my captain but we are close outside of the game too, in real life he is like a big brother to me, he taught me a lot about life and personal stuff.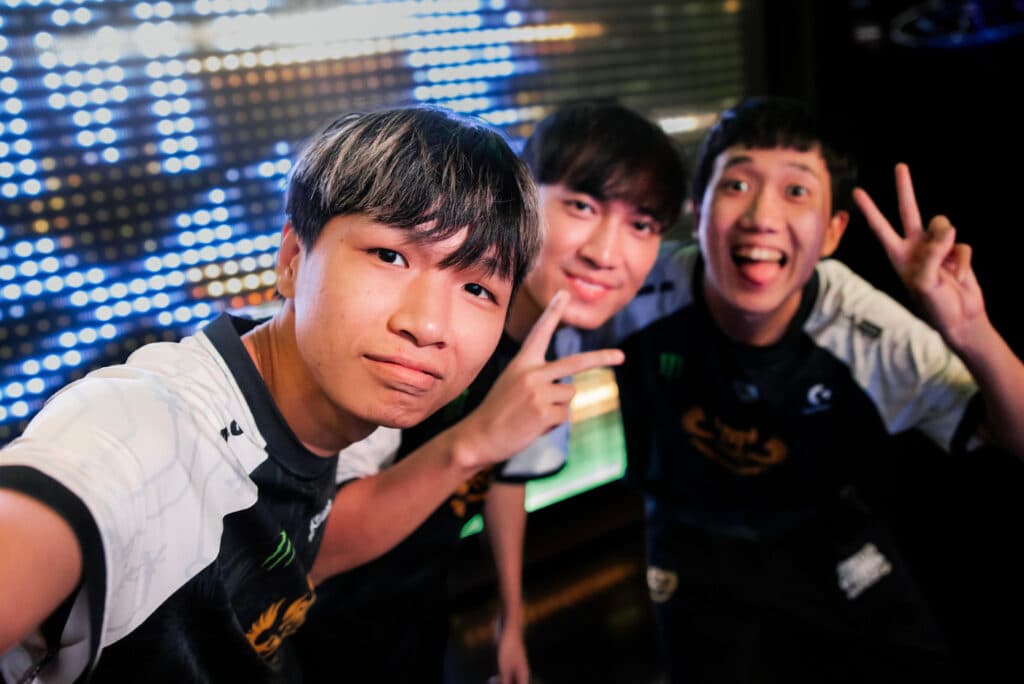 Having fun backstage with a camera, GAM Esports top jungle and mid - image via Colin Young-Wolff/Riot Games
esports.gg: Last question, If you had to be an animal, what animal would you be and why?
GAM Kiaya: Maybe an alligator – I like swimming although there isn't really somewhere to swim right now, but if you asked me I really do enjoy swimming and I feel like an alligator matches that. [Interviewer - it can't harm that you play Renekton a lot]