Galatasaray's Bolulu sits down to discuss the team's red-hot start to Worlds 2021, the meta, and what's different about Turkish LoL this year.
Turkish champions Galatasaray are off to a roaring start at Worlds 2021. With day 1 victories over Beyond Gaming and Unicorns of Love, they currently lead their group and are looking at a fight with Cloud9 to advance straight to groups as the winner of their Play-ins group.
Leading the way is Onur Can "Bolulu" Demirol. The Turkish Championship League veteran has been to multiple international events, and now features as the mid laner for Turkey's most promising squad in years.
After Galatasaray's day 1 success, Bolulu sat down with Esports.gg to discuss the games, how his experience helps him, and the differences between last year's Supermassive roster and Galatasaray this year.
Answers have been edited for clarity and grammar.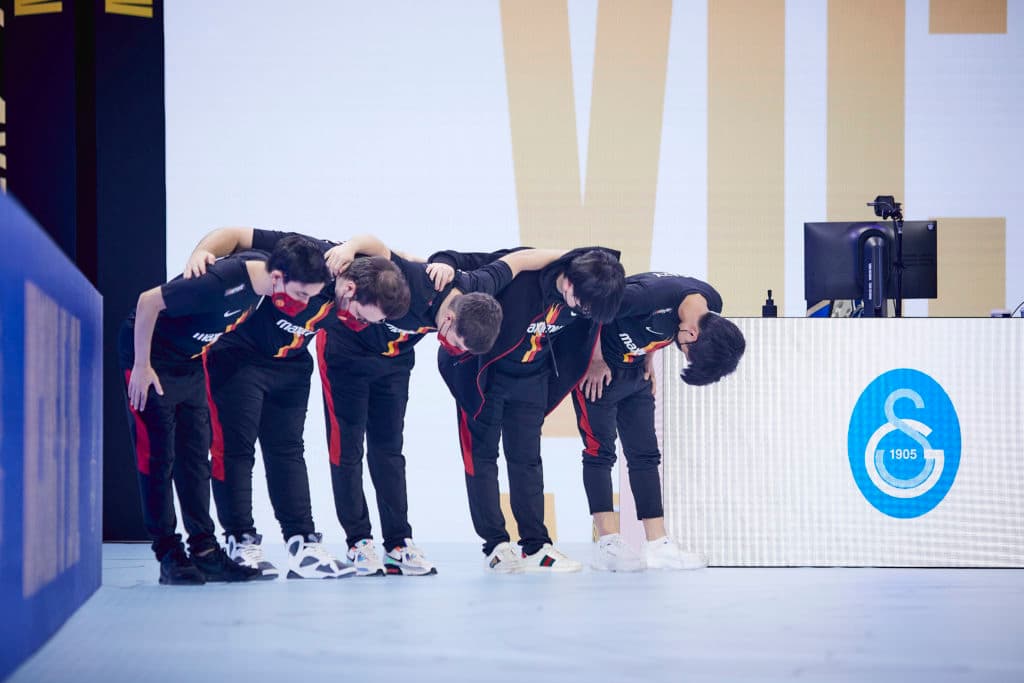 Galatasaray bow after their second win of the day over Unicorns of Love. Photo via Riot Games/Getty Images.
Day 1 success for the Turkish champions
Shawn "Germanicus" Heerema: Can I get your overall thoughts on today's games, and your performance?
Onur Can "Bolulu" Demirol: I think the first game, we had a clear plan of what we wanted to do off the draft, and we played it well, even though the top dive could be a bit more clean. After that, we knew how to snowball the game and get the win. I think the first game was a bit harder for me, because their comp was a bit hard for me to play against. So, using my early priority with Ryze, getting my top and jungle ahead together, and then them kinda carrying the game felt good. I'm not quite satisfied with my first game performance, but it was a good team performance, let's say.
In the second game, I'm really happy with how I performed. We didn't give the enemy any openings, any chance to make any play, and we played the game on our terms. We controlled the game and just completely stomped them. I played pretty good visually, I feel, too.
Germanicus: In your second game against Unicorns of Love, you guys picked Talon for the jungle. Why did you go with that pick, and could we see more of it at Worlds this year?
Bolulu: So I think it's a good meta pick right now. It has really good jungle clear. It's good at 1-on-1ing the other squishy junglers, or even tank junglers like Olaf and stuff. It just wins every matchup mostly. And like, Goredrinker, Sterak's, Youmuu's, they're all really strong items right now, and that champion uses them all. So I feel like it has a really good fit in the meta right now, and I think our jungler, Mojito, plays Talon really well. So that's also a reason we played Talon.
Germanicus: You guys play two games tomorrow, against DFM and C9. What are your thoughts heading into those matchups?
Bolulu: Coming to this group, we all saw Cloud9 - or still see Cloud9 - as the strongest opponent. Yeah, we still do as I said. I think that matchup will be the hardest one. I think we have the chance to win that one. Because it's a best-of-one, I think any team which has, like, the advantage in draft, or can just win in a skirmish, can take the game. Anything can happen, but for sure they are our strongest opponents.
DFM, I feel like we have the upper hand. I feel like we play better, and we're very confident against them. But as I said, they're both good teams. So anything can happen in them.
Galatasaray on-stage on day 1 of Worlds 2021. Bolulu is second from the left. Photo via Riot Games/Getty Images.
Bolulu's past and experiences
Germanicus: Even though you've been to a few international events, I don't think Western fans know much about you. How did you get into League of Legends, and into playing professionally?
Bolulu: My best friend showed me League of Legends. I normally didn't play on PC. I was more of a PlayStation guy and I was, like, on PlayStation doing sports and stuff. I wasn't really into video games a lot. But then he showed me League of Legends, and I started playing it, and I've been, like, really hooked ever since. And I just started grinding and grinding and yeah, it just has taken me here, I guess.
Germanicus: What experience from your past international events are you taking into Worlds here?
Bolulu: I think that after every international event you get a more third perspective view of yourself, and your weaknesses and your strengths. When you play in your own region, the teams mostly don't exploit them, I feel. And maybe the opponents in your own region, like in TCL, are not as good as the international ones. So I think that these experiences have made me grow as a player after each one, and gave me insight of myself as a player, and also in the sense of playing on the stage, being familiar with the nerves, everything from traveling, living in other circumstances, everything can contribute to having more experience. So in that sense, I feel like it gave me experience, and I feel that I have the advantage, in that sense, over some other players.
Germanicus: How's the setup and experience been like of this Worlds in Iceland compared to last year's in China?
Bolulu: Even though China was an amazing country, like really beautiful and, yeah, overall an amazing country, I felt like the two week quarantine was really rough. I struggled a lot during that time. I also was sick during the quarantine. I couldn't leave my room. So it was a bit of a traumatic experience, let's say. But in Iceland, I feel like it's more free. They have low cases of COVID. You can leave your room, you can go for a walk. It's just generally a better experience, I'd say, where you can just focus on the game. Also, it takes like three hours or six hours to come here, and China took more than 10 hours.
Bolulu playing against Beyond Gaming at Worlds 2021. Photo via Riot Games/Getty Images.
Bolulu and Galatasaray at Worlds 2021
Germanicus: What's different about Galatasaray this year than Supermassive last year?
Bolulu: As you know, Supermassive is an amazing organization, and I think we had incredible players individually. Like we had just an insane, superstar roster on Supermassive. But sometimes, the parts don't work that well together. Even though the players are good, maybe the team does not end up good always. So I felt like that was the problem with us. We were not doing the best to work well as a team. Anything from people's game styles to personalities.
But this year, I feel like it's different. This year the pieces work well together, we're on the same page of how we want to play the game. Everyone has their say in the game, and we all trust each other. Sometimes bot carries, sometimes mid carries, sometimes top carries, sometimes jungle carries. So I feel like we're well-rounded team. So yeah, that's the difference between now and then. That's why we just couldn't make it over the finish line last year.
Germanicus: How does communication work in-game for Galatasaray, with the roster having two Korean players?
Bolulu: I think we all contribute to the communication. Just, it's very situational. Let's say I have an early game champion that has a lot of priority. Then I take the lead in the early game, then I pass it on to Jungle. Jungle has the say in early game, in mid-game, then maybe Crazy takes over in the late game. I feel like everyone has a decent level of English - even though Crazy's English is not that good, he can always explain himself and say what he wants to do in the game. I think we all contribute to the communication on our team, and we all contribute to the calls, and everything that goes on in the game. There's no, like, one leader or two leaders. We're all contributing.
Germanicus: What are your thoughts on the meta, both going into Worlds and what we saw today? Is there any pick you think is strong that we haven't seen yet?
Bolulu: Oh, what's a pick we haven't seen yet? I think Yone is pretty strong in a good matchup. What else? Tryndamere - we've seen it though. I think we've seen most things, but yeah. I'd say Yone is pretty strong, Yasuo is pretty strong; against mages, with Diana or something like that.
For my general thoughts on the midlane, I feel like you have to be scared to pick mages right now, because of the AD champions that are in the meta, like Tryndamere, Yone, Yasuo. And Irelia, of course. I think Irelia's always been banned, though, except for an HLE game where Morgan played it. So I think that the AD champions are pretty scary for a mage player. But generally, I think that Ryze has a good place in the meta, Twisted Fate has a good place in the meta. And as I said, the melee champions. So it's a very interesting and different meta in the mid lane. It always depends on what the enemy picks, like you can see anything from Fiora, Jax, in the mid lane. There's no limit right now.
---