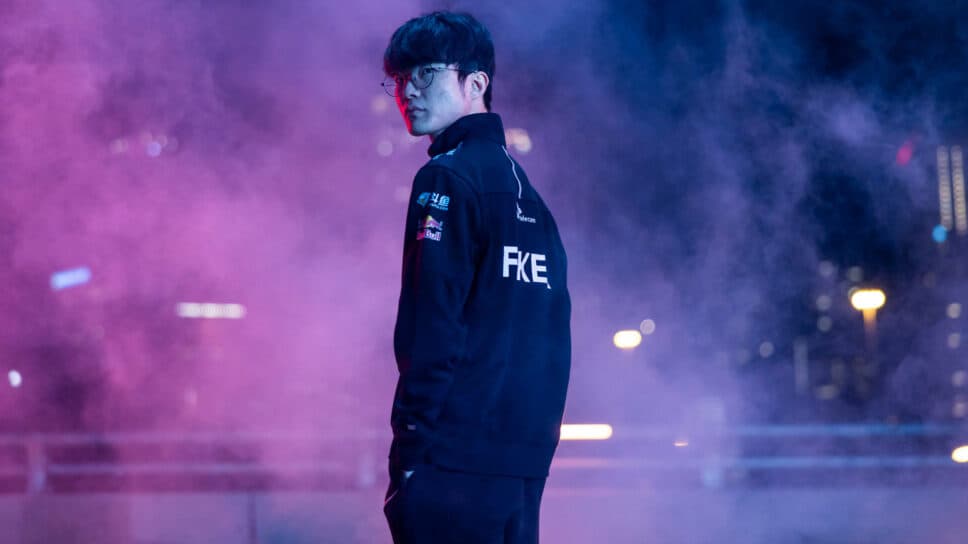 Faker will be taking a break from League of Legends due to injury
Poby will be taking the place of Faker while he recovers from his injury.
Today Korean League of Legends powerhouse T1 announced that Lee "Faker" Sang-hyeok will be taking a break from competitive League of Legends due to an arm injury. Yoon "Poby" Sung-won will have the honor of sitting in the most famous seat in competitive League of Legends. Faker will now take a break to receive treatment.
T1 confirmed Faker will be taking a break
At the top of the hour, T1 announced via their social media channels that Faker will be taking a break from competing in the LCK. During a press conference after their series against Nongshim RedForce, Faker cited that he had been dealing with difficulties with his arm since their series against Brion which took place on June 17.
"Recently, I personally have an external issue and it has an impact. I was not in good shape and my performance was not good since the OK Savings Bank Brion [match]. In addition, the treatment process is ongoing, so it is difficult to say exactly." This was reported by Yoon Min-seop who attended the press conference.
Faker will take a temporary break due to his injury starting with today's match against DRX. Recently, 'Faker' showed symptoms of pain in his right arm and hand. He underwent a thorough examination at a hospital when his condition did not improve. Fortunately, no major abnormalities were shown in the x-rays and MRI results.
Faker will be taking a break due to an arm injury
T1 Faker's injury paves the way for an opportunity of a lifetime for rookie Mid laner Poby. Poby follows in the footsteps of the legend he will replace as he takes to the LCK stage at the age of 17. This is an opportunity for Poby to make his mark on the biggest stage in the world. As for Faker, T1 hopes to have the legend back before the end of the regular season.
This article will be updated if more information is released on the length of Faker's leave.