Want to learn about Faker's career in esports and with T1 in the wake of his Razer sponsorship? We've got you covered.
Lee Sang-hyeok is widely considered one of the greatest League of Legends players of all time. With news that Razer is partnering with the GOAT to produce his own line of peripherals, including mice, mousepads, and cell phone cases, Esports.gg is looking back at his career and finding seven of the most interesting facts about his near-decade worth of League of Legends experience.
Faker has earned over $1 million in prize winnings alone
As one of the best League of Legends players of all time and three World Championships with T1 under his belt, it should come as no surprise that this has also come with a ton of prize winnings. So far, he has racked up $1,259,840.87 From 54 Tournaments, according to Esports Earnings. While this only places him in 68th place in earnings across every esports title, he has earned the most among League of Legends players by a wide margin. Much of the top 10 involve his former teammates, with the closest non-teammate being Yu "JackeyLove" Wen Bo.
---
Faker is one of the few player executives in League of Legends
Faker is more than just a player. Upon signing a three-year contract extension with T1 Esports in 2020, he also became a part-owner of the organization. As part of that announcement, he let fans know that once he hangs up his mouse, he'll be sticking around League of Legends for a long time to come, working as part of the leadership team. This includes mentoring players and helping them deal with the pressures of being a professional, alongside working with the coaching staff.
Faker lifting the 2017 Mid-Season Invitational trophy. Photo Credit: Riot Games.
While he will be playing until at least 2023, with another trip to Worlds on the horizon this year, it seems that he's nowhere near playing out his skill for the world to see just yet.
---
Faker has among the most kills in LCK history
With a long tenure in the League of Legends scene in Korea, and being a star player for that entire time, you'd expect someone like Faker to rack up quite the impressive amount of kills. That expectation is not wrong - he's the only LCK player to have racked up over 2,000 kills. This is not only the most in Korea, it's among the most in the world.
Across his entire career, including international competition on the Worlds stage and elsewhere, he has racked up over 3,504 kills. He's also a master of the lay-up, with 5,055 assists and only 1939 deaths. This means his overall KDA is 4.41 across his entire career.
Faker was the first player to play 600 games in the LCK as well, adding Iron Man to his long list of titles. The mid-laner also achieved his 400th win this year.
---
Faker hasn't completed high school
While Faker is one of the greatest League of Legends players of all time, he hasn't completed high school yet. He dropped out of Mapo High School in order to play League of Legends full time for T1 in 2013, but has stated that he'd like to finish school once he's done playing professionally. He actually attended school with long-time rival Kim 'Deft' Hyuk-kyu, who joined the LCK at the same time. They've faced off dozens of times on the rift and these two childhood rivals are fiercely competitive with each other, despite Deft's hiatus to China from 2014 to 2016.
---
T1 to the core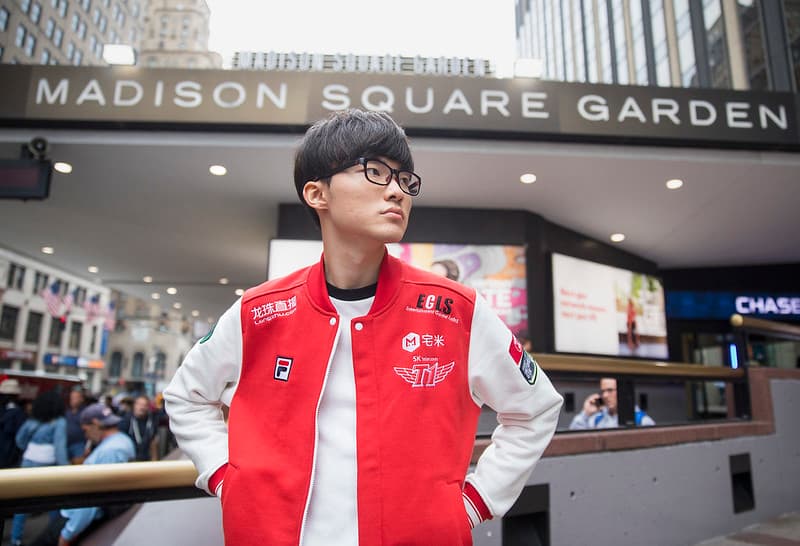 Faker outside of Madison Square Garden. Photo Credit: Riot Games
Faker hasn't played professional League of Legends for any team except T1. This means he's one of the longest tenured players not only in League of Legends, but all of esports for a single team. After his initial run as a back to back champion of Worlds, he was reportedly offered a million dollar a year contract to play in China, but he turned it down in order to stick with T1.
He has also been with the team through several rebuilds, having played with over 30 players throughout the several iterations of T1, including their runs as SK Telecom T1 K and simply SK Telecom T1. This includes their back to back victory in 2015 and 2016, and their first World Championship win in 2013.
---
He's got some swagger
Something that esports athletes sometimes struggle with is having personality on and off the rift. While Faker is described as humble and mild-mannered, he definitely has swagger when it comes to his professional appearances and interviews.
One of the most famous moments of his career is when, upon being announced at the 2015 League of Legends World Championship, he did a somersault before taking his place with the team, something the camera had to move to keep up with as production wasn't expecting it.
He's also been known to throw mild shade at his opponents in various interviews, most recently talking some trash about his former teammate Khan, who has since joined Damwon Gaming Kia.
"I saw Khan yesterday; he's gotten a lot chubbier [laughter]. I think he's eating and sleeping well, so I really want to get that chubby fella."
---
Faker's appeared at 7/9 Worlds events, including this year
Despite being one of the most successful League of Legends players of all time, the time for T1 to rebuild has come and their results have become a little more inconsistent. He has not made an appearance at Worlds since 2019, where he finished 3rd-4th. This was after missing Worlds in 2018.
Faker's been a long-time user of Razer products, even without the sponsorships. Image Credit: Riot Games.
You may think that a team making Worlds twice in four years wouldn't be so bad, but prior to this Faker and T1 made appearances at every World Championship starting in 2013. so it has been quite the departure.
"Nowadays, I feel that opportunities to play on a grand stage don't come by as much as before, so I yearn for the win a lot more."
Lee "Faker" Sang-Hyeok on his renewed hunger to win Worlds.
Indeed, Faker and T1 are the only player and team respectively to have won all three of Riot's international competitions: Worlds, the Mid-Season Invitational, and Rift Rivals.
---
Be sure to keep it locked on Esports.gg for more great League of Legends content, including from the upcoming LCS Summer Championship and Worlds 2021.