Evil Geniuses defeat LEC fourth seed, MAD Lions to advance to their first Worlds main stage appearance. They also create history for North America in the process
Evil Geniuses has secured a spot at the Worlds 2022 group stage after a 3-0 win against MAD Lions. The LCS third seed began the Worlds Play-In stage with a loss to Fnatic but quickly bounced back with three straight wins. Now, they've made history at Worlds 2022 and will be at the main stage in New York City.
EG create history at Worlds 2022
The series between EG and MAD Lions was one of regional pride for both LCS and LEC fans. Both regions had not faced each other in a best of five series in four years.
Moreover, no NA team had won a best-of-five series against an EU team — and EG was on a 0-7 losing streak in the seven matches played against LEC teams in 2022.
MAD had picked up its first best-of-five win this year in the game against Saigon Buffalo and hoped to keep the momentum alive in this series. However, it was EG who threw the first punch. Although game one was close, EG managed to neutralize MAD's Draven pick in bot lane and control all lanes. MAD couldn't stop Kacper "Inspired" Sloma on the Maokai from stealing the baron in the game ending fight.
Game 2 was more open from both sides in the beginning but EG took over the game with the Yuumi and Sivir bot lane draft. Inspired also had Elyoya's number once again despite the MAD jungler having the counter Trundle pick. EG closed out the second game after 24 minutes with almost a 12,000 gold lead.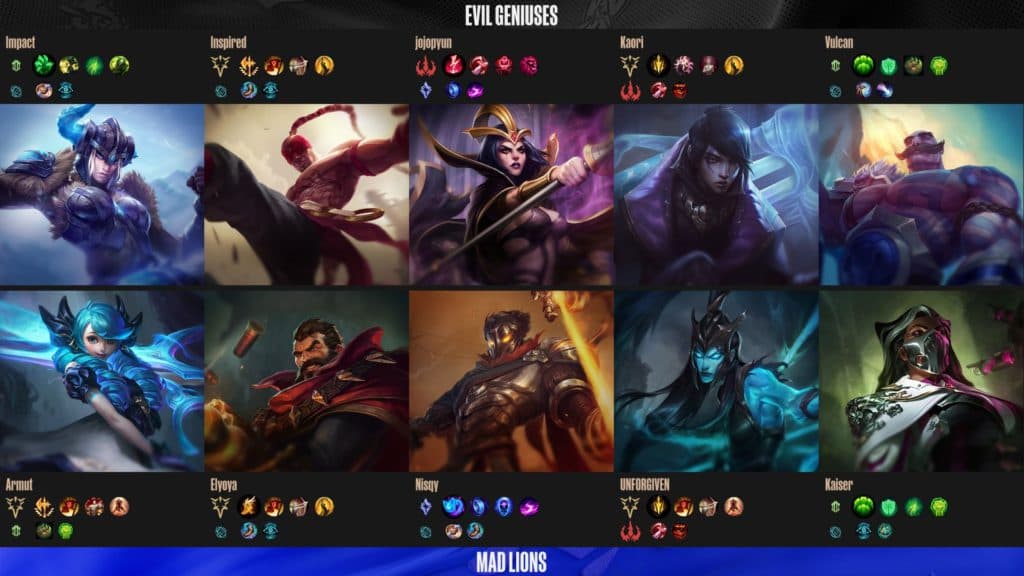 Game 3 draft. Image via Riot Games
EG carried its 2-0 momentum into Game 3. Despite a much different draft, EG still controlled the top lane, jungle and bot lane. EG continued to accelerate the pace of the game with 4 towers and 3,000 gold advanyage at the 23rd minute.
An impressive solo kill from Muhammed Hasan "Kaori" onto Norman "Kaiser" near the baron pit allowed EG to completely take over the game and slay the baron. EG closed out the game with baron empowered minions after 28 minutes of major dominance.
What group will Evil Geniuses play in Worlds 2022?
With the 3-0 win, EG will advance to the main group stage and play in Group B. So the teams in Group B include:
JD Gaming
G2 Esports
DWG KIA
Evil Geniuses