EDG set their sights on a banger match against undefeated Fnatic in the third game of groups.
EDG began their title defence at Worlds 2022 with a humiliating loss to T1; but quickly bounced back with a monster performance against Cloud9. The defending World champions picked up their first win at the event to tie things with T1 who also finished day two with a 1-1 record in the group. Following their win against C9, EDG's Tian "Meiko" Ye sat down with the media for a post-match scrum.
With many fans expecting the battle in Group A to be fierce among the teams, Fnatic's comfortable 2-0 start has made the group even more interesting. Having played two games already, EDG will need to win against Fnatic to avoid falling behind in the group.
When asked about his opinion on Fnatic after their win against T1, Meiko had praises for the LEC's third seed.
Personally I always think Fnatic is a very strong team without the fact that they have already taken down T1 or not. So as for tomorrows matchup against Fnatic i would say it probably would be very challenging and difficult but hopefully we can show everybody a banger.
EDG Meiko on Fnatic's at Worlds 2022
Thresh masterclass from Meiko at Worlds 2022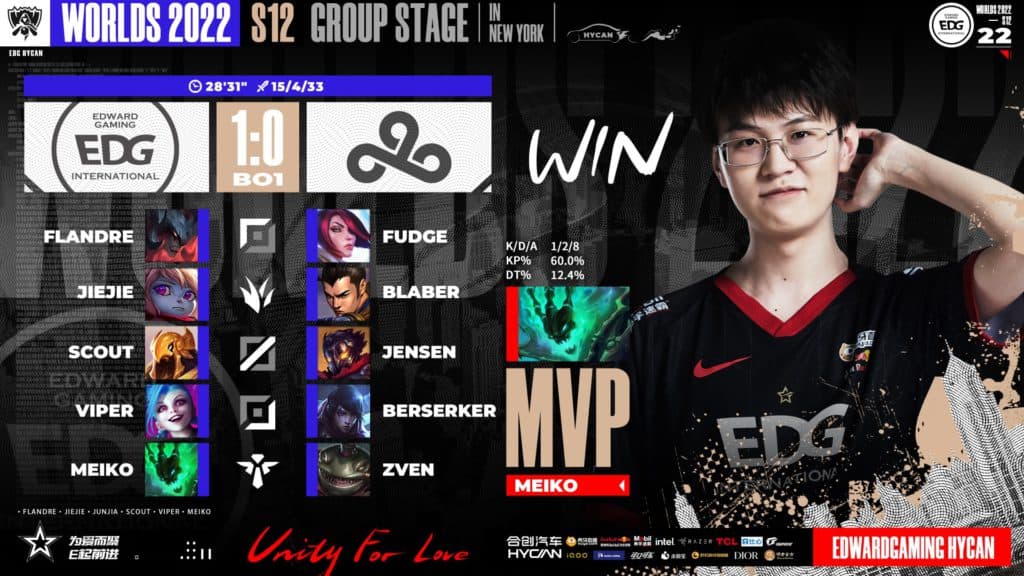 EDG vs C9 game statistics. Image credit: Riot Games.
The support meta for Worlds 2022 has evolved with the likes of Thresh, Amumu, Rell and Leona back in favor. Since the main group stage started, Thresh has already been picked thrice with two wins. Thresh is also one of Meiko's most played champion overall with a 76.1% win rate in 88 games played. His Thresh hooks helped EDG run riot on the map against C9 and saved them when they overextended.
Everytime when it's worlds basically Thresh would get buffed. So after that kind of adjustment on the champion, I would say Thresh became a very good champion, a decent champion at this current meta.
Of course in the past I had a lot of games on Thresh. So my proficiency at this champion is really high and I really went through a lot of games with Thresh in my practice, rank games and scrims as well.
EDG Meiko on Thresh in Worlds 2022 meta