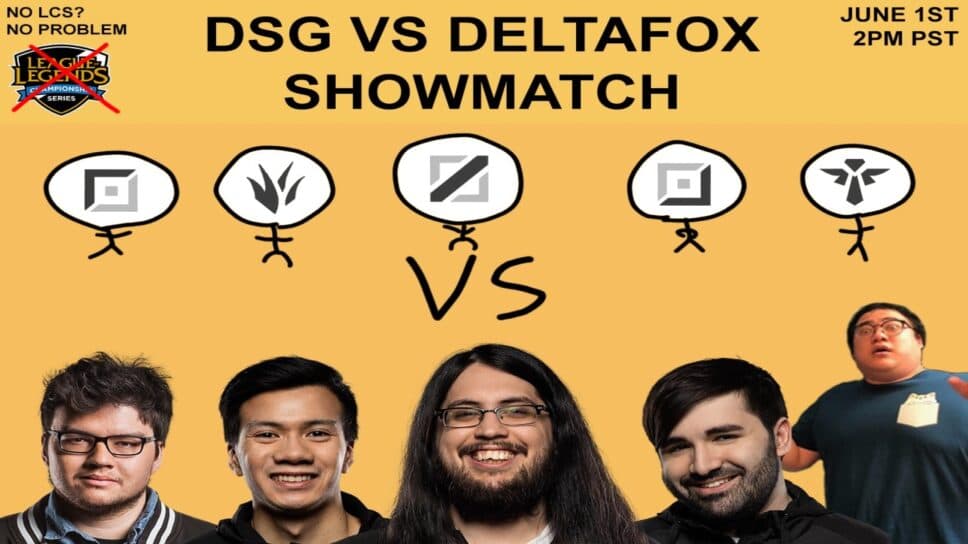 DSG vs Delta Fox: DSG takes down DF 2-0 in showmatch
Will Delta Fox finally record a win? Or will DSG get off to a flying start.
No LCS? No problem. Fans are in for a treat as the newly formed DSG roster will take on a band of LCS legends. DSG vs Delta Fox is a must-see matchup with Imaqtpie, Scarra, Shiphtur, Voyboy, and Dyrus returning to the rift to take on their biggest challenge in years.
With the LCS postponed for two weeks, Disguised Toast has come to the rescue for North American fans. Last night the popular streamer announced on Twitter his newly formed League of Legends team will be participating.
This show match will feature some of the most iconic personalities from the past ten years. Delta Fox in 2017 competed in the then LCS Challengers series. Although the team did not record a series win, thousands tuned in each week to watch the retired professionals have one last crack at success.
DSG's presence has already been felt in the League of Legends scene. On May 24, DSG was officially announced as one of the organizations that will be participating in the upcoming NACL league - taking the place of one of the many LCS franchises who axed their NACL rosters.
DSG vs Delta Fox Live results
| | | | | |
| --- | --- | --- | --- | --- |
| DSG | Delta Fox | DSG WIN | DSG WIN | 2-0 |
How to watch DSG vs Delta Fox
Fans will be able to watch DSG taking on Delta Fox at 2 PM PST over at Disguised Toast's Twitch channel. We have embedded the channel onto this article so you do not have to leave the page.